News update: 31st October
Not all suites are created equal, and this is never more true than at Sabi Sabi where every guestroom is a suite fit for a king – with the presidential suites taking luxury and indulgence to a whole new level.
The Amber Presidential Suite at Earth Lodge has been called the most beautiful suite in the world – and that may indeed be so. From the enormous proportions to the private pool, from the private dining facility to the sumptuous décor and furnishings to the unending bushveld view, the Amber Presidential Suite is a study in elegance, sophistication and extravagance.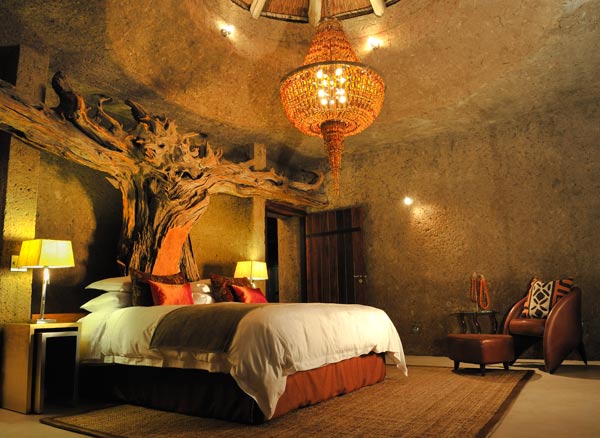 Comprising a glorious bedroom with magnificent carved wooden headboard and dramatic amber chandelier the room leads into an en-suite bathroom with huge, egg-shaped stone bath. The fabulously decorated lounge with its cozy fireplace looks out onto a very private pool. Add a study, steam room, kitchen and dining area and the suite captures the spirit of nature and luxury in one unique experience. A booking at the Amber Presidential Suite comes standard with a private vehicle for game viewing.
At Bush Lodge, the Mandleve Presidential Suite continues the theme of providing the very best in luxury and indulgence. This ultra-luxury suite is perfect for honeymooners or for those simply looking for sumptuous accommodation. Its spacious interior comprises a huge bedroom with king-size bed covered in wonderful linens. The beautiful en-suite bathroom features an outdoor "al-fresco" shower and the open plan lounge leads onto a private patio and refreshing pool.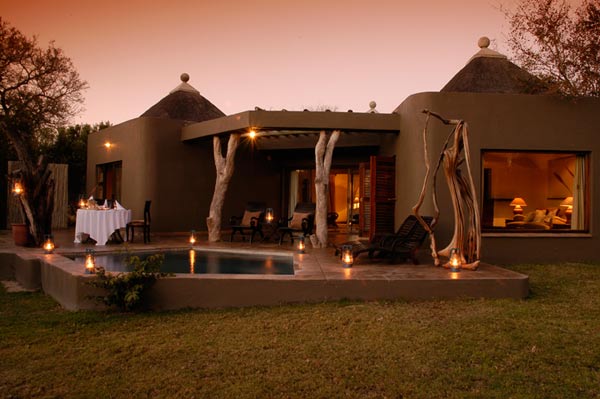 Mandleve's furnishings and décor are beautiful – crisp natural fabrics, gorgeous draped netting, original pieces of African art, rich textures and colours.
Selati Camp's olde-world, romantic ambience is the perfect setting for the opulent, spacious Ivory Presidential Suite. Visitors looking for the splendor and romance of a bygone era need look no further – the Ivory Suite offers the ultimate in vintage grandeur. Lovingly sourced antique furniture and decorative touches include a draped four-poster bed, irreplaceable oak dresser and carved wooden cupboards. The beautifully appointed lounge leads out onto a private patio overlooking unspoilt bushveld.
The stunning en-suite bathroom features a decadent chaise-lounge and precious Persian carpets, with the huge doors leading to an outdoor shower and private plunge pool. Romantic netting, authentic railway memorabilia continuing the theme of Selati Camp, and the gentle glow of oil lamps all combine to create this exceptional, unforgettable suite.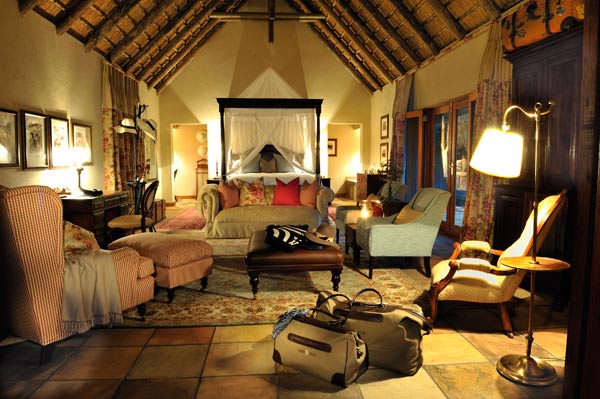 Selati Camp also offers the beautiful Lourenco Marques Suite, perfect for honeymoons or any other romantic occasions. Dominated by a draped king-sized bed, the suite features gorgeous linens, authentic antiques and rich, layered textures. An en-suite bathroom leads to a private outdoor area with both a bath and shower for relaxing al-fresco. What could be more romantic than an outdoor bath lit by dozens of candles under the star-studded African sky.
Visitors from all over the world have enjoyed the luxury that comes with all the suites at Sabi Sabi, but those who have experienced the Presidential Suites have tasted style, opulence and pampering at its very best.