News update: 26th July
Sabi Sabi has long been famous for the warm hospitality given by its Lodge staff, but little has been said about the helpful and friendly service provided by the Reservations Team in Johannesburg – and this first point of contact for many guests is where the magic begins.
The small, dynamic team is very ably led by Reservations Manager Donna Oertel. In her 19 years of service to Sabi Sabi, Donna has become known and respected by everyone in the travel industry. Donna is cool under pressure, reliable, efficient and always a pleasure to deal with. She had the huge challenge of overseeing our shift from a manual to computerised reservation system – no mean feat – a major task which she handled with her usual aplomb. Her deep love of nature and passion for all animals – wild or tame – is instantly evident to all who meet her. Donna brings a wealth of experience and professionalism to the reservations office.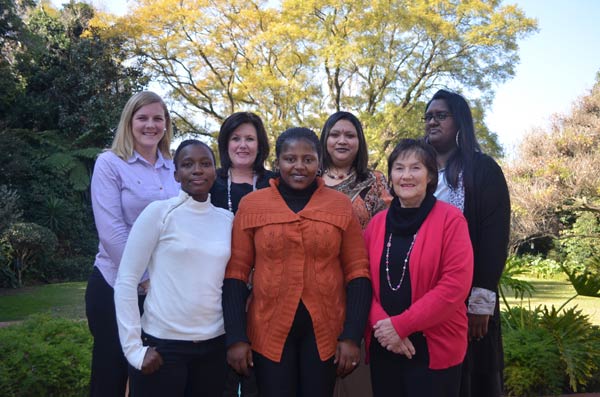 Back Row from Left: Adele Botha, Donna Oertel, Ashira Ramsudh, Kerosha Naidoo
Front Row from Left: Zama Dladla, Wandile Mofokeng, Jo du Rand
Jo du Rand is our longest-standing Head Office staff member, having been with Sabi Sabi for over 20 years. Dealing with clients across many time zones can be a little challenging, but Jo deals with this by arriving at work really early each morning in order to answer overnight queries from international clients before they leave at the end of their workday. After all these years her love of the bush and of the Company has continued to grow. Jo has a very in-depth knowledge of Sabi Sabi, and has been lucky enough to share many of the Company's incredible milestones.
Wandile Mofokeng and Zama Dladla are tasked with servicing the myriad local and international tour operators and travel agents who book their clients' bushveld holidays. This they handle very well, making sure everyone has an answer to their email or fax within 24 hours! Both Wandile and Zama are very active mothers of young children – who keep them just as busy at home as they are at the office!
Another mother-of-two is Adele Botha, who is the Sabi Sabi groups consultant. Adele manages all groups, educational visits and site inspections for the trade. She sometimes has the wonderful task of helping plan special occasions such as weddings, birthdays, anniversaries and secret bush dinners.
Kerosha Naidoo is the newest member of the Sabi Sabi reservations team. After completing a temporary assignment at the office, Kerosha was taken on as a permanent employee in February. She mainly deals with bookings on all the Federal Air charters which fly direct to our private airstrip. She may be the latest addition to the team, but she will hopefully enjoy many years of working with her Sabi Sabi peers.
Our receptionist, Ashira Ramsudh, is not strictly just part of the reservations team; she is a member of the entire Johannesburg Office Team. She efficiently fields and directs calls for every department, greeting callers cheerfully and giving advice or instructions in a warm and friendly manner. Ashira has been with Sabi Sabi for 7 ½ years, and intends remaining with the Company for many more.
With over 60 years of combined service to the travel industry and to visitors from around the globe, the Sabi Sabi reservations team is known for its efficiency, accuracy, helpfulness and above all – warmth. Everyone in reservations has a love of travel and a deep connection to the Sabi Sabi Reserve. They know the lodges intimately and understand their individual philosophies of Yesterday, Today and Tomorrow. Who better to guide our clients in making the decision of which incredible lodge to choose; Selati Camp, Bush Lodge, Little Bush Camp or Earth Lodge.