Meaningful life experiences leave us feeling part of a bigger purpose. Authentic travel creates opportunities to become active members of global communities and to use our adventures and our ability to explore the world as a means to give back.
One of the core philosophies of Sabi Sabi is that in order for conservation to be successful in Africa, we need to integrate tourism and our neighbouring communities. Offering support to our local communities dates back to the inception of Sabi Sabi. Since then, the emphasis has been on supporting sustainable practices that enrich and empower the community.
Our reserve is bordered by the local Shangaan villages of Huntington, Lillydale and Justicia – areas from which the majority of our workforce hail. For almost four decades, we have supported education at schools, sports programmes, cultural activities, healthcare, and of course conservation education.
Sabi Sabi represents an excellent example of the link between tourism, conservation and community. Sustainable ecotourism supports conservation that in turn allows for community involvement. This is a fragile balance whereby all three of these components are integral to the successful running of our reserve.
Sabi Sabi has always endeavoured to establish a participatory relationship between our tourism operations and our neighbours. Many of our staff have been part of the Sabi Sabi story since the very beginning, and today we have second generation employees based across the four Sabi Sabi lodges. With this in mind, we focus on development projects that benefit and involve our staff, their families and their respective communities.
After spending time with our Shangaan staff, many guests are keen to gain a greater insight into life in the neighbouring villages. The Shangaan people have a rich heritage, filled with myths, legends and bushlore. We are pleased to offer a glimpse into local life with tours of Sabi Sabi's neighbouring communities, where some of the homes, schools and care centres are visited. All proceeds from this tour go directly back to these initiatives – which is operated by our Community Liaison Officer, Lodrick Manyathele, a former employee of Sabi Sabi. These tours have been an eye-opener and very rewarding for the visitors who have enjoyed their view of village life.
The funds collected to date have gone towards building school rooms at the Mazinyane Pre-School and Creche, and class rooms at the Swa Vana Care Centre – Sabi Sabi supported projects where physical, social and emotional support is provided to many vulnerable and disadvantaged children. The Dreamfields Soccer and Netball Sports Teams is another project supported by Sabi Sabi, which encourages school children to be part of a team environment in competitive leagues. This offers a wonderful outlet for the energy of these wonderful young people.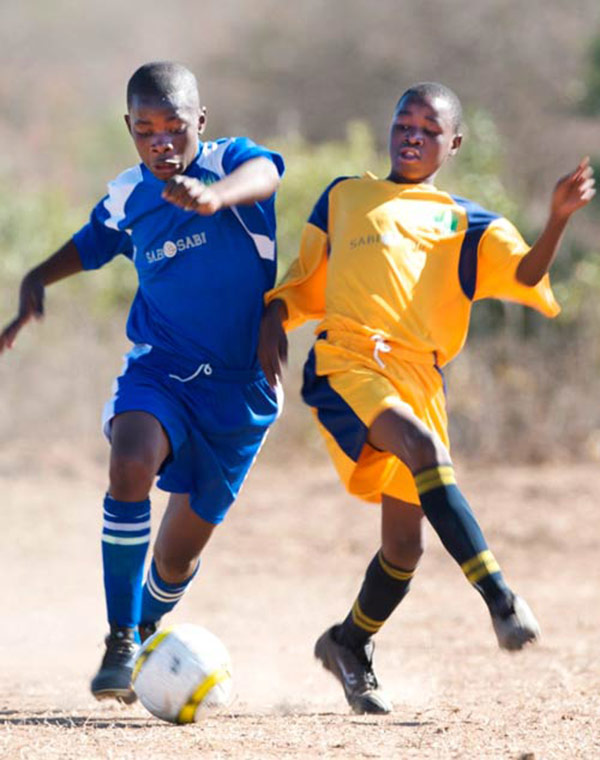 Guests of Sabi Sabi who show interest, and a willingness, to invest in our local community – and there have been many who have been deeply moved by the tours – often leave a positive impact and a community a bit better off than how they found it. Sabi Sabi has a structured system in place, whereby any donations received on behalf of the community are channelled correctly, and to the most necessary projects, ensuring that these funds are spent wisely and appropriately.
By laying these foundations, we aim to ensure that part of our legacy is to uplift communities and support them so that they flourish long into the future.
Should you wish to find out more about how you could be involved, please make contact with marketing@sabisabi.com.
Meet Sipho Moripa – Sous Chef at Sabi Sabi Bush Lodge. Sipho has been part of our family for 11 years and loves nothing more than creating spectacular dishes to thrill his guests – as he says in his own words – "If my guests are happy, then I am happy". With an obvious passion for his culinary art, and with his jovial nature and unique blend of humour, Sipho is a favourite amongst his colleagues.