News update: 22nd September
In our last newsletter we discussed the rigorous training that applicants, regardless of already completing conservation degrees or diplomas, must undergo before being inducted into the ranks of Ranger at Sabi Sabi. Four new field guides recently completed this several months long course, which included working in each of the departments "in-house" – reception, housekeeping, the food and beverage department and the workshop for vehicle maintenance – before finally beginning their in-depth training into the ways of the bushveld.
Our new rangers now know all the inner workings of the lodges, and are completely bush trained. They can easily navigate the Sabi Sabi Reserve, and are fully competent in guiding and educating their guests.
We are happy to introduce you to our newest recruits, Calvin Kotze, Martin Frolik, Solomon Mathebula and Michelle Steinberg.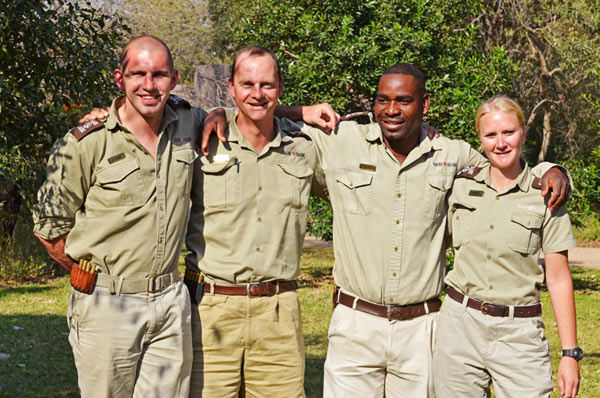 Michelle is a real adventurer. After completing a diploma in Adventure Tourism Management she joined ANT – the African Nature Training team – to specialise in field guiding. Female rangers are still in the minority in the world of field guides, but Sabi Sabi actively encourages women into the profession and has already qualified several excellent female rangers.
Martin has always loved the outdoors, and before joining Sabi Sabi studied agriculture. He has long admired the quality and reputation of the Sabi Sabi rangers, and was very proud when he was presented with his epaulettes. Martin is a very enthusiastic ranger and has really enjoyed the international guests he has already driven on safari in his first few weeks as a guide.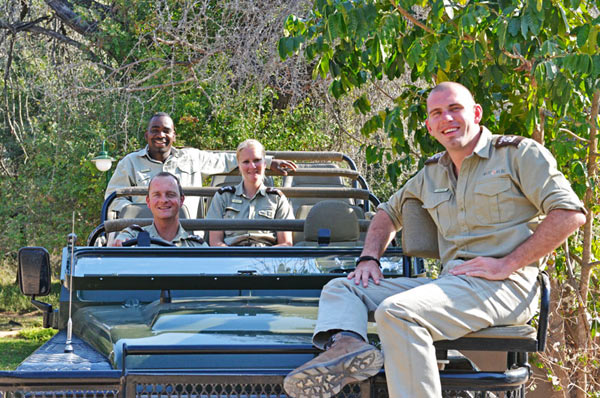 Calvin is an exuberant nature enthusiast, with a real passion for photography. He feels very much at home with all his fellow rangers who share this passion. The Sabi Sabi rangers often manage to capture magnificent photographs of rare and unusual bush sightings due largely to their knowledge of the bush and its inhabitants, but of course their ability of getting really close to the animals helps. Guests too, through these amazing close encounters, along with the help of their knowledgeable rangers, are able to capture prize-winning photographs of the animals on the reserve.
Solomon began his career at Sabi Sabi as a tracker. His ambition was to qualify as a ranger and the ranger training course gave him the opportunity of realising his dream. He dedicated many hours to studying hard and has managed to marry this formal study with his local knowledge. Solomon believes he has found his calling in life and intends using his new-found expertise to encourage conservation within his community.
We wish these new rangers a long and rewarding career as part of the Sabi Sabi family.