Spectacular Wildlife Calendar For Download
on Dec 21, 2014
News update: 10th February
Well known for its up-to-date information, spectacular images, sightings, new innovations and guest experiences, the Sabi Sabi website also has a beautiful wildlife image calendar available as a desktop download.
Featuring high quality photographs of wildlife and magnificent bushveld scenery, the month-by-month calendar brings the dream of a safari experience that much closer - at the touch of a button. This month's image features elephants at sunrise photographed walking to drink at a water hole. Downloaded as a desktop background, the calendar page is breathtaking and practical.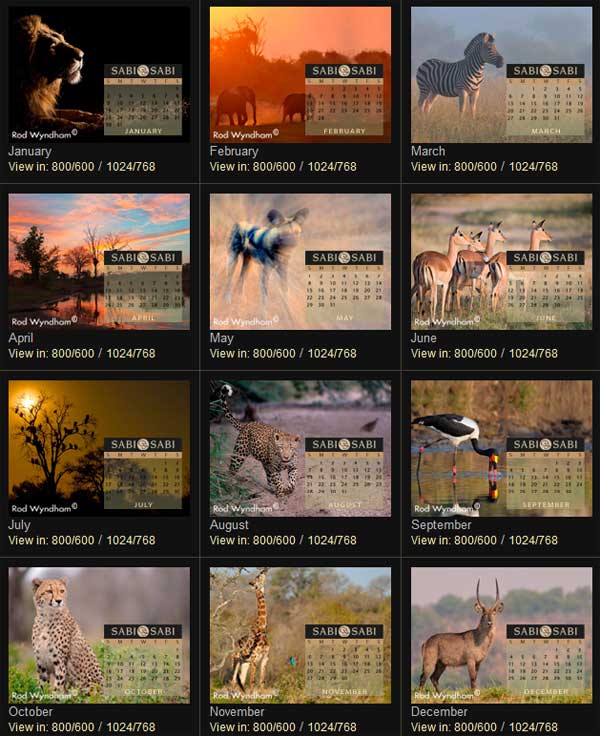 The 2011 calendar also features a close-up image of a Saddle-billed Stork (September), vultures at sunset (July) and leopard stalking (August) all taken on the reserve by Sabi Sabi group operations director, Rod Wyndham. To download, simply visit desktop calendars.
If beautiful wildlife photography sparks an interest the website also has information on the very popular photographic tuition safari's run at Sabi Sabi. Ideal for a three-day gepaway, the tuition covers practical and theoretical aspects of wildlife photography, information about the best equipment and a chance to try out your new skills in the bush overseen by a professional photographer. Perhaps plan this for a trip in April - the Easter long weekend falls between 21 and 26 April this year. It's an ideal time to visit the bush with the intense summer heat and rainy season abating and the start of cooler - but still gloriously warm - winter days approaching. Wildlife abounds and drier conditions make game viewing exciting and rewarding. As the calendar months move from summer to winter in Africa, the days may get shorter, the drier and the evenings chillier, but life in the bush continues its unending cycle as it has done for centuries.