Relax, Restore, Relish
on Dec 20, 2014
News update: 20th September
Imagine a visit to the unspoilt African bushveld. This immediately conjures up visions of an environment at its raw best - dramatic, untouched by time, and endlessly beautiful. Such is the nature of a visit to Sabi Sabi; exciting, stimulating and surprisingly close and personal with the wilderness. Set foot into the unchanged bushveld, feel the rhythm of nature and immediately your mind relaxes, your body unwinds and your spirit is restored. When better, than in this idyllic state of mind, to enjoy a range of natural, holistic body, skin and beauty rituals, rejuvenating massages and soothing treatments. The award-winning Amani spas at Sabi Sabi are havens of peace and tranquility, the perfect place to continue your safari nirvana. Elegant, serene and in complete harmony with nature, the beautifully designed spas are manned by highly skilled therapists offering a wondrous array of full service treatments for both men and women.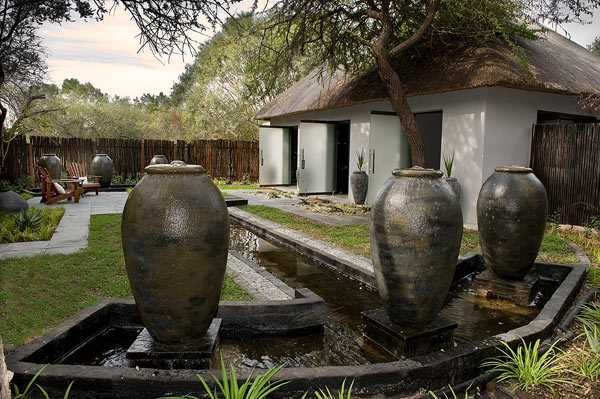 When the African sun beats down it is known to be harsh to the skin. On safari a high spf factor sun protection cream and sunhat are essential to prevent the damage caused by sun exposure. As an added skin indulgence, after an exciting open Land Rover safari the expert Amani therapists can offer several deluxe Babor facials to regenerate, hydrate or balance the skin.
Long-haul flights can be hard on the body, and although the glorious African sunshine helps to quickly remove symptoms of jet lag, a combination of Amani's Iketla back, neck and shoulder massage plus a foot ritual for sore, tired feet is a wonderful restorative. These treatments boost relaxation, reduce tension and are designed to bring the body back into balance. Iketla, which means 'relax and unwind', is a sensational body destresser. The Amani Foot Ritual, aptly dubbed "Sole Indulgence" includes a foot soak, scrub and massage which improves circulation and softens and nourishes dry skin.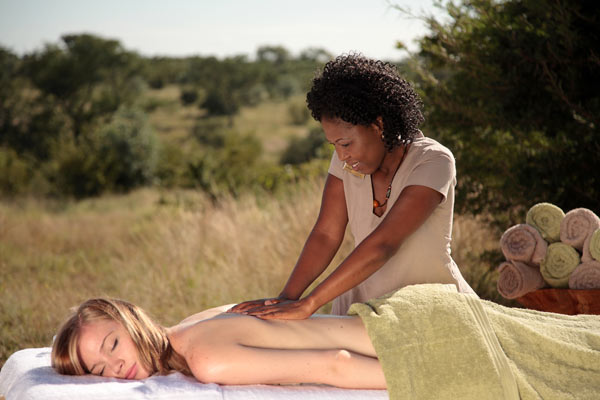 Constant hydration is very important in the bushveld and visitors are encouraged to drink an ample amount of the refreshing local bottled water which is provided at Sabi Sabi. To hydrate the skin on a daily basis, the Amani Spas offer a range of Matsimela Home Spa products. The Marula Nut range is made by cold-pressing oil from the Marula nut. Rich in anti-oxidants, vitamin E and C, this line of products is great for dry skin. The Boabab tree referred to locally as the "Tree of Life", has a kernel within its fruit pods which yields a rich, scented oil traditionally used by African women to protect their beautiful skin against the harsh African environment. This wondrous oil is the primary ingredient of the Baobab Moisturising Body Care range which includes a salt scrub and body butter.
This month's signature treatment, the Kurhula Body Ritual, is the ultimate in pampering and relaxation. Enjoyed singly or as a couple's treatment, the Body Ritual is a unique treatment assimilating massage techniques from around the world. Starting with the head and scalp and working down to the feet, the delicious massage is followed by a revitalising mini-facial to balance and hydrate the skin. An exclusive blend of oils is used by the spa to promote the elimination of toxins and effectively reduce fatigue.
Every day at Sabi Sabi will include close wildlife encounters in open Land Rovers, luxurious accommodation, delicious cuisine and breathtaking scenery. Add a visit to the incredible Amani Spa and the safari experience takes on another wonderful dimension.