Celebrating The Women Of Sabi Sabi
on Dec 19, 2014
The value of women in all levels of society, from education to business to politics, has become increasingly noticeable in the new South Africa. To celebrate their accomplishments South Africa has set aside a day of recognition, National Women's Day, on 9 August, and has dedicated this month to women's issues.
The women of Sabi Sabi have had an enormous impact on the company right since its inception over 30 years ago. Heading the female powerhouse is co-owner Jacqui Loon, the inspirational guiding hand behind the style and design of all four lodges. Her artistic flair has had a major influence on bushveld décor, culminating in the recent collaborative redesign of Earth Lodge.
From Left: Lauren Wyndham, Carol Chamberlain, Drienie Pieterse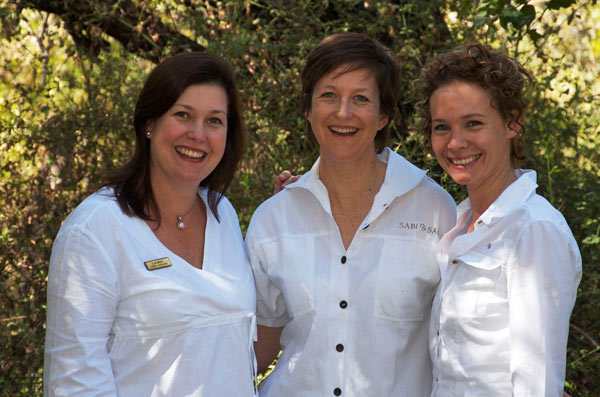 Sabi Sabi's four lodges have phenomenal managers, all of whom just happen to be female. The highly-capable Lauren Wyndham heads up Bush Lodge, Drienie Pieterse is the newly appointed manager of Earth Lodge, Carol Chamberlain manages Selati Camp and Alta van Zyl manages Little Bush Camp. Lizbeth Mhlongo is the lodge curio shop manager. But it is not only these 5 very qualified female personalities who are so instrumental in maintaining the standards for which Sabi Sabi has become famous. There is strong female representation among all levels of lodge staff, including successful rangers - both current and those who started their careers here, in a field which was historically and traditionally an all-male domain.
Everywhere at Sabi Sabi one can find evidence of the women in the company's influence and special touch - be it the attention to detail and warm welcome at the lodges, to the empathy and care from the ladies in the Johannesburg Office. How fitting that Selati Camp is named after the legendary female chief of the ancient Thubela tribe whose spirit is reflected in the gentle, romantic ambience of the lodge.
* At the time of this newsletter, both Lizbeth Mhlongo and Alta van Zyl were on leave and unfortunately we were unable to obtain a photograph of them.