It is time again to recap on the highlights from the past 7 days on safari – and it has been another incredible week with plenty happening on the reserve!!
The impala is one of many beautiful antelope we normally see on a daily basis. Impala is an important species when we are searching for predators as they always alarm call once they see any danger, hence it is important to stop and spend time with them as you never know what may happen!

We watched as two Southern Ground Hornbills moved from one bush to another through an open area. They seemed to almost shake the bushes in search of something and as we observed this peculiar behaviour, one of them caught a chameleon from the branch it had just shaken.

Staying close to mom, this cute little zebra was watching our every move as we slowly approached.

As we made our way to stop for a morning coffee, four hyenas were seen with faces full of blood and stomachs bulging. With a large herd of impala not far off, it would seem these hyenas had managed to catch an impala for breakfast. The clan had finished off every piece of the impala leaving only a pool of blood as evidence as to where the kill had taken place. Contrary to popular belief, hyena are in fact prolific and successful hunters and do not only scavenge.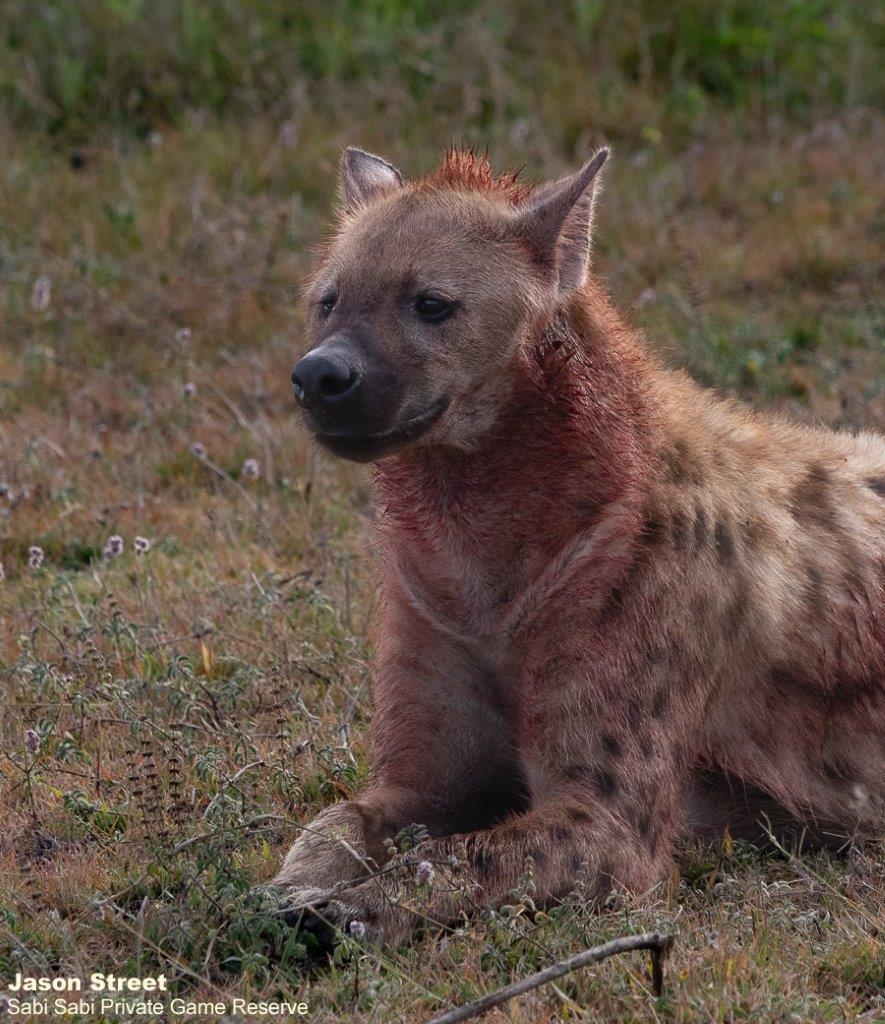 A large herd of buffalo were resting in the open area in front of Selati Camp. The herd started getting up and moving, disturbing the oxpeckers that had been removing ticks from the buffalo while they were resting. The sound of so many oxpeckers taking flight was incredible. Oxpeckers often give away the presence of larger herbivore species. Yellow-billed Oxpeckers have become more common at Sabi Sabi in recent years and follow large herds of buffalo. The call of the Yellow-billed Oxpecker is slightly different to that of the Red-billed Oxpecker and is therefore important to be able to distinguish between the two.

Young female leopards usually set up a territory adjacent to their mother's territory and this is exactly what seems to be happening with Kigelia's cubs. One of her cubs, Tsutsuma, has been spending a lot of time to the east of where her mother holds territory.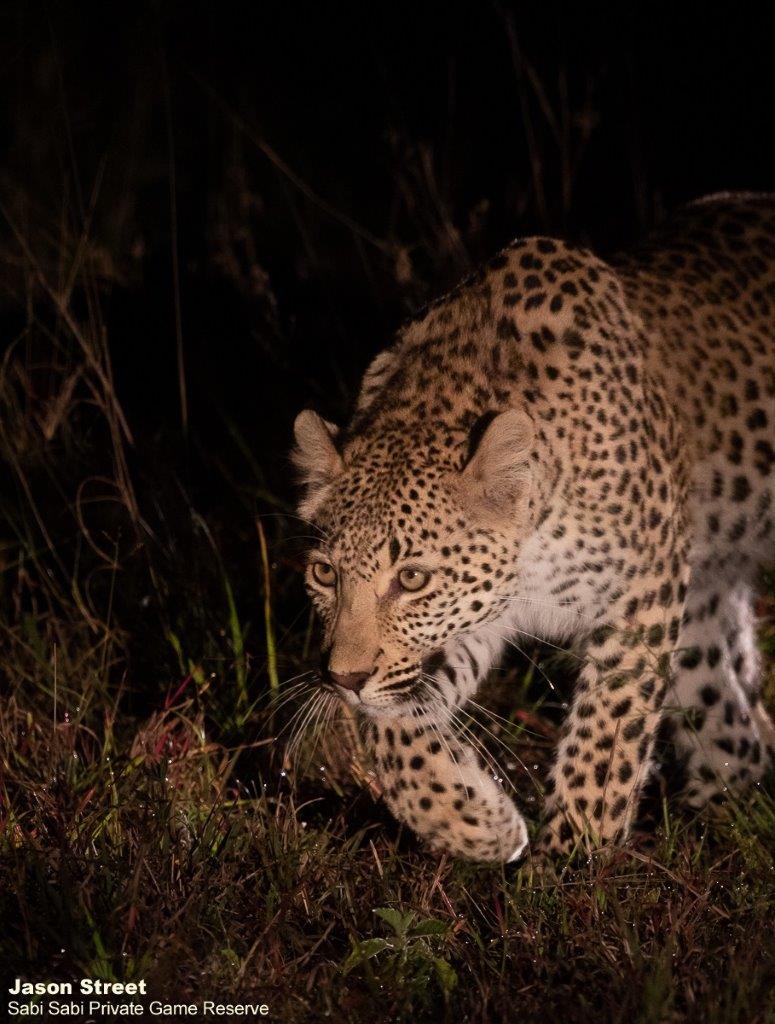 We had numerous sightings of N'weti this week. He had made a large warthog kill and spent a few days feeding high up in the branches of a Marula tree. In one sighting, he had eaten part of the kill but there was still a lot of meat left on the carcass. Three hyenas moved around the tree, waiting for some meat to drop to the ground. Tension mounted as N'weti began to move the carcass and we watched with anticipation in the hope it wouldn't drop but all that dropped were a few scraps as the leopard began to feed again. Leopards have been known to stay with their kill for several days, depending on the size of it, and with hyenas below, it may be a while before N'weti gets a gap to descend the tree without them noticing.

We found tracks of a leopard with two cubs. Knowing this could well be Ntsumi, we followed the tracks to where she was lying hidden in the tall grass. Our patience paid off as she got up, yawned, and made her way to a road. Our guests were ecstatic! Having two young cubs to feed, this female will take every opportunity to hunt. She was climbing on fallen trees while smelling and keeping a look out for prey while her cubs were playing and practising hunting skills of their own, on one another! Leopards have a keen sense of smell, but so do their prey. We explained this to our guests as she approached a feeding herd of impala that were downwind from her. As we held our breath hoping to see a kill, the wind suddenly shifted direction and the impalas got a whiff of her and were gone in seconds. She then proceeded to go drink water before trying again.

We found this female cheetah and her cub after following up on some impala and wildebeest alarm calling. The female had just made an impala kill and was in the process of eating when we arrived – something our guests were delighted to see on their first safari!

After spending the latter part of one of our mornings with Ntsumi female leopard and had notified the lodge that we would be late for breakfast. Just then, a call came in over the radio that three male cheetahs had been spotted heading to one of our open areas not far from where we were with Ntsumi. Our guests didn't need any convincing – we were going for the cheetah and breakfast would come later! Adult cheetahs may be found alone or in groups, as in this case, called a coalition. Most likely litter mates that have stayed together. They do this to increase the chances of holding territory and therefore increase the chances of reproducing. Coalitions like this can last for the entire life of the male.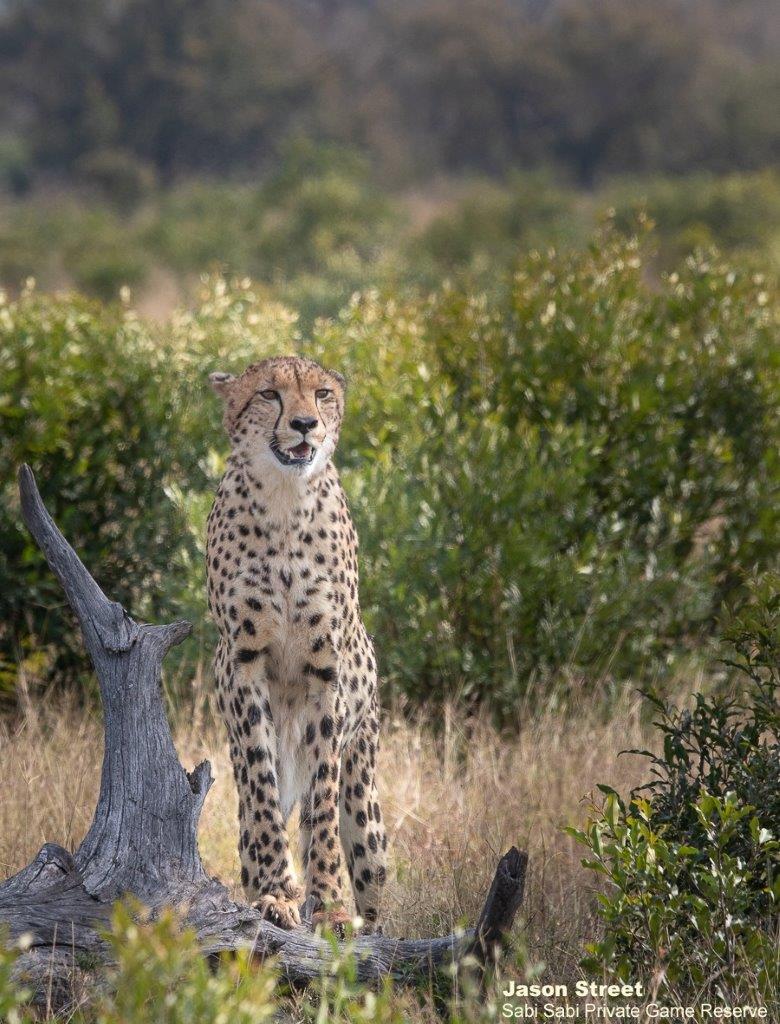 Earlier in the week, we had an amazing sighting of the Styx Pride! They managed to kill not just one, but three warthogs just before sundown, giving all a fairly good meal. The following morning they were in the company of one of the N'waswishaka males and not too far away, there were calls of other lions, possibly his coalition partners.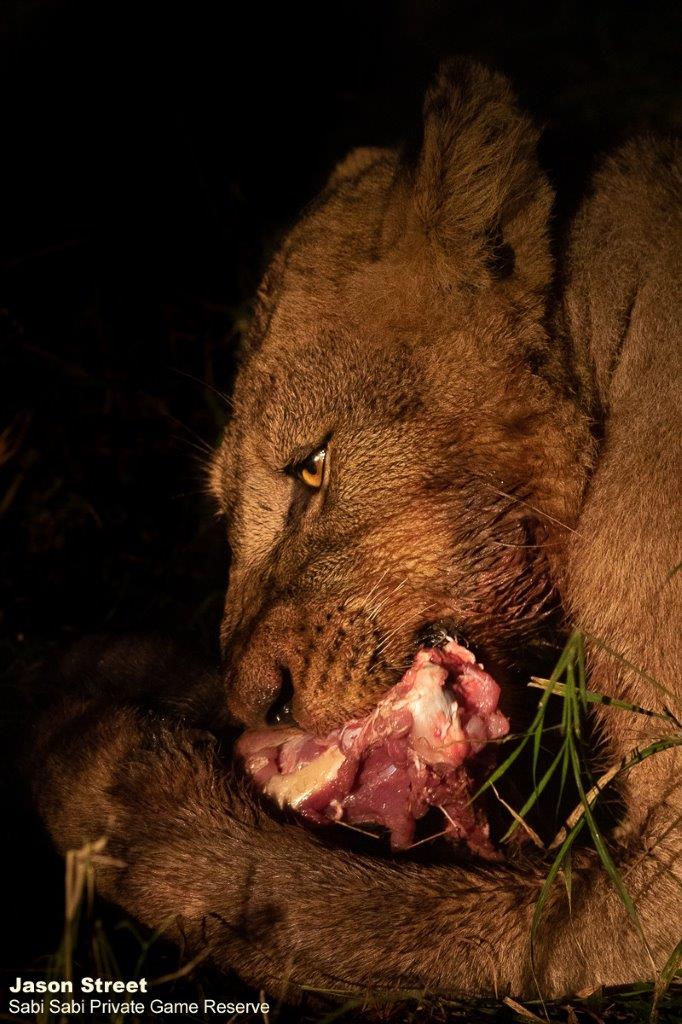 The Southern Pride female was vocalising in an open field with two males following behind her. She seemed to be leading them away from her two almost sub-adult cubs that we later found tucked away in Bushwillow thicket.

Two days later, the Southern Pride was resting on the granite outcrops in the southern parts of our reserve – possibly to keep warm as the temperature began to drop. We suspect they had made a kill the previous night as they had traces of blood on them and had been cleaning themselves. As it got darker, the adult lioness yawned and stretched, typical behaviour at this time of day as it is ideal hunting time for lions.

Until next time

Blog by Wendy Claase
Images by Andries Ndlovu, Daniel Greyvenstein, Jason Street and Ronald Mutero