Ever since one of our rangers had his "Discovery of a lifetime", I have been secretly envious that he managed to view Ntsumi with her new cubs. Often after that sighting, I followed Ntsumi close to where we knew her den site to be, hoping I too would have the privilege of viewing these tiny cubs.
Ntsumi has always held a very special place in my heart as I was fortunate to spend a lot of time with her and her mother, Little Bush female, when I did my training at Sabi Sabi back in 2016. At that time Ntsumi was just a cub herself, a ball of fluff but able to put on an extraordinary show.
Recently, I was out on a drive with some of the trainees helping them learn roads when we managed to find Ntsumi. She was a fair distance from where we knew her den site to be, so we decided to follow her for a little while. On close inspection, we saw she still had suckle marks indicating she still had at least one of her two cubs which was great news. She moved closer to the den site and eventually we had to let her be as we did not want to disturb the cubs in any way, ensuring they do not develop a fear of people or vehicles.

Two days ago, we managed to follow Ntsumi again, this time a lot further south from where we suspected her new den site to be. She was on the hunt. Walking from tree to tree, termite mound to termite mound, desperately searching for a meal. She had been doing the same in this area just a few days before this too. I said to my tracker, Donald, "Do you think she has moved the cubs again?" He responded with a smile and said he thinks she had.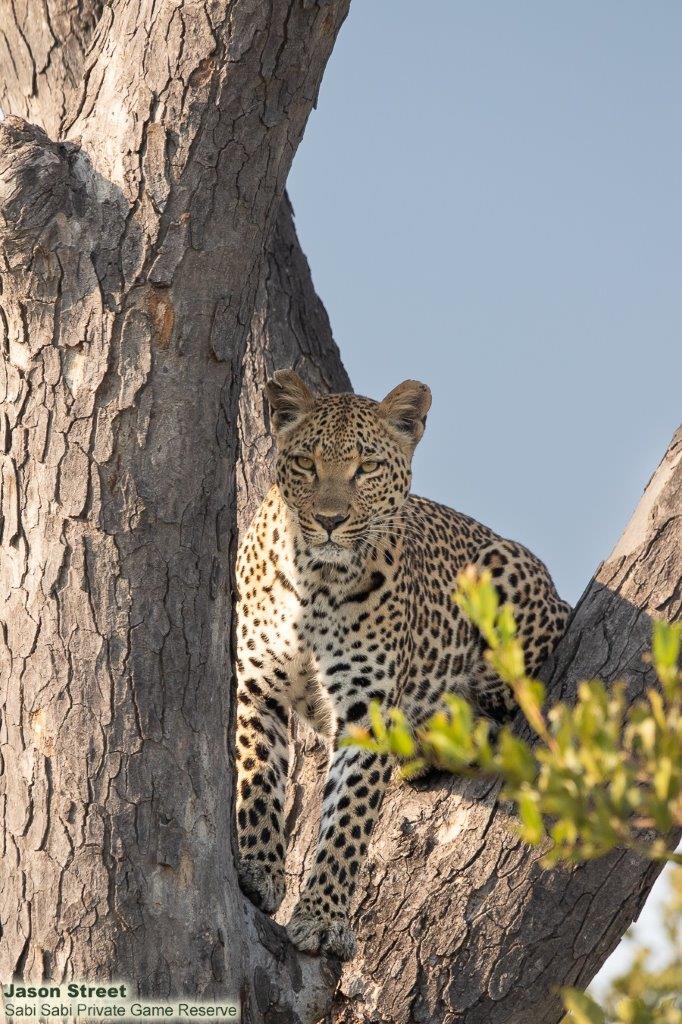 On Thursday, just a couple hundred meters from where we had last seen Ntsumi, we found her again. She managed to kill a duiker in one of the drainage lines that was very thick. Visual was not great but we were able to hear her hoist the duiker up a tree. She left the duiker and without feeding, started grooming herself, cleaning herself of any scent she may have collected from making the kill. She then made her way down the tree. Donald, with a smile from ear to ear, said to me in Shangaan, "She is going to collect her cubs". My body went numb with excitement – was this our chance to finally lay eyes on the cubs we had hoped to see for so long?
Ntsumi made her way past our vehicle into a nearby open area. She made her way onto a termite mound, looking north towards a thicket along the drainage line she gave a call, "Hhummph". She waited a moment and called again, "Hhummph". She then moved toward the drainage. Donald said, "Wait, the cubs are coming!". We could not start the vehicle now as we may scare these new cubs, so we decided to stay put.

About a minute later Donald pointed and said, "There, there is a cub, it's still tiny!". The cub ran to Ntsumi and greeted her with a nose rub. Ntsumi groomed her cub – this grooming is a very important part of social bonding. I was now shaking with excitement, unable to operate my camera – my mind went to jelly, and I just sat there in awe. I could not believe what we were witnessing. They continued this for a few minutes, and I thought to myself she has lost the other cub. Leopards often lose cubs to hyena, lion, other leopard, snakes and a host of other dangerous animals found in this area.

The cub proceeded to run around, full of energy and then lay down not too far from where we had waited for it.

Ntsumi eventually got up and again called "Hhummph". Seconds later the second cub appeared. A lot shyer than the first cub. It peered at us from some long grass. I couldn't believe it, both cubs were still alive and in excellent condition.

Ntsumi then led them both to the kill, which was in a thick drainage line.

We decided to give them space to feed with no vehicle pressure and we left the area.
Ntsumi has recently managed to raise a cub successfully, after losing many litters in the past. Her last cub, Golonyi, has recently gone independent and what a job she has done. Golonyi has very quickly become many of the Sabi Sabi guides' favourite leopard. She has the most beautiful green eyes and a sense of adventure second to none. Any sighting with Golonyi is action-packed and while it is early days for these two new cubs, they have a long way to go before being out of danger. Still, the thought of having another two leopards at Sabi Sabi with this personality leaves me excited beyond words, for their future.
Blog by Jason Street (Bush Lodge Ranger)