There must be no better way to start a 6-week cycle than the way this one did! The first few safaris into my work cycle were great but nothing compared to one specific morning safari where the unexpected happened and it was one that I will never forget.
Upon leaving camp slightly earlier than normal in the morning, we came across fresh tracks of a female cheetah with her cub heading to an area that we know she favours.
After about 20 minutes of tracking her, my tracker spotted the female cheetah walking through a slightly dense area, and how he spotted the female I still have no idea. We approached her and her cub but quickly realised that she was on the hunt with the cub keeping a safe distance from her but not too close as to not give their position away to an unsuspecting herd of impala. This herd of impala were one of the first herds that I had seen to drop their lambs, allowing for a much easier hunting opportunity for the female cheetah.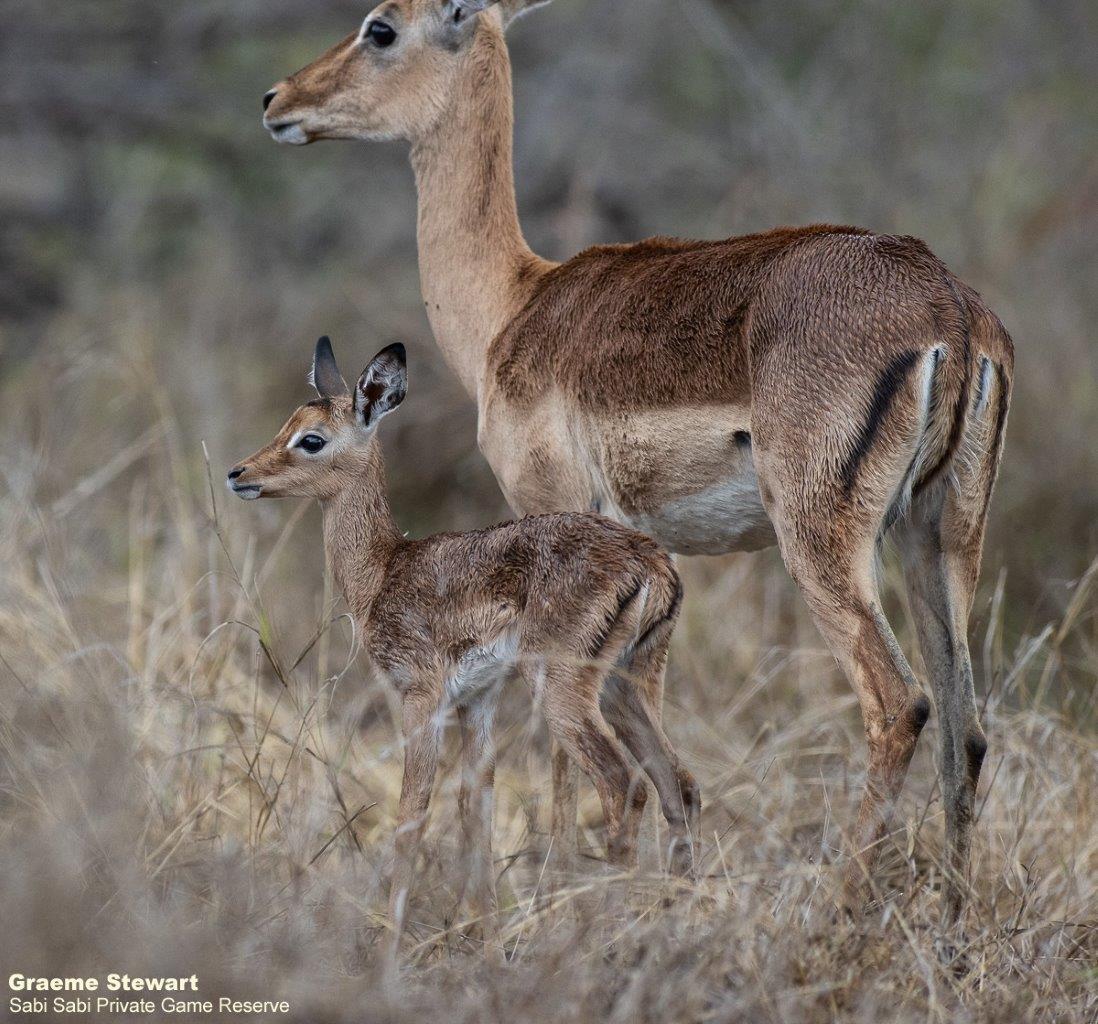 With an extremely fast dash, she was off, heading straight for the herd, if you blinked you would have missed it, to be honest, all I really saw was a blur of spots. We lost sight of the female but were able to keep an eye on her cub from a distance as to not put any unwanted stress on the cub.

Moments later the female cheetah returned with her prize and her cub went sprinting off to her with excitement knowing that there was a meal waiting.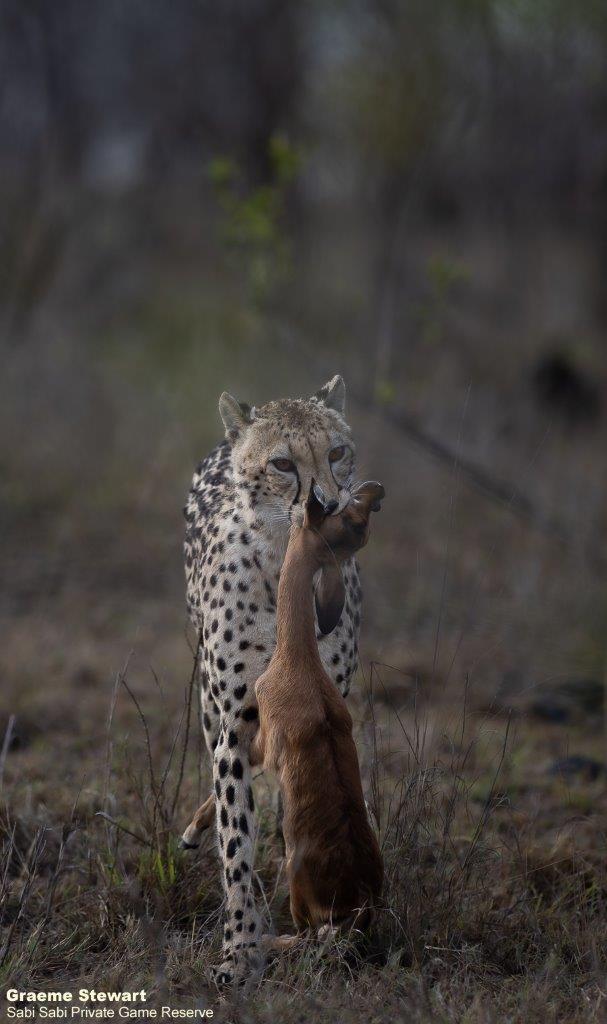 If we were not there at the right place and the right time, we would have missed everything which just shows that in the bush, luck plays a huge role.
The female dropped her kill and allowed the cub to investigate while she regained her strength and waited for her heart rate to drop and catch her breath before starting to feed. Even though it was a small impala lamb it would be enough to keep these cheetahs fit and healthy for the next day or two.
Just as the female approached the impala to start feeding she quickly lifted her head with what looked like fear or disappointment. We scanned the area where she was looking and had a brief sight of a Spotted Hyena in the distance which could be detrimental for the cheetah, as hyenas are renowned for stealing prey from other cat species. Luckily the hyena moved on, not noticing the cheetah (and then later successfully killed a female kudu itself but was chased away by over 100 vultures but I'll leave that for another story).

As soon as the female cheetah felt safe and comfortable, they began to feed as quickly as they could before moving off from the kill to make sure nothing would follow them. What I found very interesting, and is worthwhile noting, is that there was not a single sound made from either of the cats during this whole sighting, as to go as undetected as possible.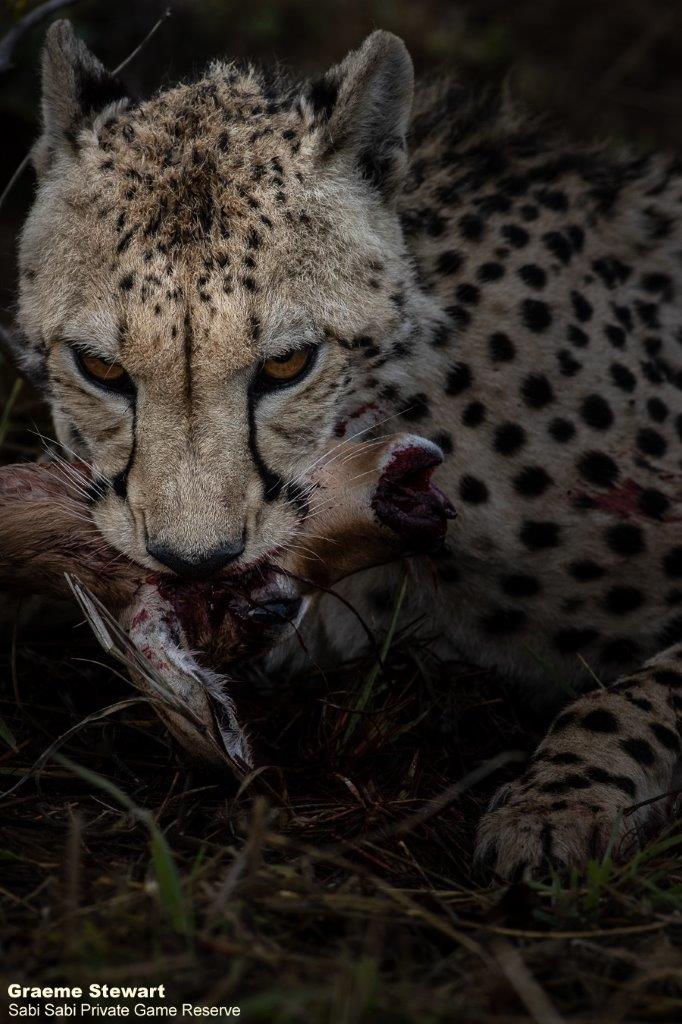 After over 2 hours spent with these two incredible animals we sat and watched as they moved off into the distance with no words left to say, just knowing that what we just witnessed was a once in a lifetime experience.
Blog by Graeme Stewart (Bush Lodge Ranger)