There are not enough words for me to tell you about all the incredible things I have seen, and the moments I have witnessed while working here at Sabi Sabi. Every day is different, and you will never know what to expect the moment you step onto that safari vehicle and set off to find all wonders.
As a guide, one question I get asked every time is "tell us about your best sighting" or "what's the best thing you have seen" and as I said above, I have seen the most magical scenes its almost hard choose, but without fault there is always one that will come to mind and I always share this story, I actually landed up writing a blog about it shortly after it happened so I could share it with everyone.
Leopards are an absolute privilege that we have here at Sabi Sabi it would make sense that this moment be with one of them.
A pair of mating leopards had been spotted that day, and it was our plan to head that way to try go and find them. We had traveled a good distance away from the lodge to go in search of these beauties and time was catching up with us and so was an enormous storm. I can honestly remember this day so well – we had already had a great time, but we were determined to find what we set out for and no enormous storm was going to stop us!
I quote from a guest as the black clouds started to roll over the sky "that looks like the end of the world." We knew that this wasn't going to be a comfortable experience as winds had already started. We stopped to gear up for the inevitable. A few minutes into the storm, wet and cold, but we didn't give up. We eventually got to where we needed to be, we headed into an opening but had some impala in front of us, so we turned our headlights off as not to disturb them. The moment we paused and turned our lights back on, in front of us, not one, but TWO leopards – each with an impala!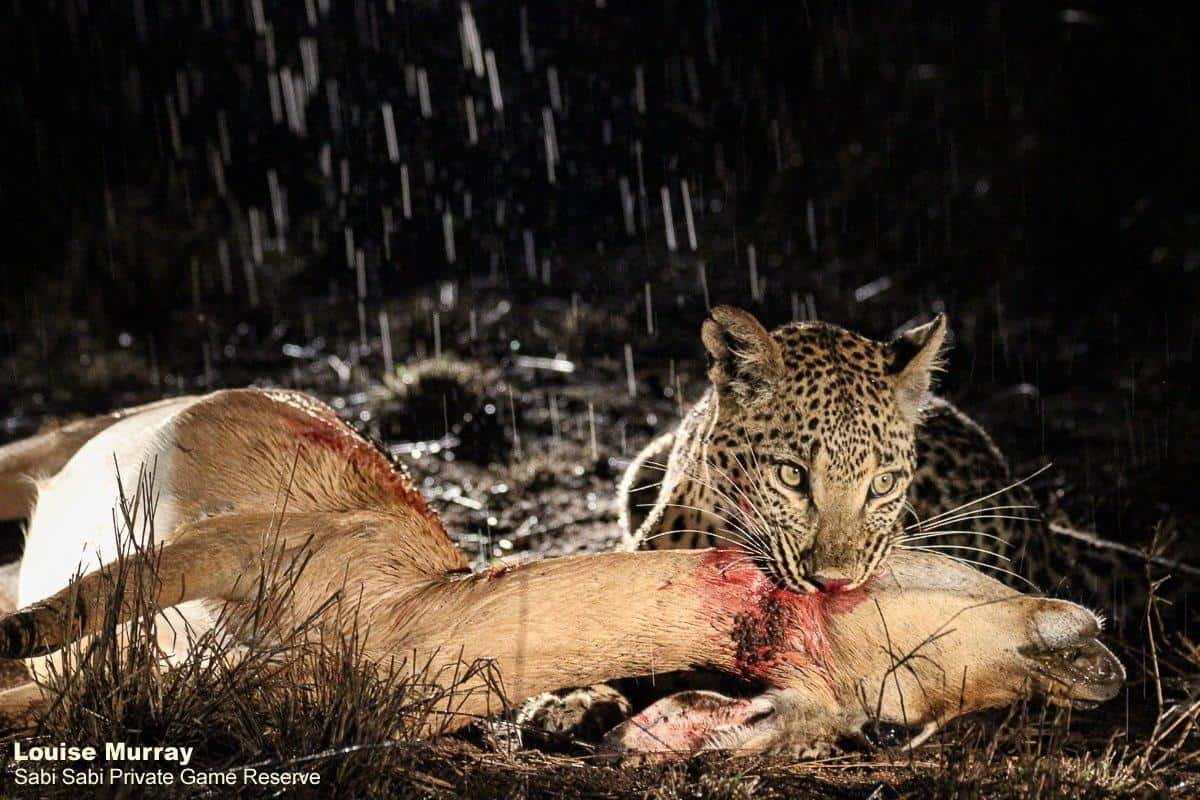 Can you imagine the moment – pure darkness, wind howling, cold rain crashing against the ponchos and with one switch, it was like turning on the tv, no one could believe it and yet there it was in front of us.
The male leopard (N'weti) moved off with his female impala kill but we couldn't follow him further. The female leopard (Ntsumi) stayed, securing her kill. We sat in the pouring rain in awe of the moment, the power, the beauty and the rawness of it all.
Now I might be biased and say that the pair of leopards have got to be (in my opinion) the most majestic of them all, he is just a regal handsome male and she is a fierce beauty.
I have one picture I managed to capture and it will forever stay in my head – when I speak of this story this is the image I always see, amazing how one image can bring back all the "feels" of that night! And that's exactly what this sighting was – not only a visual spectacular but everything else, physical feelings of cold, wet rain, the earth smells of the soaked earth and the raw emotion of the circle of life – we had a story.
That evening when we got back to the lodge and everyone was soaked head to toe – no one cared. We dried off and headed straight to the bar, drinks in hand and cheered to a moment we could never forget.
Blog by Louise Murray (Bush Lodge Ranger)