It is a wish for everyone who comes on safari to see the Big Five at Sabi Sabi during their stay. Sometimes here and there you will have guests asking if some animals like aardvark and honey badgers are seen on the reserve.  Yes.  The question comes without any expectations since almost everyone knows how elusive these animals can be, especially in these parts of the Greater Kruger National Park. I was on the fortunate part to have seen some of these elusive animals once or twice at Sabi Sabi over many years.
Pangolin
Also known as Ground Pangolin or Cape Pangolin (Smutsia temminckii) is one of the four species of Pangolins which can be found in Africa and the only one in southern and eastern Africa. On a cloudy day we started our afternoon safari without any expectation; had our sundowner stop and continued with our safari. A hand up signal from my tracker Mike made me hit the brakes so abrupt that everyone was surprised, but I knew what that signal meant. On pointing to the right we all couldn't believe that a pangolin was just crossing the road on the right side of the road. A joyous moment for many who saw the pangolin for the first time in their lives. Apart from living in deep burrows which they dig themselves and those abandoned by aardvarks, pangolins are solitary in nature and only interact for mating and being nocturnal makes them very elusive and hard to find them in their natural habitat.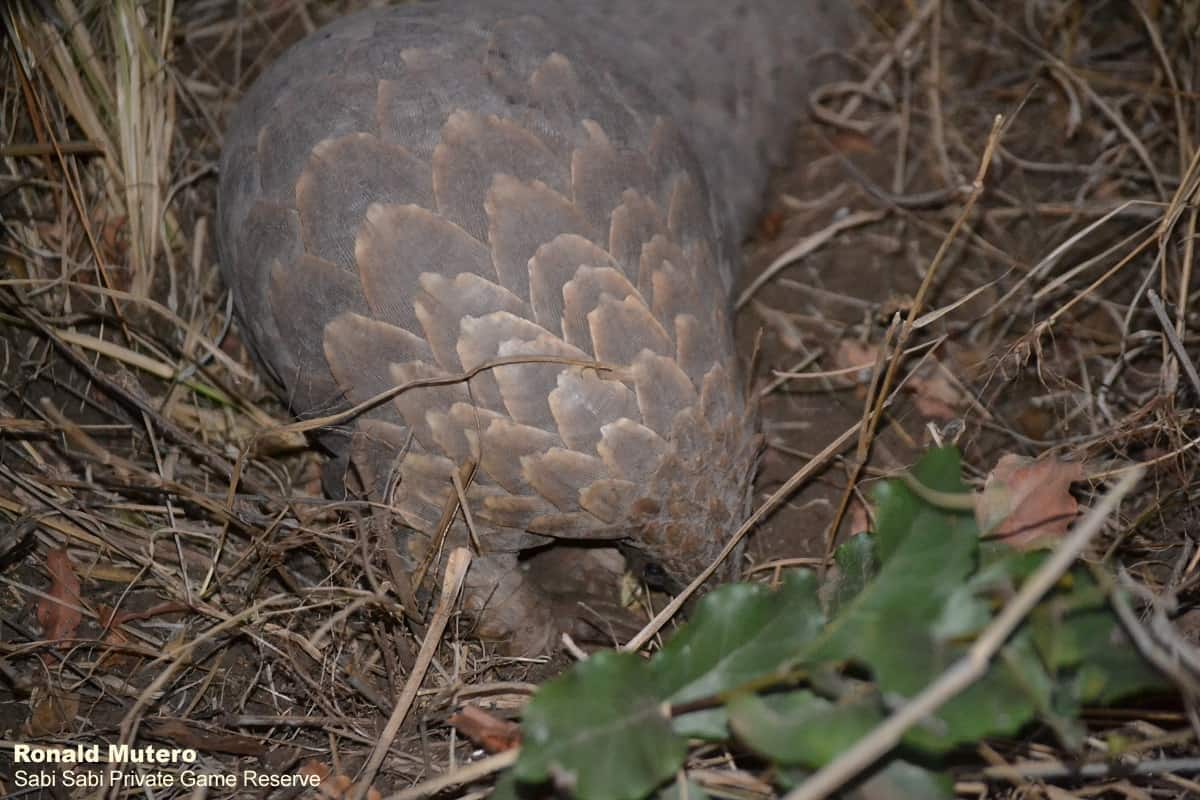 Pangolins are very secretive and not easy to follow around for long periods. Little is known about them in terms of studying their natural habitat; it is imperative to note that like many other animals, pangolins do mark their territories with the use of urine, secretions and by scattering their faeces. They are also capable of emitting noxious acid from glands near the anus, like skunks, to deter predators. Pangolins also use their scales on their tails and back to protect themselves from predators.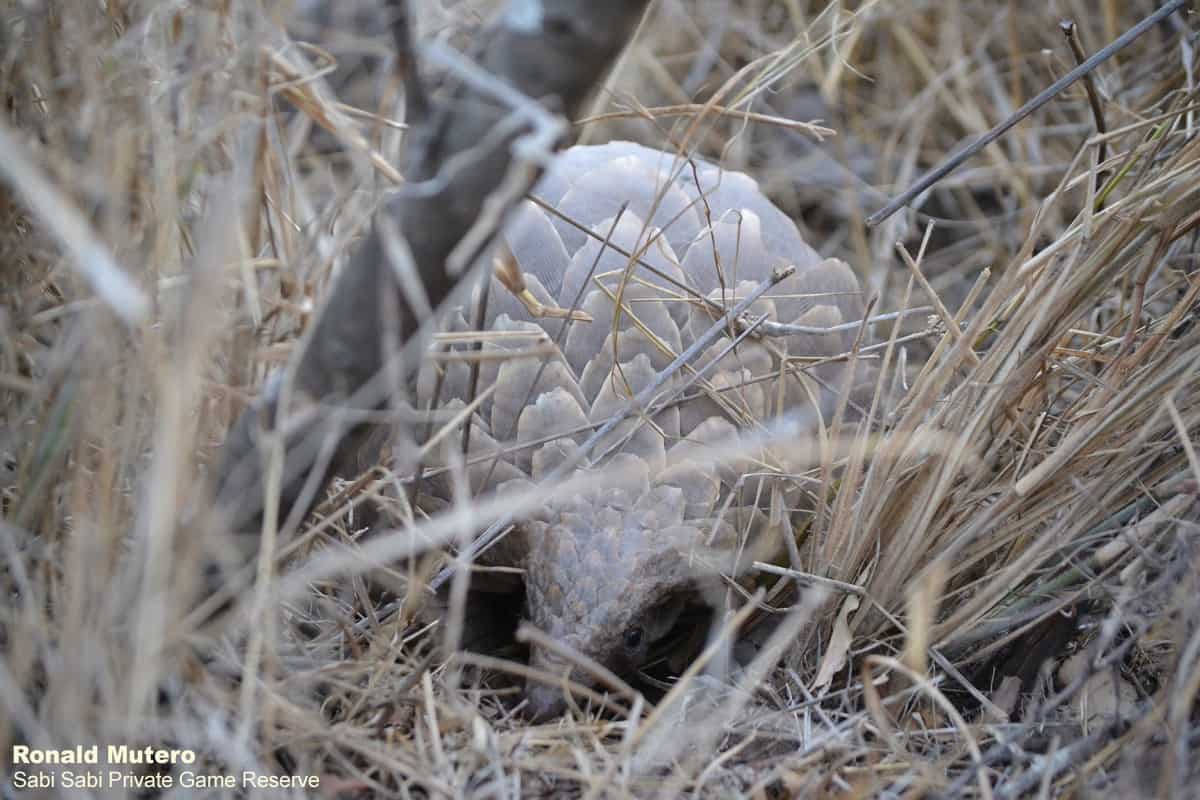 Honey badger (Mellivora capensis)
Honey badgers are a carnivorous species and have few natural predators because they have a thick skin and ferocious defence abilities. According to the 2002 edition of the Guinness Book of World Records, honey badgers are listed as the world's most fearless animal. The honey badger is one of the elusive animals sought after on safari but very difficult to see. On several occasions we just get a glimpse of the animal and they quickly disappear. I have been fortunate enough after several times in the reserve to actually spend some time with these elusive creatures.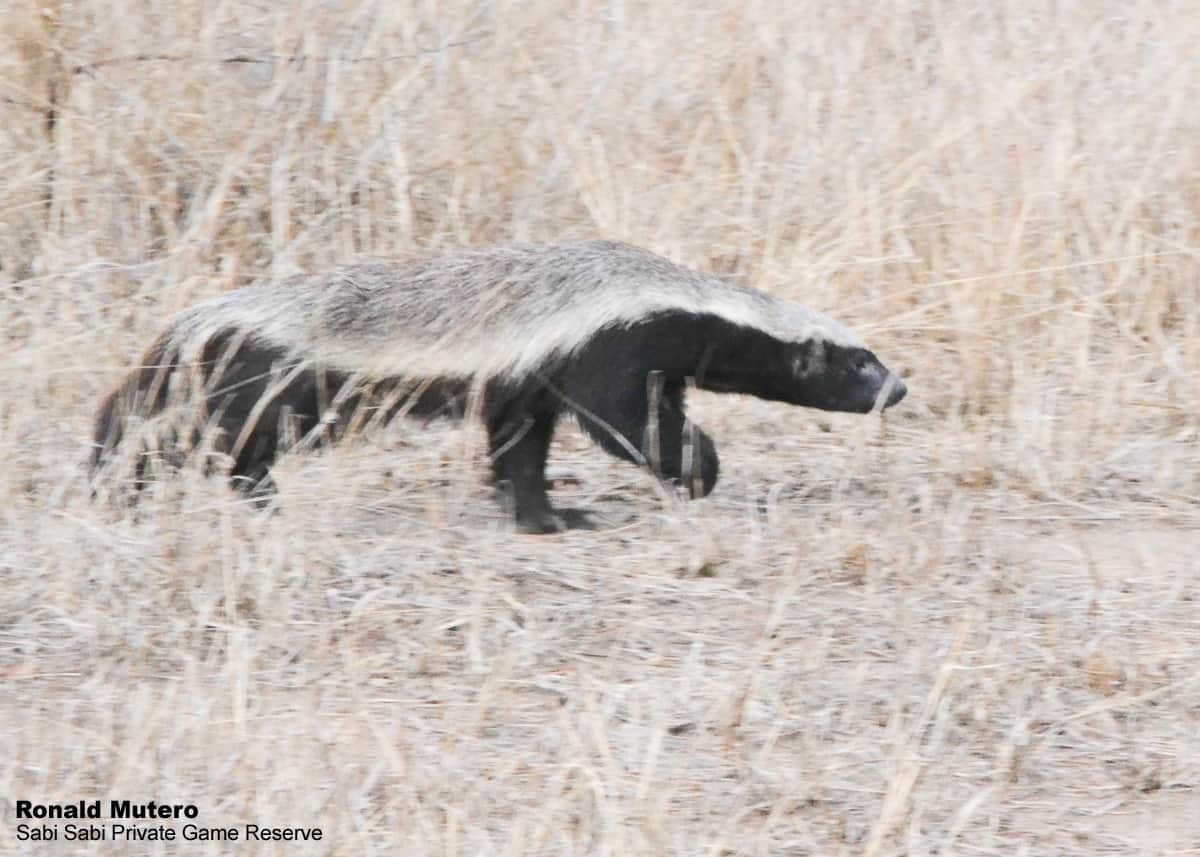 Honey badgers are known for their strength, toughness and ferocity. They are fearless and they attack their predators even more when they cannot escape from them. Like the name suggests, the honey badger accesses its food mainly by digging out of the ground.  They favour honey and mainly search for beehives, although they also feed on rodents, birds, snakes and eggs.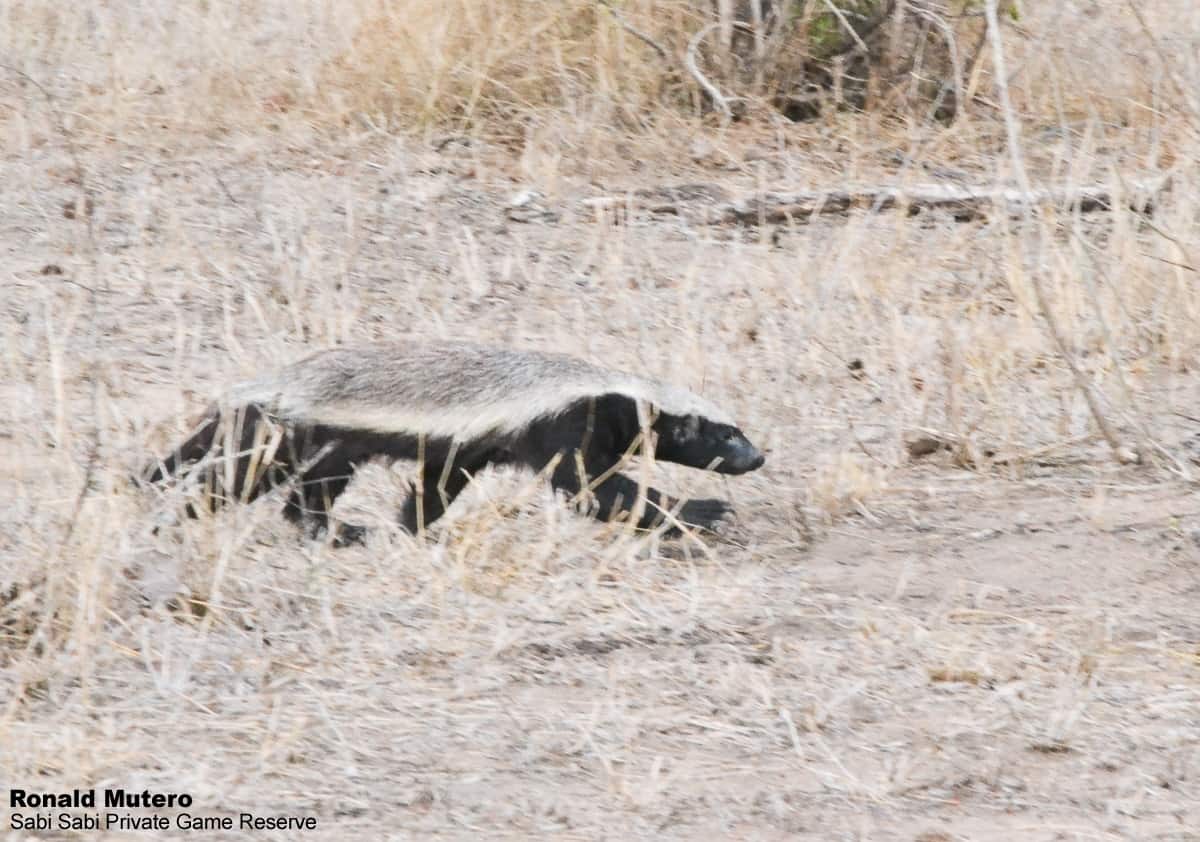 Serval (Leptrailurus serval)
Setting out on safari every day, one will not expect seeing a serval as an everyday thing and few would be lucky to come across one. Once or twice we had an opportunity to spend time with a serval hunting at night. Its big ears are its big adaptation to listen to underground movements of prey and their long legs help them to leap to catch prey.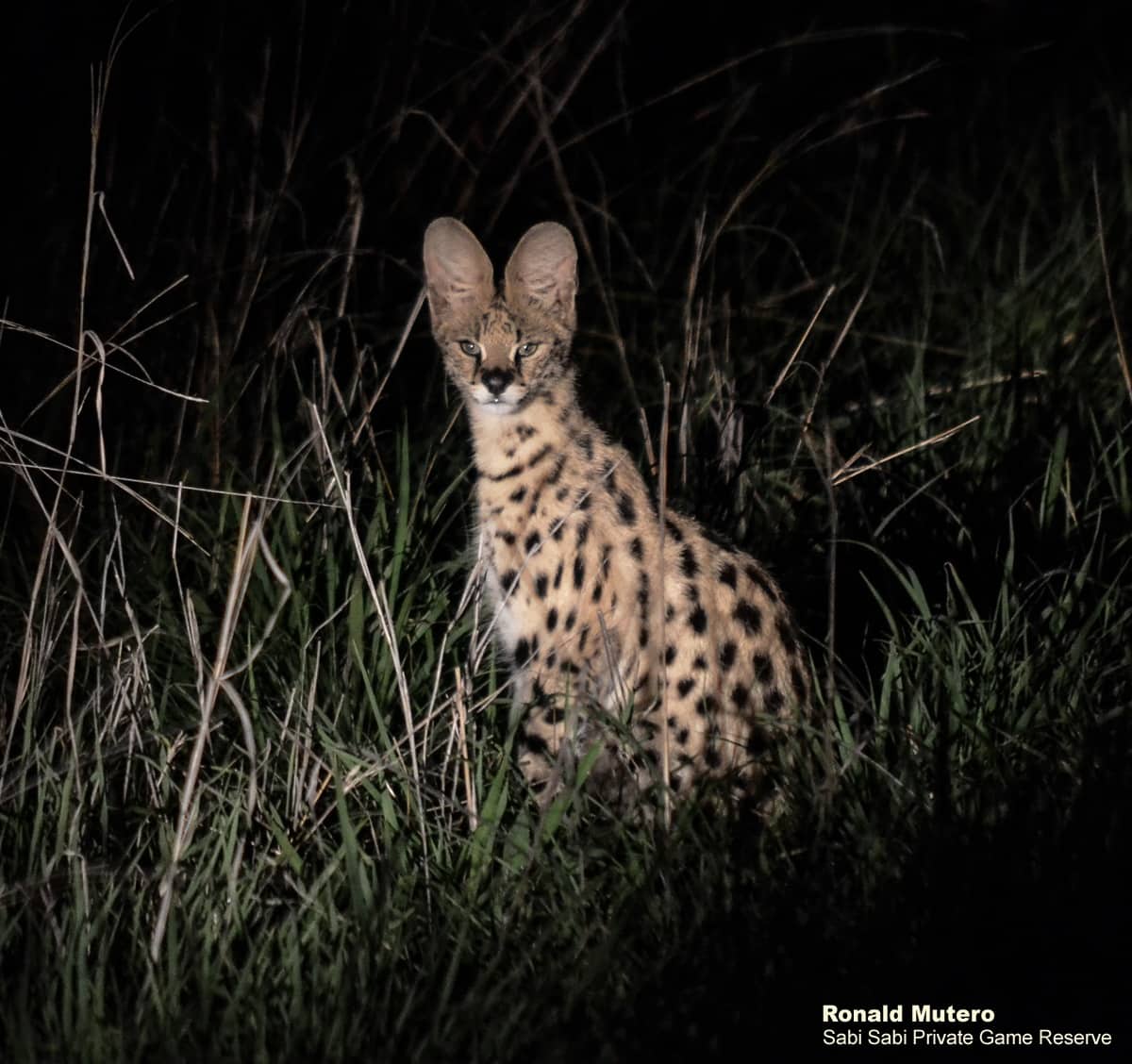 The name serval is derived from a Portuguese word meaning "wolf- like". Servals are very rare to see in in the southern savannah. They are nocturnal creatures but can be active as well during the day. Servals might be active for longer time on cool or rainy days.  They are solitary with minimal social interaction. Both the males and females establish home ranges overlapping each other and mark their territories using faeces and saliva with territories usually covering between 12 to 30 square kilometres, depending on the availability of food. Being more nocturnal makes them very difficult to find, but again, I have been very fortunate to see them in their natural environment.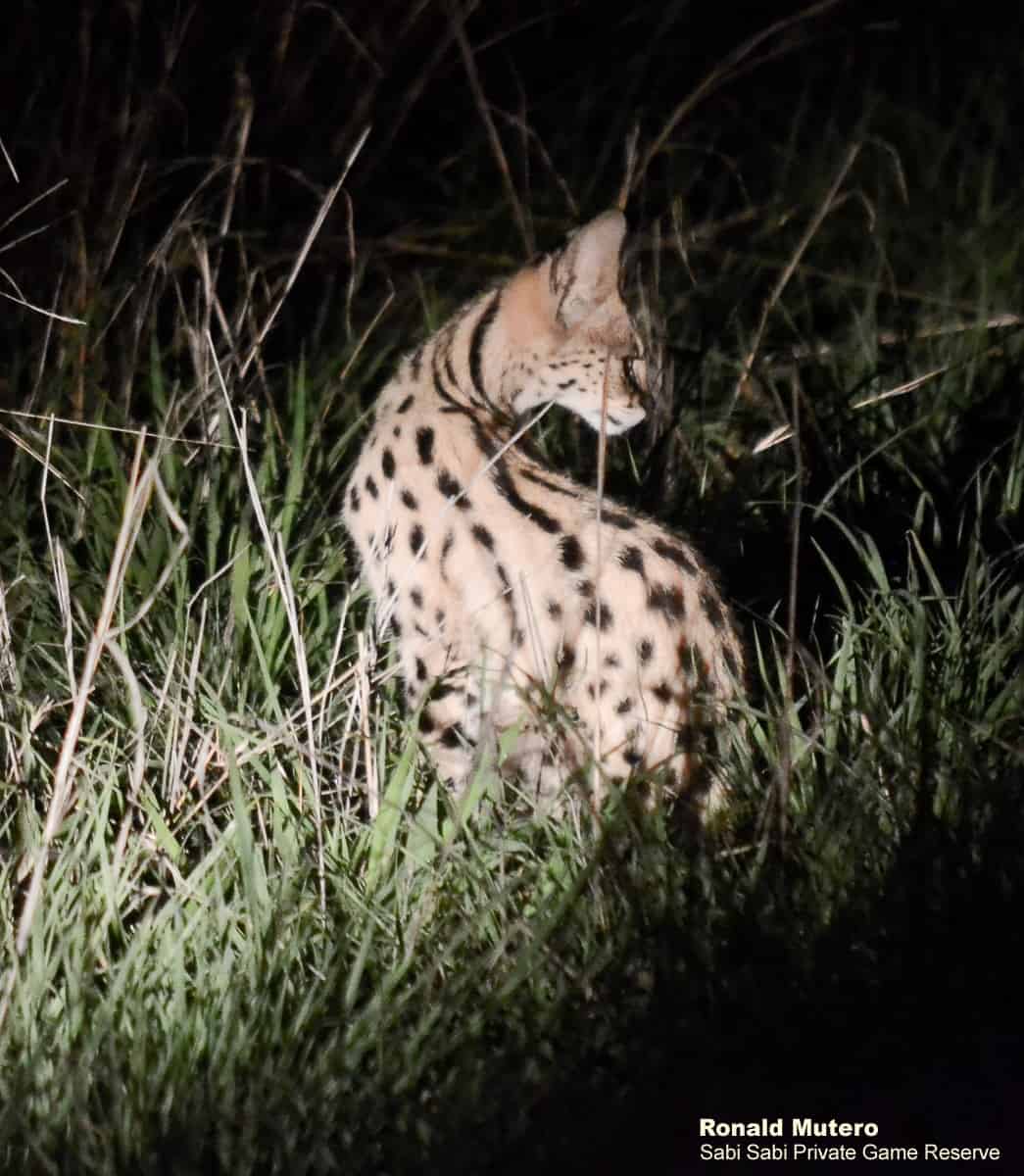 Blog by Ronald Mutero (Selati Camp Ranger)