Revenge of the Honeyguide
In the bush, we have an interesting individual called a Honeyguide.  This little character has a peculiar relationship with those around him which this Zulu tale will detail further.
There was once a Honey Badger who decided that he would no longer share his food, not with his wife and not with his kids.
Badger was trundling along when he heard above him and to the left a little sound like "Chitik-chitik-chitik" similar to the sound a box of matches makes when you shake it sideways.  "Chitik-chitik-chitik" it went again and this time a little to his right. Before him flitted the Honeyguide and called him repeatedly but the Badger kept ignoring him.  Eventually Honeyguide all but landed on Badger's nose. This startled Badger quite badly and he let out an embarrassing yelp!
Honeyguide moved away and again went "Chitik-chitik-chitik", now he had Badger's attention. Badger wondered in exasperation what this mad little fellow wanted as he kept Chitiking at him.  Never one to miss out on a trick, he took full interest in the noisy little bird and saw him flit off, then flit back to the same perch and then flit off again all the while going "Chitik-chitik-chitik".
Now Badger was curious, he followed the little nuisance as he flitted from branch to branch and eventually came upon the biggest Fig tree he had ever seen. The Honeyguide had come to a stop in the branches above Badger and was now going "Chitik-chitik-chitik" at a feverish pitch. In the background Badger could just make out a dull humming drone – bees he thought to himself! This wily little Honeyguide had led him to a bee hive – how Badger enjoyed honey and he was perfectly equipped to get to it as well!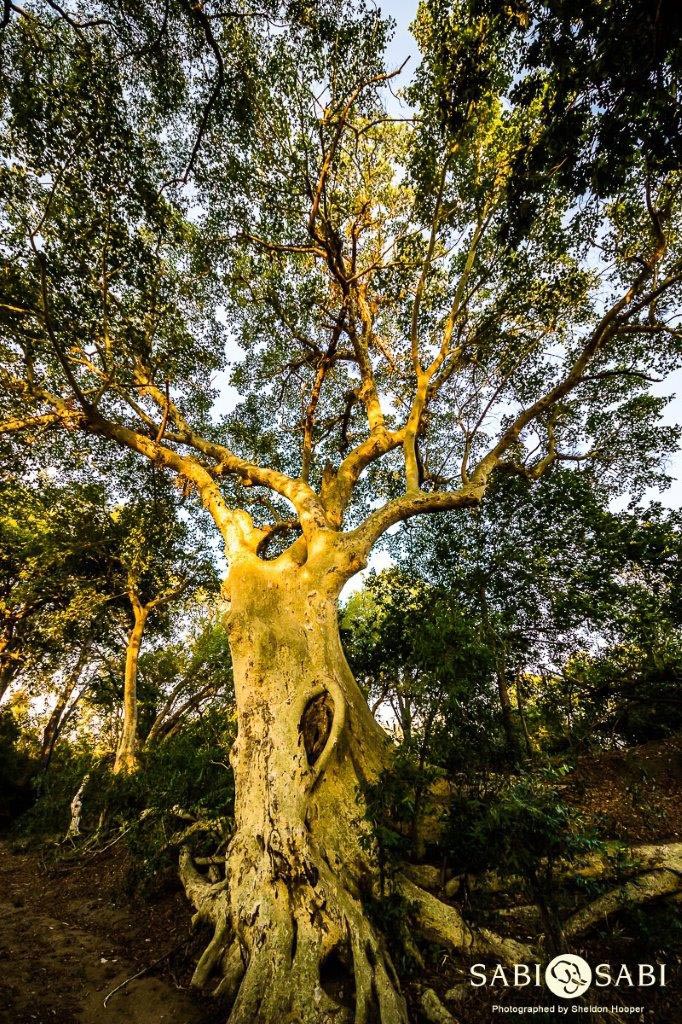 He had thick skin and was not fazed by bee stings at all, just shrugging them off as he clambered up into the tree all the while the poor bees tried in vain to dislodge him. Badger reached the prize comb and grabbed it in his jaws, honey running over his snout and teeth and chin in a warm rush. Very pleased with himself, he devoured it all and made his way again out of the Fig tree. Honeyguide had seen all of this and was crestfallen that Badger had not left him anything in reciprocation, "VIC-torr! VIC-torrr!" he screeched as Badger clambered down.
With Honeyguide flitting about his head, Badger nearly lost his footing as he came down from the big Fig tree. Eventually Honeyguide ceased his barrage and went off in search of another hive and a more accommodating partner, all the while brooding on the revenge he would have on Badger for not sharing.
A few months later Badger once again heard the unmistakable sound, "Chitik-chitik-chitik" and immediately recognised it as well as the effect it had on his mouth. Salivating like mad, he followed the Honeyguide knowing he would lead him straight to another delicious morsel… He swiftly began climbing the Fig tree that Honeyguide had led him to, not noticing in his haste the lack of the drone that accompanies bee hives. He scampered up ever higher wondering where on earth the hive could be.
Eventually he reached out to take hold of a peculiarly spotted vine and when he tugged on it, the owner gave a heart wrenching growl. Honeyguide had led Badger to a tree in which a She Leopard was sleeping! The She Leopard swung her paw and clouted Badger so hard that he fell from the tree, nearly hitting every single branch possible on the way down. Upon landing with a great thump on the floor, he scampered away in great haste to lick his wounds. Honeyguide was sure that Badger had now learnt his lesson and that the next time he was led to honey he would share some of the delicious prize.
This is why Badger and Honeyguide now have such a good relationship and also why, if you ever come across a Honeyguide who leads you to honey, you should share with it lest you too be led into a dangerous situation.
Blog by Sheldon Hooper (Bush Lodge Ranger)
Images by Sheldon Hooper & Kyle Strautmann