elefun centre a hit with families
news update:
6th

october

When Sabi Sabi first opened the doors of the Elefun Centre a few months ago, nobody envisaged what an enormously popular destination this children's facility would become for our young guests. Beautifully designed and built in the shade of the ancient indigenous trees which are a feature of the gardens surrounding Bush Lodge, the centre includes an indoor "teaching" and recreation room, and a secure, lawned outdoor playground where the little ones can safely play and burn off excess energy. The entire area is fun, safe, entertaining and educational.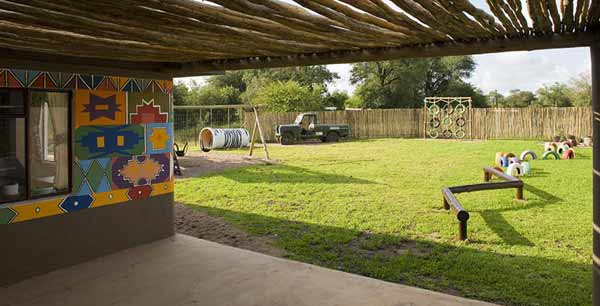 The centre caters for all children between the ages of 4 - 12, with separate age-appropriate activities organized for distinct age groups from toddlers to young teenagers. And all of this is at no extra cost.
In order to keep the children interested the daily programme is very varied, but the bushveld theme is constant, running through all the games and creative 'edutainment' provided. Interesting projects are undertaken during the formal sessions, and learning to identify animal and bird species by sight, sound and spoor is immensely popular. Ample tools and instruction are provided to keep all the young minds active. At any time of the day, children can be found climbing, jumping, playing games, painting, doing puzzles or out on safari. The activities are designed by a childcare professional, with the game drives and away from the centre "in the bush" activities for the older children operated by hand-picked, qualified game rangers. The entire children's team exudes the same warm and caring attitude for which the Sabi Sabi staff is rightfully famous.
A new initiative gives children the opportunity of taking photographs on their safaris, and having them displayed on the classroom walls alongside the messages and handprints of children who have previously visited the centre. This message wall is creating a living history of young visitors to Sabi Sabi from all over the world.
While families with children have always been very welcome at Sabi Sabi, the wonderful Elefun Centre now allows our younger guests the freedom to spend safe, supervised, fun time with their peers, while at the same time giving their parents the peace of mind and independence to relax and soak up all the wonderful adult indulgences which are on offer at the lodge - exceptional safaris, exciting bush walks, delectable cuisine, and world class treatments at the Amani Spas.
For more details on the programmes at the Elefun Centre click here.