Wildlife photography poses many challenges and the external factors do not always fall in the favour of the photographer. I was faced with some of these challenges when we found a male leopard on a kill in a tree during our morning game drive.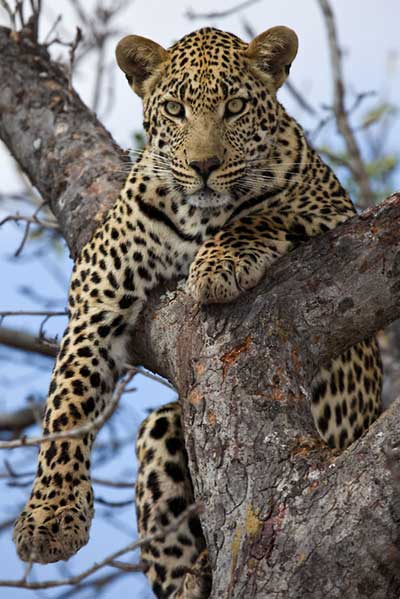 The sun was already quite high and harsh. The dry Marula tree in which the leopard sat was casting distracting shadows over his spotted face. Another factor that I had to take into consideration was the burnt out background resulting from the use of a normal exposure.
Instead of utilising the camera's built-in, pop-up flash I made use of an off-camera flash with a wireless trigger. With this technique I wouldn't disturb the leopard and at the same time it would give the animal's eyes a lively sparkle.
This technique is referred to as "Fill Flash" which is used in photography for a number of purposes. Fill Flash is a good way to cut back the shadows cast by the tree therefore correctly exposing the image so that the background will not look washed out.
Using my Canon 100-400mm lens, I took the picture at 320mm to ensure an ideal close-up portrait of the young male leopard. I set my aperture to f7.1 in order to get enough depth of field to have the leopard's face in full focus. My ISO was already set to its usual 400, giving me a shutter speed of 1/800th of a second. After setting it up, all I had to do was to wait for the ever important eye-contact and the photo was made.
Stay focused,
Darred Joubert