Nowhere else in the world will a safari be as memorable as that under an ever-changing African sky: the early morning sees the sky lighten slowly from hazy dawn to sharp morning sunlight, the midday sky is intensely blue and the evening skies turn swiftly from softly pink-tinged to inky darkness. And when the last rays of sunlight have disappeared the night skies come alive with a spectacular display of brilliant stars that are at once mesmerising.
The absence of interference from city lights and no pollution at Sabi Sabi make for a breath-taking spectacle of stars, and each season unveils new stories that have captivated mankind for centuries. Southern Africa is the ideal spot for locating the renowned Southern Cross, and Orion's Belt, Jupiter's moons, planets and satellites are seen nightly. Rising constellations reveal the time of year and trained guides share their knowledge with guests on how to recognise these constellations and stars.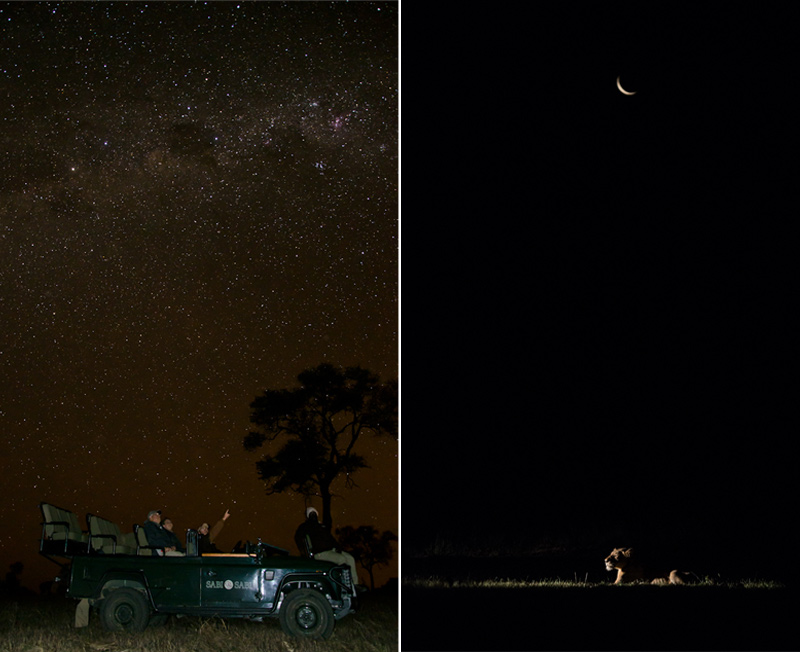 With or without the aid of binoculars or a telescope, the night sky is clearly visible and brought closer when guests enjoy an after-dark stop in the bush. On particularly clear nights, the lodge packs comfortable mats and these are set out in a safe open area, and guests are invited to take the strain off their craning necks and recline to enjoy the starry canopy from this perfect vantage point, whilst their ranger captivates the star gazers with the myths and facts that provide insight into the galaxy. Truth and fiction merge as ancient tales are retold with local folklore woven in for extra intrigue. The sheer magnitude of the sky is awe-inspiring, adding immeasurably to the already thrilling daylight safari at Sabi Sabi.
Nocturnal animals and birds inhabit the night, breaking the silence with their calls, intensifying the thrill of stargazing under African skies. On a moonless night the darkness seems to stretch forever and makes the return to the gently lamp lit lodge even more welcome.