At 3am yesterday morning I woke up to the sound of the rain pouring down on my roof. The sound sent me straight back to sleep and before I knew what was happening my alarm was booming in my ear telling me it was time to get up. The rain had all but stopped and it looked like we would have a dry drive. After a cup of coffee, cheese and crackers and some fruit we jumped into the Land Rover and started the next adventure. As we drove away from the lodge, we picked up lion tracks and started to follow. Solly (my tracker) and I jumped off periodically to get a bearing on the direction of the cats but it wasn't long before we found them all huddled together looking very wet.
As we watched them they started getting a little more active, licking the water from each others fur and grooming. Another female came in from a distance and the rest of the pride went charging in to say hello. Once the pride was back together they all started moving off. The cubs played boisterously as they moved with the pride, tackling one another, jumping on the females and stalking the rest of the pride. They looked like they may have eaten something but it was nothing substantial.
As we followed them, they took the opportunity to drink from the newly formed puddles after the rain and then moved on. Finally they found a nice clearing with a jungle gym (a fallen down tree) for the cubs and nice morning sun for the females to dry their coats.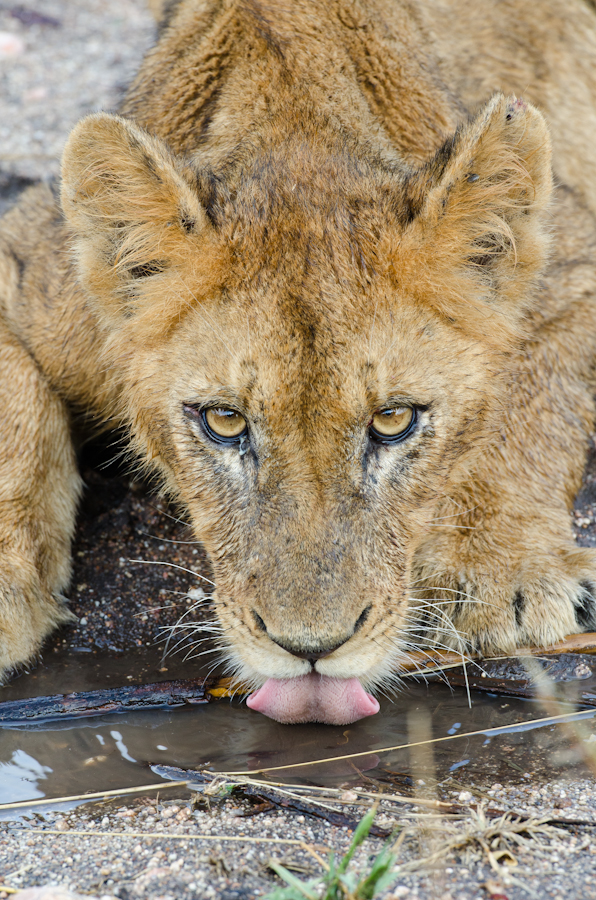 We sat for about an hour and a half just watching them interact as the cubs climbed the tree, using it as a scratching post and resting for a while. We left the lions to sleep and went off to have a look at the herd of buffalo that were no more than 500 metres from the lions.
The whole herd was spread out over an open area grazing peacefully with a nice herd of zebra close by. We again just sat and watched as the herd moved slowly along and we moved closer to the zebra to get a better look. As we got close to the zebra, Solly stopped me because there were some remains of an impala. We had quick look at the fresh kill and then parked closer to the zebra.
While watching the zebra, the buffalo came rushing in towards us and sniffing around the kill. The wind had obviously changed direction and the buffalo could smell the lions all over the place. It was amazing to see their reaction to the smell! Eventually we left the massive herd and headed home for breakfast and it was only then that I realised that through out our drive we had not travelled more than one kilometre from Little Bush Camp.
 by: Richard de Gouveia (Little Bush Camp ranger)