What a great couple of days it has been, we have seen some amazing things and my guests have just been spectacular! During my last guests stay it was really tough to get a decent sighting of a leopard. We saw 2 different leopards but each time we saw them they decided to mission through impenetrable bush leaving us wondering where they would pop out. Even though we tracked and assessed where they might next show up, they just kept dodging us. In the morning we found a female and she was slowly marking territory as she ambled down the river oblivious to our presence, unfortunately there was no way into the river to follow her so we made our way around the other side to see if we could pick her up again or find a way to follow her down the river but she was always one step ahead of us.
After losing her we headed back to Little Bush Camp to have some breakfast and decided to try and find her in the afternoon. One of the rangers found drag marks and leopard tracks indicating that the leopard we had followed that morning had made a kill close to where we lost her and on further inspection the ranger found the kill hoisted high up in a Jackalberry Tree but there was no sign of the leopard. For the next 24 hours vehicles frequented the area trying to see if she had come back to her food but to no avail…every time I went back, the carcass had moved but there was no sign of the leopard. We eventually found her after dark, she was up in the tree chewing away at her dinner with a hyena poised right underneath her to pick up any scraps that fell.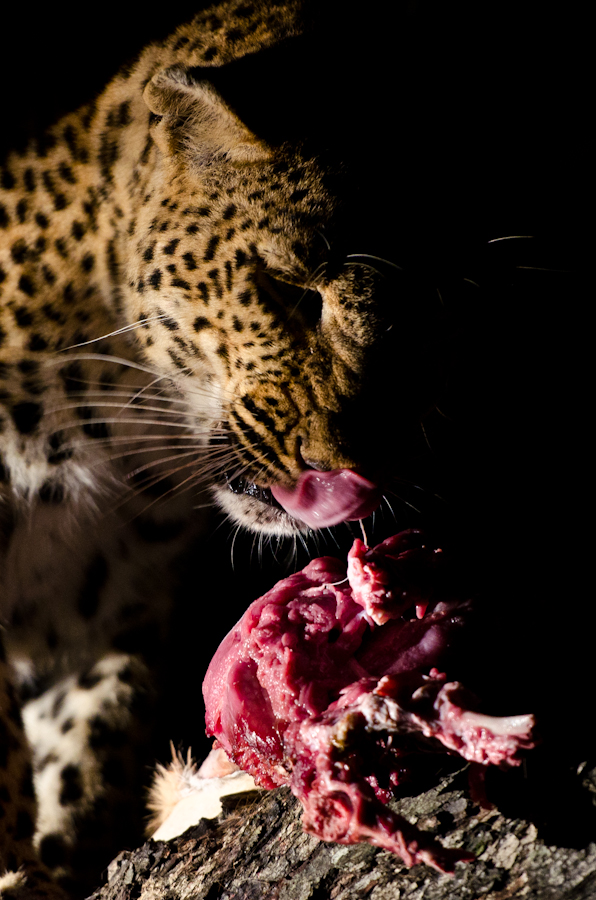 It was my guests last night with us and it was just the thing they needed to top off their stay. We stayed there watching her moving around her kill, devouring it as if she hadn't eaten for days. With the utmost dexterity, she moved the kill into whatever position she needed. As she chewed off bits of meat small pieces would fall from the tree and hit the hyena on the head making me think that Newton was the first one to understand gravity.
With all the memory cards full, it was time to head back to the lodge for another four-course meal, which ironically had impala as the main course. The whole way back one of my Mexican guests was joking that he was eating only vegetables that night and when the chef announced impala as main course he almost choked on his drink. We sat laughing so hard that the tears were running down our faces and we were all blaming the chef for chasing the leopard away so that he could use the meat for dinner. What a day!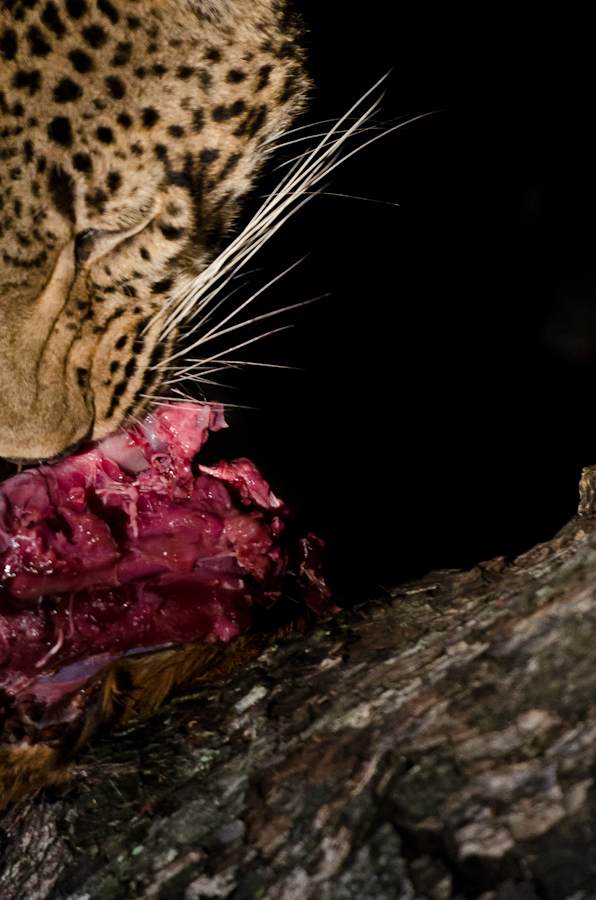 by: Richard de Gouveia (Little Bush Camp ranger)