This last cycle has been incredible and looking back on it from the comfort of my home while enjoying a great holiday, it just amazes me how much we have seen. So where do we start…well, I think the best is to let you all know that it was a beautiful afternoon in the African bush. Our 6 guests, Solly and myself set out to explore the wilderness. One of the requests for the afternoon was rhino and it wasn't long before we found a big male that was ready to have a nice long mud bath.
We sat and watched as he rolled around in the mud, covering himself from top to toe. As he went about his daily cleansing he would stop from time to time to catch his breath from all the strenuous rolling of his 2-ton bulk. His movement of weight over his stomach intermittently let off a rush of gas, which bubbled in the mud and left the guests stuck between laughing and feeling embarrassed. We then left the rhino as he moved long to carry on feeding and marking his territory.
That evening was manic with 2 different leopards having been spotted, one of which stole the kill of a younger leopard. The dominant male was intent on making sure the youngster got the message that he was not welcome and followed his scent calling as he went along. We tried to find the young male but this guy was more worried about getting out of harms way than posing for photos. He was moving through thick bush and we tried to catch up to him to catch a glimpse but he was always one step ahead…eventually we had to call off the search without even seeing so much as a spot. Fortunately for us the big male was still being followed by another vehicle and we went in to join the sighting. As we arrived, he stopped calling and had now focused his attention on heading back to the kill for a bite to eat. We watched him climb nimbly into a scented thorn acacia tree and as he weaved between the long white thorns, two haunting hyenas suddenly arrived at the scene. The hyenas moved silently through the dying light hoping that as the leopard fed he would drop a few morsels for them to fight over. As we watched the leopard, a large thunderstorm rolled in over the bush with its rumbling thunder echoing over the bush. What an incredible sighting!
To top it all off we bumped into the two Kruger males as they were waking from their slumber. The one brother started giving a low contact call as we watched the two of them lying just next to the road. It almost seemed as if he was trying to call back to the thunder that was growing louder and louder. Eventually it was time to head back to Little Bush Camp for some dinner and we enjoyed a great meal while listening to the two males roaring back at the booming thunder.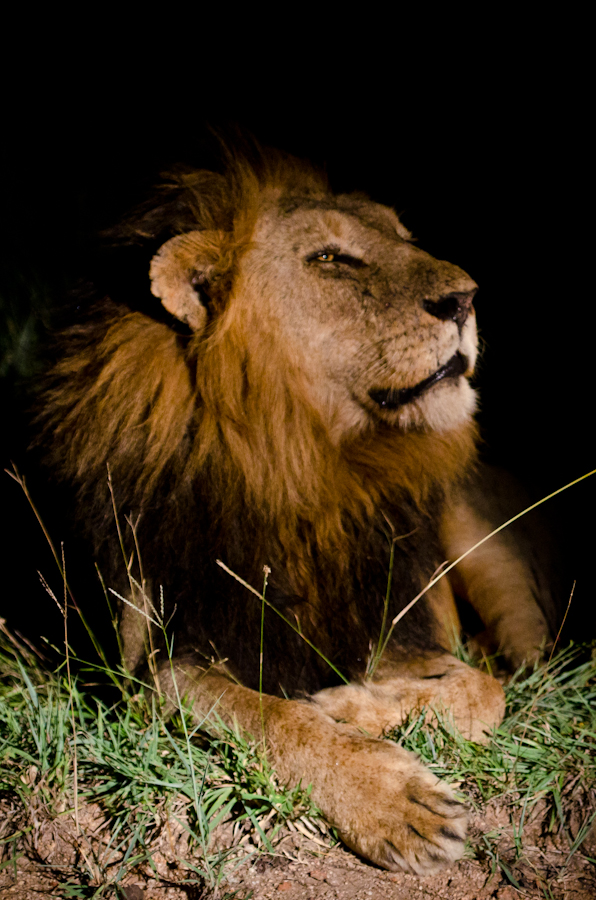 by: Richard de Gouveia (Little Bush Camp ranger)