The last few days have been amazing. The lodge has been full of great guests, great sightings and a little rain to quench the parched bush. We have enjoyed countless elephant sightings on of which was directly in front of the Ivory Suite at Selati Camp. The large herd devoured the bush around the Suite whilst one of the babies slipped in for a quick drink from mom.
The Southern Pride of lions on the other hand have been avoiding us and ever since having one of the cubs killed by the Kruger Males they have been moving around more and more. They have even been roaming outside of their normal territorial range, which has me even more worried for the safety of the cubs. They did however stick around long enough to kill a giraffe yesterday but were out numbered when a pack of 20 hyenas heard the commotion and chased the whole pride off. This whole kill and action must have taken place sometime in the middle of the night when our first big thunderstorm for the year pulled through to deposit a healthy 21 millimetres of rain on the thirsty bush. When we found the giraffe the next morning it was almost finished and by the afternoon all the hyenas had left leaving the last scraps for the vultures to finish.
After we left the giraffe carcass we went to join some of the other rangers that had found a female leopard moving along the Msutlu River. As we pulled in the leopard disappeared into the thick riverine brush only to pop out right next to my vehicle. The gasps from my guests as they caught the first sight of this beautiful leopard left a big smile on my face. This old yet beautiful female again made her way down to the river and began to hunt a duiker but as she launched into her attack the little antelope fled leaving her empty handed and hungry.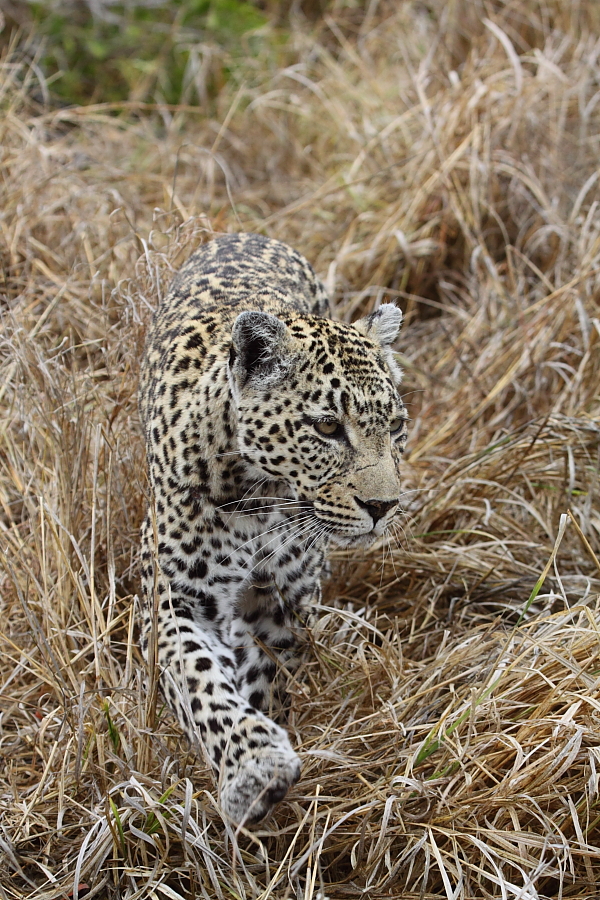 This morning we were also fortunate to have a herd of approximately 400 buffalo come onto the reserve and watched as they slowly moved through the reserve grazing as they went along. We also enjoyed the company of a female rhino and her calf as she waited for the little one to finish scratching himself against a tree before getting back to the job of eating.
The final highlight of the day was the 3,5 metre python which we found on our walk this morning. The enormous reptile was lying in the grass motionless, its tongue flicking in and out trying to figure out if we were a threat or food. I stopped the guests a few feet away from the snake and we watched it as it watched us. After a standoff lasting 5 minutes it eventually spun round and spend off through the long grass and it wasn't long before we lost sight of it. The perfect end to the perfect morning.
by: Richard de Gouveia (Little Bush Camp ranger)