What can I say about the sightings this last week? In one word, "Sensational!" I am baffled as to how it is possible that the quality of sightings that we are experiencing with our guests lately seem to be getting better and better every day. In three or four days guests are seeing things that it takes the National Geographic film crews months to put together. The vast majority of events in this particular blog post occurred over 5 days with the same set of guests.
The week had started out as per 'usual' with my guests and I enjoying the abundance of game out and about on the reserve. The sun is still sitting relatively low on the horizon and this makes for very beautiful light in which to view animals. Some of the more memorable moments where more general game is concerned are featured below. A beautiful silhouette of a kudu cow as she was feeding atop a termite mound after sunset, a zebra stallion posing for us from a heightened vantage point and a magnificent elephant bull that we encountered near the Sabi Sabi airstrip.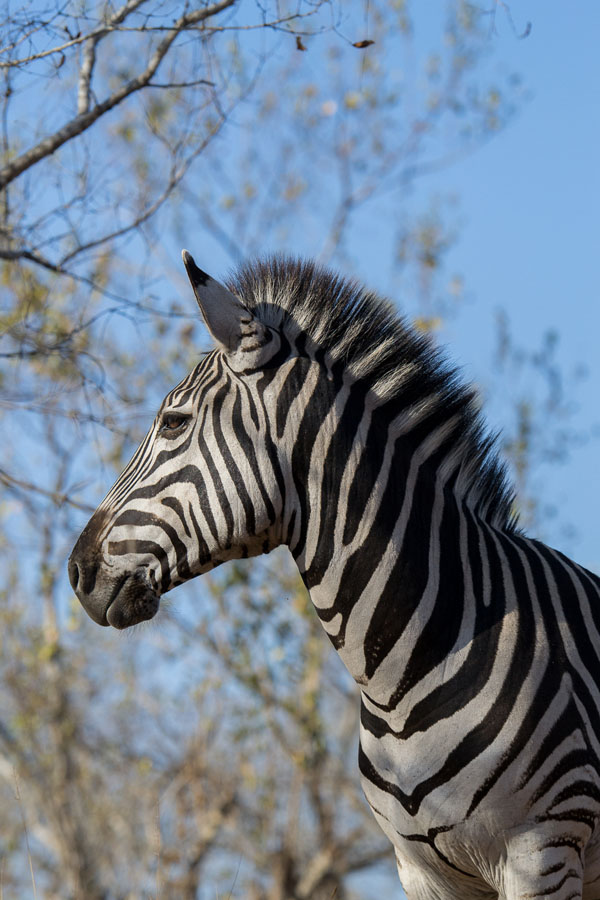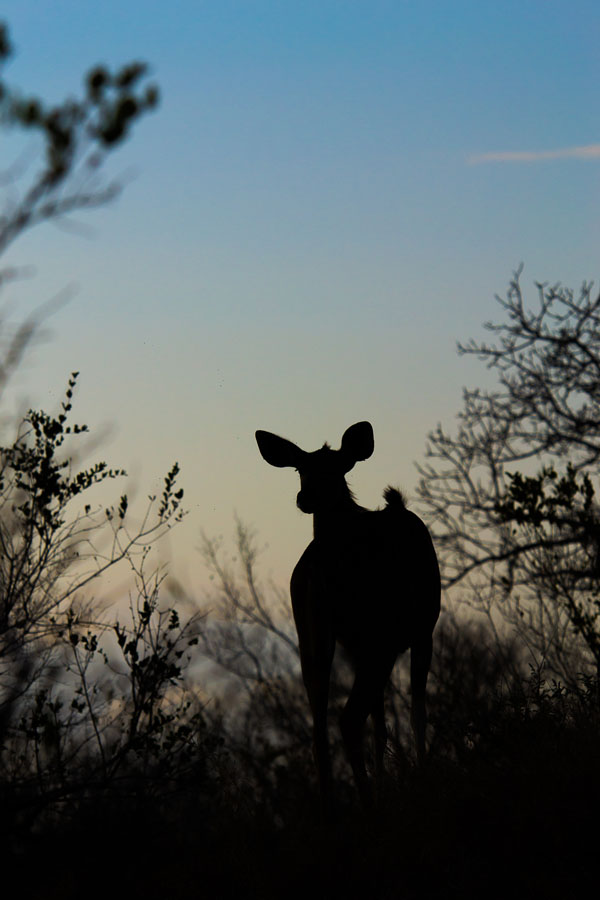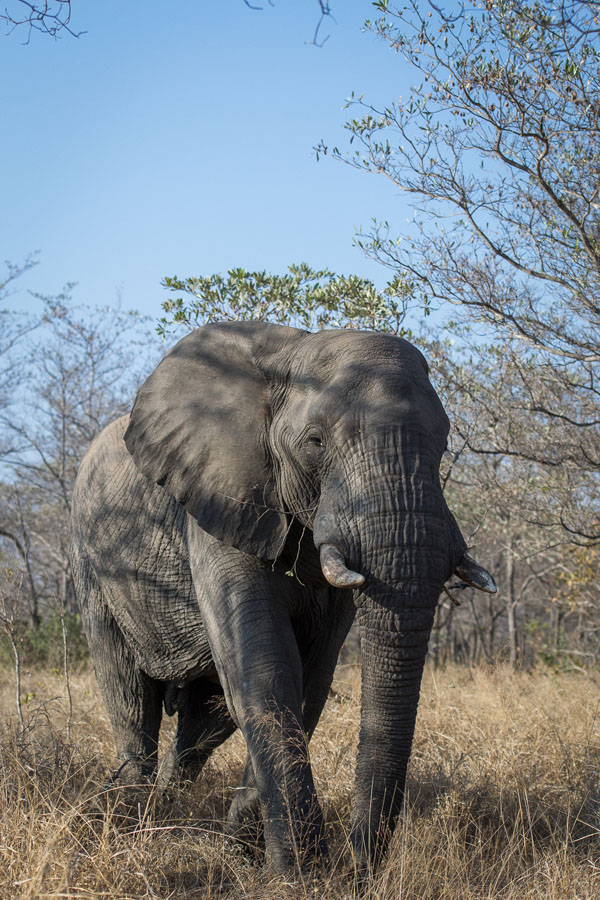 Then the craziness began. We ventured into the south of the reserve to establish if the lions had crossed over the boundary, which they had. We tracked them on foot to find them looking very hungry and making their way toward Earth Lodge's famous Amber Presidential Suite. They had a focused look on their faces and it seemed as if they were locked onto something through the tree line. Unfortunately, nothing came of this and they settled down on and around a termite mound, less than 50 meters from the lodge. It was a wonderful sighting of the cats, but far from mind-blowing. The following morning we would see the six lions attempt to take down a large buffalo bull in the mid-morning heat, again with no success, but still we were yet to see the best of these creatures in action.
Leaving the lions, satisfied by the find, we made our way back into the northern reaches of the reserve to continue on our quest. The call then came over the radio that a male cheetah was discovered nearby, so without hesitation we made our approach to the sighting. I have to say that this particular male cheetah is one of the most accommodating animals for any aspiring photographer. He posed so brilliantly at every opportunity that it seemed staged. My guests and I watched as he moved gracefully from termite mound, to fallen Marula tree, back to termite mound and then towards an area where he could survey the land. The behavior that this animal exhibited and that we were able to witness was incredible. We would also see this particular individual again that same evening.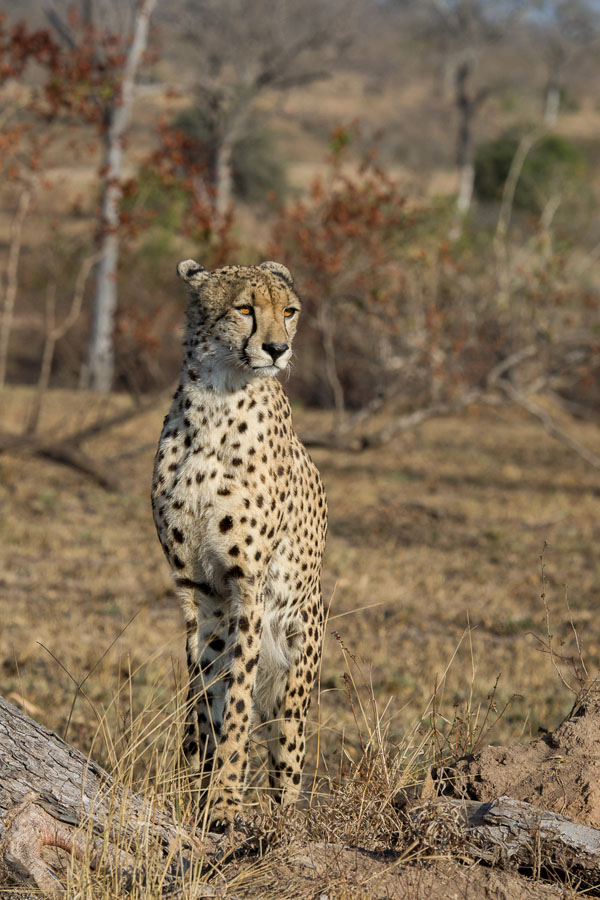 Our attention then turned towards the greatest cat of them all, the leopard. We set off in search of one of the many resident animals we are accustomed to seeing in the area, but as luck would have it, we were in for a real treat! We were alerted to the fact that another guide had found the big resident male, Maxabeni, lying in a dried up mud wallow resting while his bushbuck kill hung over a branch in a tree nearby. We decided to make our way to his location and wait out his slumber. It was a very good move on our part. A day before, the Little Bush female and her cub were seen in the drainage line nearby, but nobody had seen her again. While sitting with the male, she called. He pricked his ears, but settled down again shortly. She then appeared out of the riverbed and proceeded to move directly toward the male's hard earned kill. She climbed the tree and began to feed, while he now moved towards the base of the tree to lie down again. He showed no signs of aggression towards this blatant move, which I thought was a little unusual. It was still an amazing experience to behold. We sat there mesmerized by the fact that we now had two leopards to choose from. An inquisitive hyena soon joined the leopards and was waiting for a morsel to be carelessly dropped from the tree. We soon left thereafter, but I was told that shortly after the fact, the big male chased the hyena away and even began to call for the cub to come out to feed! This was incredible behavior!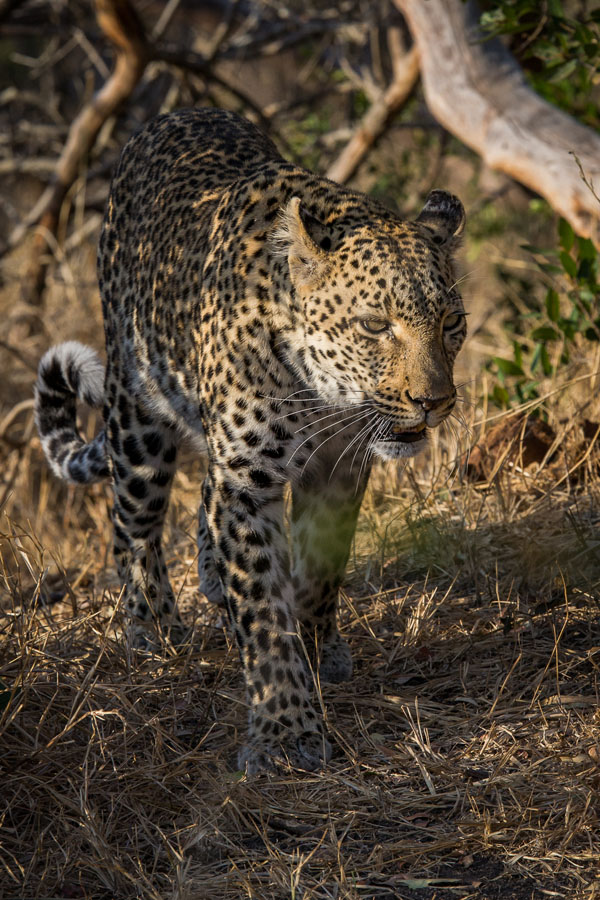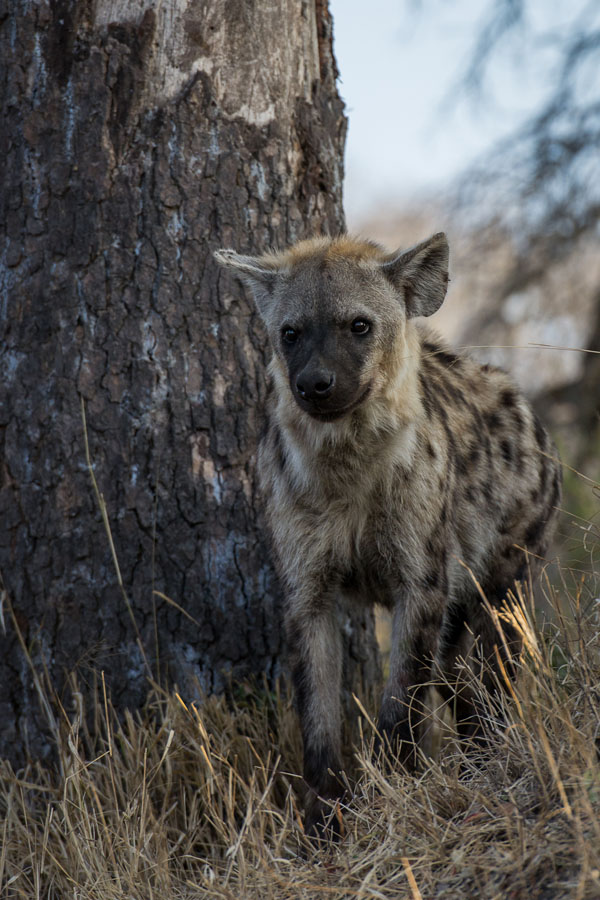 The six lions, three males and three females were tracked down again in the early afternoon, still without success in capturing any prey. We decided to head over to the cats after a beautiful afternoon sundowner so as to increase our chances of seeing the animals active. We had no idea what was in store for us. We moved into the area of the last known location, but were stopped by some fresh tracks crossing the road. We looped around to find the animals on a mission moving towards the plains and the same herd of buffalo they had made an attempt on the morning before. Before we knew it, the lions made a break for it and we watched in absolute amazement as they managed to capture, subdue and kill one of the old buffalo bulls they had been taunting over the last couple of days. It was not pretty, but it was a once in a lifetime moment for our guests and one that neither them nor I will ever forget!
The following day saw an encounter with the wild dogs, but the distance at which we could see them did not yield any decent photos. There is a pup within the pack that has a broken back leg and it seems as though the dogs are trying to move around as little as possible to ensure that the youngster is not left behind. I am hoping it will recover. Before our encounter with the dogs, however, we were again treated to a spectacular sighting and this time, of the Sandriver male leopard. At 14 years old, this guy is still a brute and we are seeing more of him as he moves around in defiance of the current resident male, Maxabeni. It will be incredibly interesting to see how this particular situation pans out in the near future, as an altercation is sure to ensue, but for the time being it is great to see this boy back in action.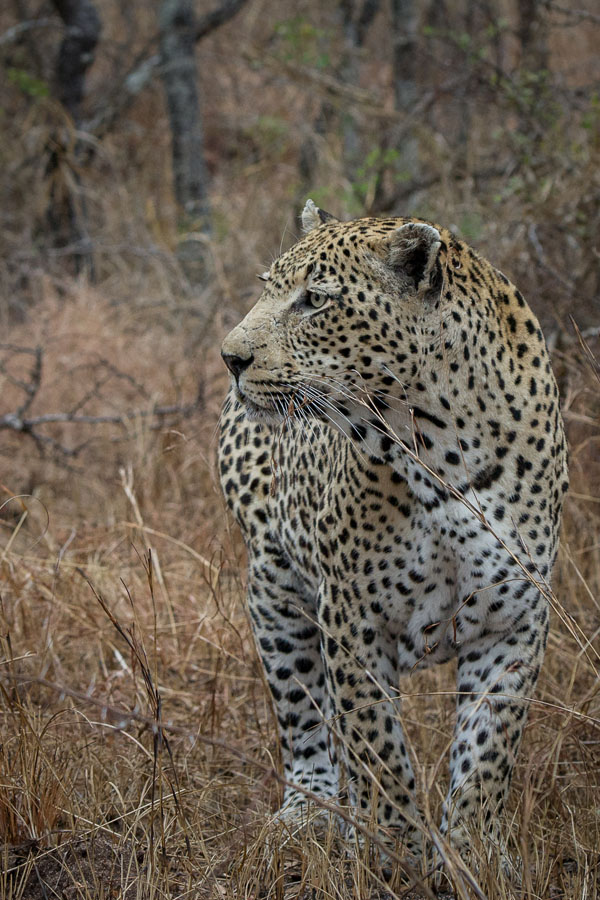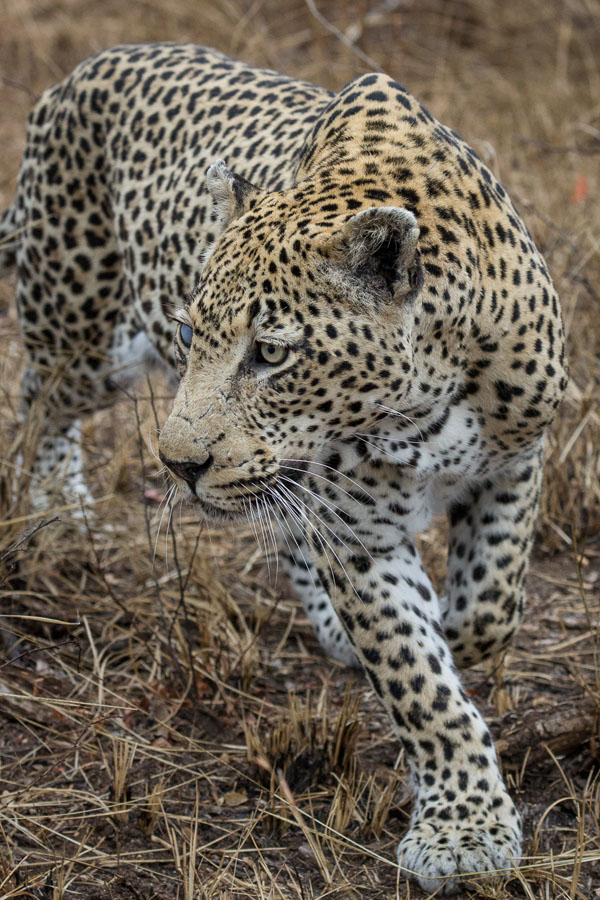 It has taken some time for me to digest the events of the past week, as I'm sure it will be difficult for our readers to even fathom the possibility of such events taking place over such a short period of time. It will definitely go down in the books for me as possibly one of my most exciting and memorable weeks of my guiding career. I look forward to what lies in wait for me next!
I hope you have all enjoyed the recap of events as much as I have. Until next time…
BY: MIKE PALMER (BUSH LODGE RANGER)