"Fear of Missing Out". I have never bought into the social trends of the majority, but this little phrase I believe holds more true to Guides than any other group of people. At least for me anyway. As I have mentioned once before, taking one's leave is somewhat of a bitter/sweet affair. On one hand, it is a well-deserved break used to recharge the batteries and relax after a busy work cycle, and on the other hand, there is this lingering feeling that something incredible is going to happen in your absence. And at Sabi Sabi, it usually does.
If you follow us via any one of our social media platforms, you would already be familiar with the quality and frequency of the spectacular sightings the guiding team has been able to share with our guests over the last two weeks. It should go without saying that I was most jealous upon returning to the reserve and listening to the first-hand accounts of recent events. I was eager to get back into the bush in the hopes that the momentum of great sightings would continue and I must say, I have not been disappointed. In fact there has been so much happening, that even in blog format there is just too much content to share and so for this week I have shared highlights from my excursions only. Please enjoy.
Elephants are always a firm favorite to see out on a safari and lately we have been blessed with some amazing encounters with Africa's largest land mammals. It's always fascinating to watch these creatures as they perform their daily activities, especially when it involves the use of their incredibly dexterous trunk. When used for drinking, the animal can suck up around 8-10 litres of water at one time, depending on size of course, before squirting the contents directly into its mouth so it's not difficult to believe that it consumes around 180 litres of water per day!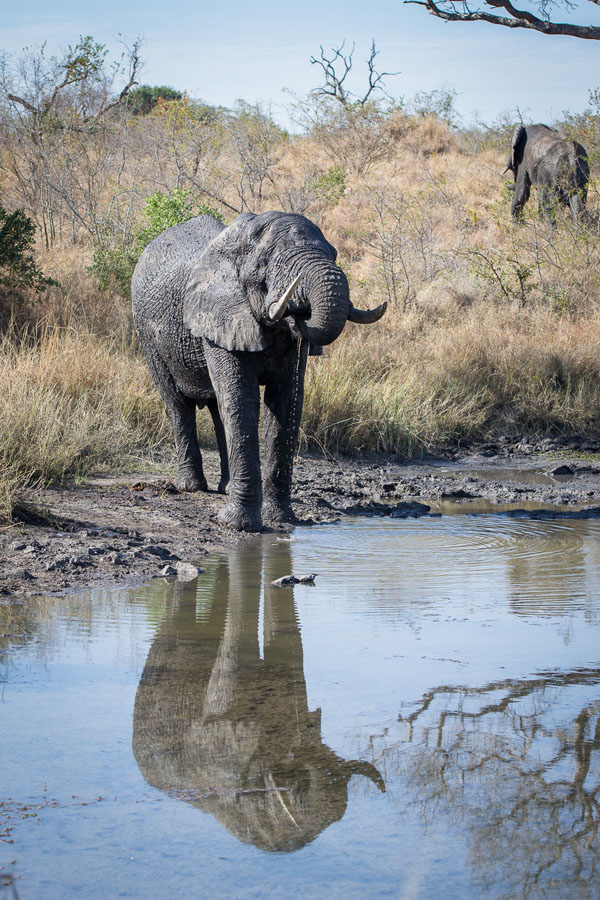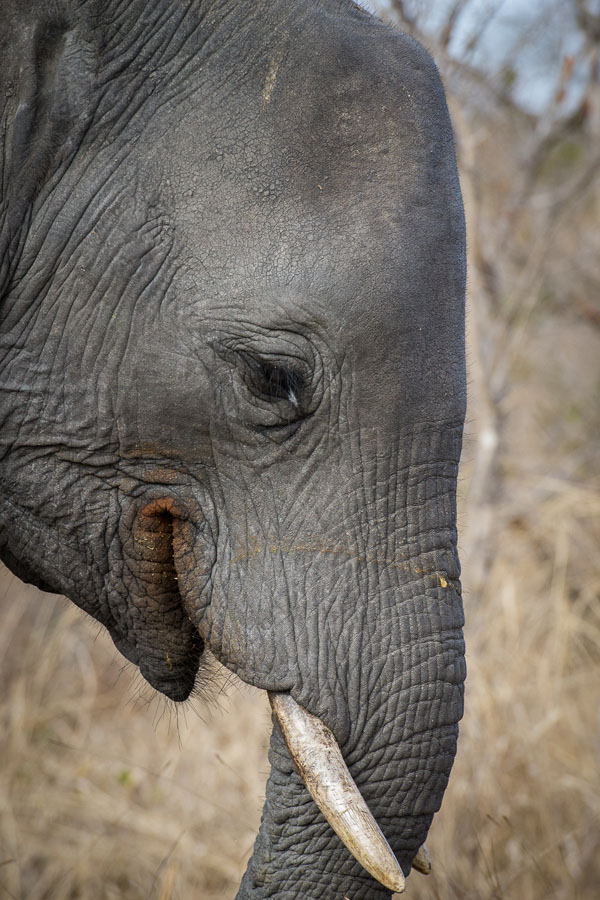 In the beginning of the week the young Tortillis male (fathered by Mahlathini) was found lying in the dry Msuthlu riverbed with both an impala kill and his mother, the Warthog Wallow female, nearby. He was sporting a bit of a limp and what looked to be a bite wound on the inside of his left back leg. One can only speculate as to what events transpired, but if I had to guess I would say that he had an encounter with a hyena or two. He is getting to an age and size now where he may indeed be pushing his mother to the limits of her tolerance of him, but I'm sure that if she was to deal with him it would be with a swift slap of her paw across his face, and as you can see there are no blemishes there. I'm making sure to enjoy every encounter with this handsome young male as I'm sure that his tenure in the area will be coming to an abrupt end fairly soon. He will definitely be a cat to watch in the future.
The Black-bellied Bustards, or "champagne birds" as they are commonly called, are not sighted as regularly as they are in the summer months when the males are often seen atop termite mounds calling repeatedly in the hopes of attracting a mate so I was quite happy to show our guests this stunning creature in the late afternoon light.
Another great bird sighting I had this week was of a juvenile Bateleur Eagle. He is still sporting brown plumage and should be for many years to come. It takes on average around 7 years for a juvenile to achieve its bright adult plumage of chestnut, white, black and charcoal. Not to mention the bright red face and legs! We found this chap relatively early in the morning while the sun was still gaining height in the sky and before moving off, he had a good stretch and took a deep energizing yawn breath. What a bird!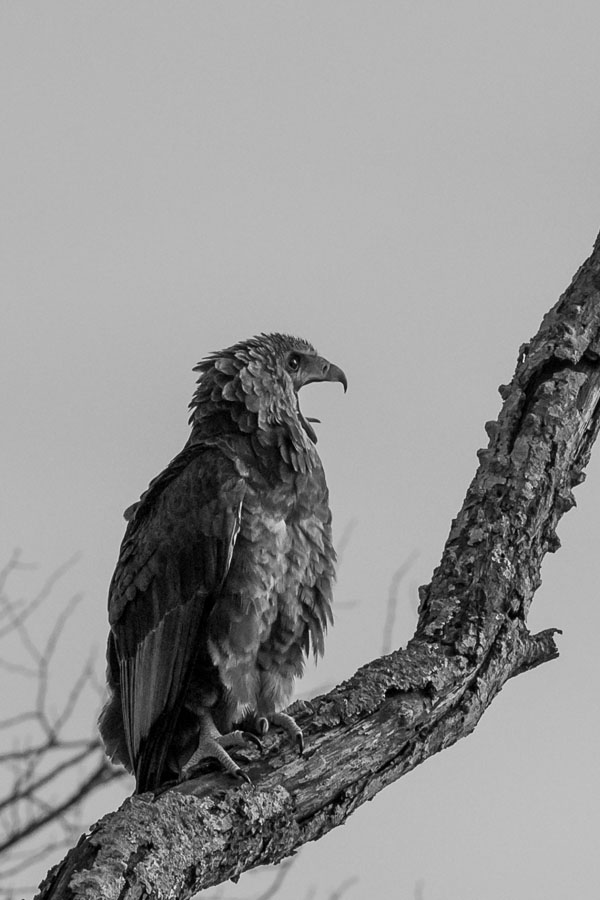 Of course, general game sightings have been great as per usual with giraffe, zebra, waterbuck, kudu and wildebeest being constants on the diverse menu. An animal that is not always seen is the nyala, a symbol of the Zulu nation. The nyala bull in my eyes is one of the most visually appealing antelopes one can encounter in the lowveld and we were able to spend some time with a very relaxed group of them in the southern reaches of the reserve close to the Sabie River.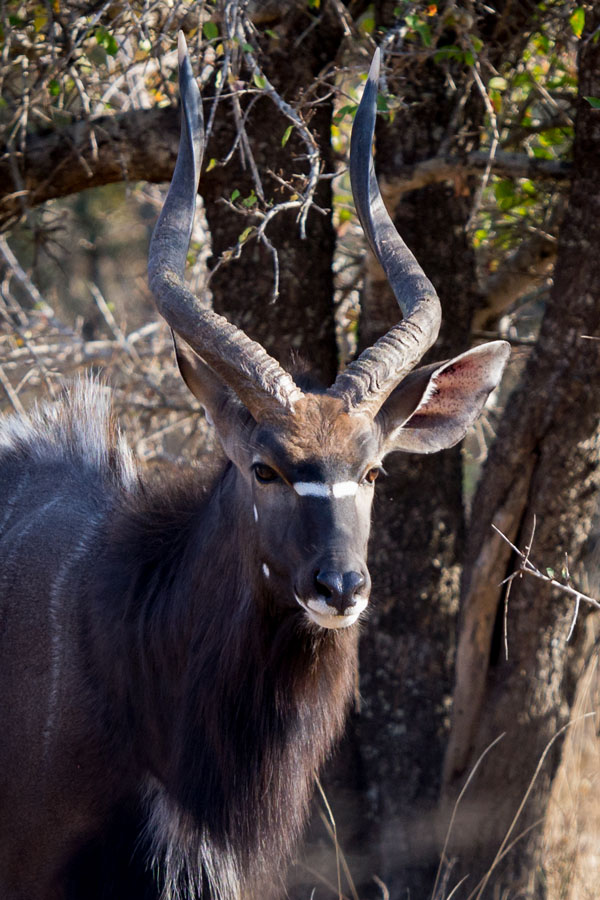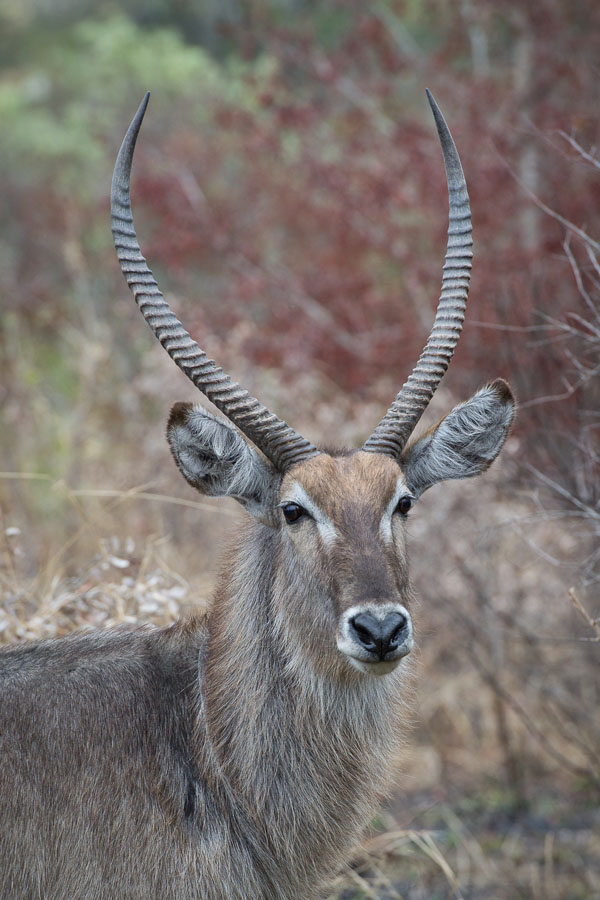 On our way back from an evening safari one night, we bumped into a big male hippo right outside Little Bush Camp. A surprise for all involved I think. He was busy grazing when we disturbed him and we stayed to view him for about 10 minutes before he finally moved off back down towards the riverbed. As a point of interest for those who may not know, male hippos leave the safety of the water after sunset in order to graze, mark territory and do boundary patrols. An activity that can take them as far as 15 kilometers from water, only to return at dawn to rest and digest.
A very large aggregation of buffalos moved through the reserve over several days giving us many opportunities to view them, sometimes being enveloped by the herd of roughly 800 animals. I have stated before that it is quite an experience to be able to sit in the middle of a huge breeding herd such as this, but one that is unfortunately not an everyday occurrence. Generally speaking, these large aggregations only occur in the drier months of the year as smaller family groups join others and move vast distances in search of remote resources.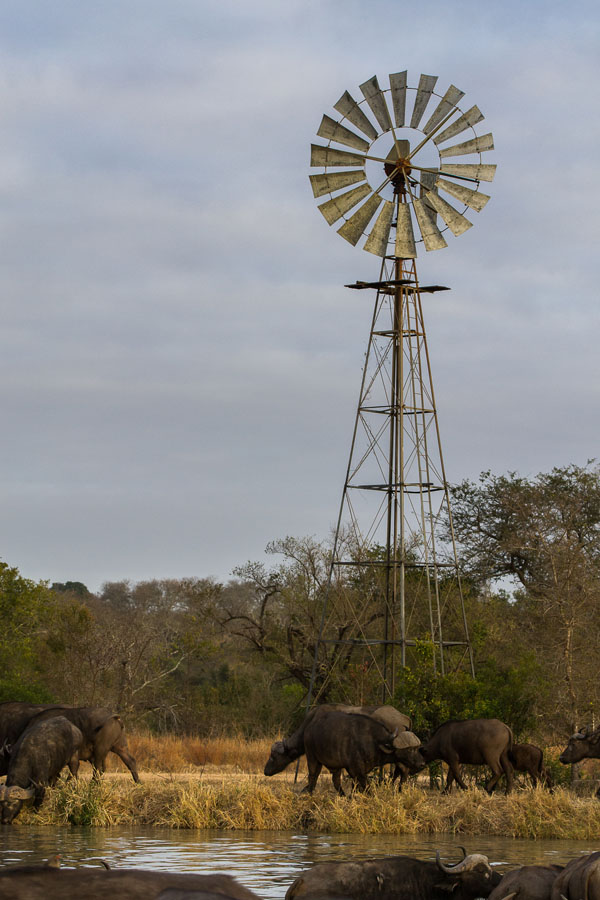 Hyenas are actually such fascinating creatures, but they often have a bad reputation in the mainstream as being a lowly scavenger. This analysis couldn't be further from the truth as they are in fact very successful hunters, even more so than lions. The behavior of scavenging, or procurement of food killed by another predator, is actually a highly efficient way of getting a meal with the least amount of energy usage. The hyenas have worked out that with superior teamwork they can chase pretty much any animal off their prey with minimal resistance.
Maxabeni was seen in the company of Warthog Wallow this week and the two were involved I a heated exchange of claws. She has managed to keep the young Tortillis male out of Maxabeni's sights for most the youngster's life, but there may have been a run-in this week. She may have been protecting the youngster, which would explain her aggression, but she also seemed to be following him in a fashion that is typical of a female enticing the male to mate. This might be possible, as she will now have to secure herself, like the other females, in his territory in order for her to make use of the available resources. As always though time will tell and at this point it is mere speculation.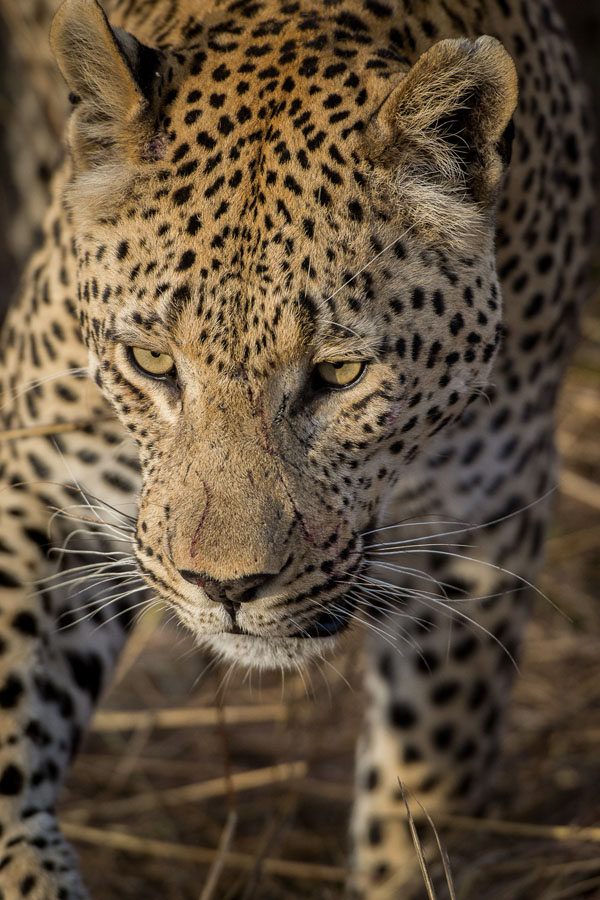 The Sand River coalition and the three Southern Pride lionesses killed a large buffalo south of our boundaries and after a couple of days Floppy Ear moved north on her own. It's not exactly clear why she did this, but she remained by herself in the north until the rest of the lions moved north to join her some days later. On one occasion we sat with her for a couple of hours in the afternoon waiting for her to become a bit more active, mostly out of curiosity of her movements from that point. While sitting with her it became quite clear that she was feeling extra lazy that day and so it was quite a wait for any type of 'action' to take place, but when she did eventually start waking up we got some really awesome shots of her. The time spent waiting allowed us to play with the lighting available to us and I opted to go for a backlight effect, which I was more than happy with. She has such a presence about her that it's always a privilege to be in her company, a true queen of the savannah.
The week was truly magical and so unbelievably action-packed that it was near impossible to share every sighting that took place. There are a lot of interesting interactions going on at the moment amongst many of the characters that form a big part of our daily lives out here and there should be some really exciting moments to share with you all in next week's installment. Until then I wish you all a fantastic week further. Until next time…
BY: MIKE PALMER (BUSH LODGE RANGER)