Bottled up enthusiasm, nervousness, heat, sweat, laughter, sore feet, strengthening the existing friendships, taking photographs, walking into the Big Five and sore feet. O, sorry for repeating sore feet but that and an engraved memory that will last a life time is what I have left after we completed the 44km Sabi Sabi trail yesterday.
Initiated by the Safari department for all new rangers upon completion of their probation period they become part of what's called the "Nkombi camp". Nkombi meaning rhino in Thangaan consists of a few days spent together as a team, participating in talks given by specialists in their fields, sleeping out in the bush, educational game drives and then the ultimate challenge, the 44km Sabi Sabi trail. As an old adventure racer and ex-ranger at Sabi Sabi, I knew that the Nkombi camp as a whole, but in particular, the 44km Sabi Sabi trail was food for my soul. The date for the 44km Sabi Sabi trail was noted in my diary and for weeks before the adventure I looked forward to the actual day.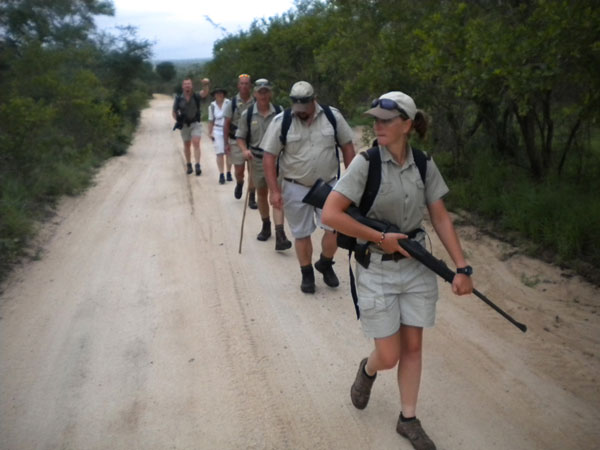 I was up at 04h00 on Monday morning in order to be ready and walking an hour later. We knew we needed a lot of time and people who have done the 44km walk said it would take up to 10 hours to complete. The air was as crisp and cool as our spirits when we left the entrance of Bush Lodge. I was pulling at my backpack or anything that I thought could cause discomfort later in the walk when we were brought to a sudden halt. Calvin was leading the walk at the time when he said, "a male lion". We all looked over his shoulder in disbelief. We were barely out of the lodge and we couldn't have already found one of the Big Five? Calvin guided us through the bush and got us back onto the road safely, leaving the male lion behind us. Full of energy and with a steady pace we reached the northern corner where we turned and started walking in a westerly direction. We were lucky in that although the sun was up and already hard at work the cloud cover saved us from overheating too soon. Until 09h00 we had only had short water stops but after our first four hours walking behind us, we decided on a longer breakfast break.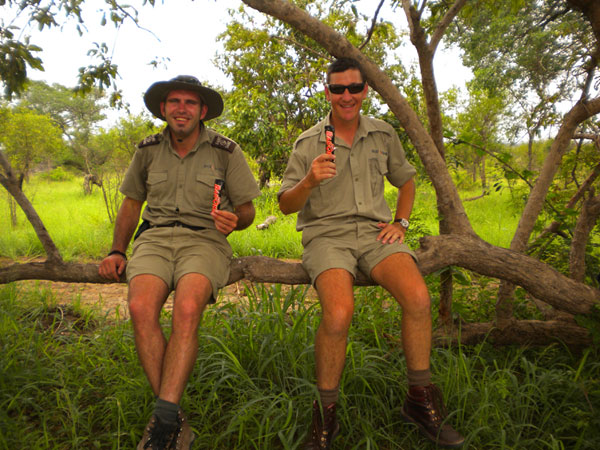 The road to our breakfast stop was a smooth gravel road and was nothing compared to the road ahead. The stretch of the trail that awaited us was a single track with lush green bushes on either side of the road, rocky outcrops and riverbeds. We expected more wildlife on this leg of the trail and therefore we were all noticeably more focussed on our surroundings, sussing out any possible danger. We walked into a small herd of Cape buffalo, kudus, a breeding herd of elephants and an unexpected warthog that got our pulses racing as he dashed out of the bushes trying to escape the intruders. All the animal activity made us forget that our legs were doing all the work and before we knew it, we were in sight of the road that was going to take us past Shaw's Gate and down to the Sabie River.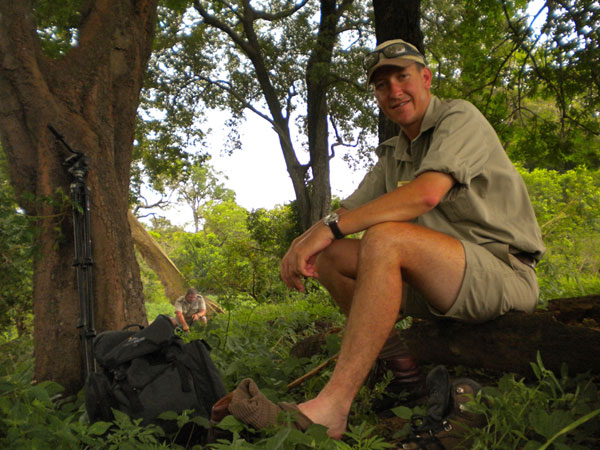 We said goodbye to the shady spot at 11h00 as we looked over our shoulders for anything that may have been left behind. As we headed south I could only see what seemed like a never-ending road stretching into the wilderness. Looking down at my legs I promised them a long elevated rest in the shade of a Jackalberry tree next to the Sabie River. We reached Shaw's Gate and this was the first human contact we had since leaving Bush Lodge.  It was downhill to the Sabie River and even if it feels good on a bicycle or in a car it wasn't for my feet. My knees and ankles took a lot of strain on this leg of the trail leaving me more exhausted than expected. We were closing in on the Jackalberry halfway mark but had to wait for an elephant bull to cross into the river before we could continue. My feet were insisting on a "socks off" moment and that is exactly what I did when we got to the Jackalberry tree.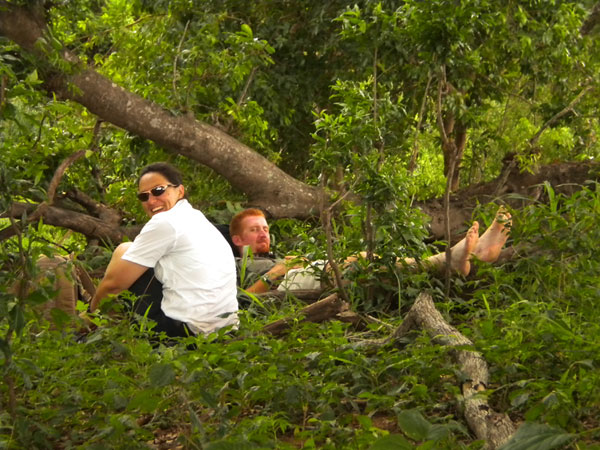 At 14h00 I was woken by the tingling feeling in my elevated feet just before we were instructed that our lunch break was over and although our bodies told us otherwise, we needed to get going again in order to make it back to Bush Lodge before sunset. Despite the sun shining throughout the morning, it seemed to be more punishing after our lunch break. My feet weren't as willing as they were earlier, and testing my patience were small black flies seeking the moisture on my face. Tired but determined, we tackled the second half of the walk. We found rhinos in the distance and plenty of impala signalling our presence with their alarm calls. I was aware of the sun beating down on me, but it was the bridge of my left foot that got my attention. With our brief stop for water in the south western corner the pain in my foot was a reality and I dared to admit to my fellow travellers that I could feel pain, only to find out that each and every one of us had some sort of niggle. We strengthened our walking formation in the hope that our strong spirits and jokes will make us forget our discomfort. We reached Huntington corner, rested with very little talk and continued on to Shaw's Gate. Standing at Shaw's Gate, I looked to the east and realised that the end was just over the hills.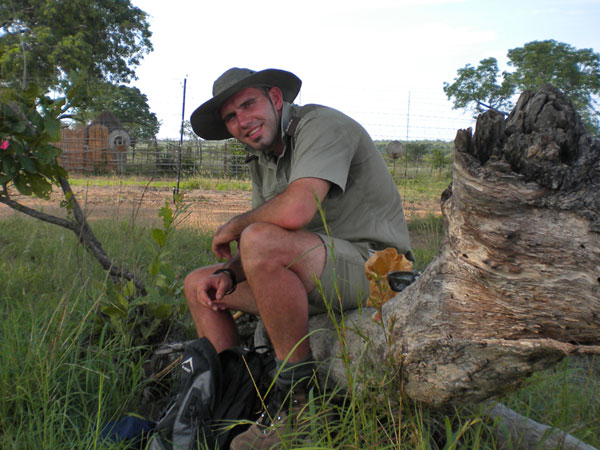 If I had to be asked which was the most difficult part of the trail it would be the final leg from Shaw's Gate back to Bush Lodge. We left Shaw's Gate at about 17h00 knowing that we only had one hour left before sunset. Safari vehicles drove past, and as tempting as it was, we waved them on.  My feet were aching and my backpack felt like a bag of cement even though I had consumed all of the content. I lowered my head and brought my stride in sync with Michelle's feet creating a rhythmic beat on the sandy soil. My mind was beginning to play tricks on me even though Calvin kept saying that it's all in the mind. The Bush Lodge sign couldn't have appeared at a better time! As we turned the final corner we had staff cheering and welcoming us back home.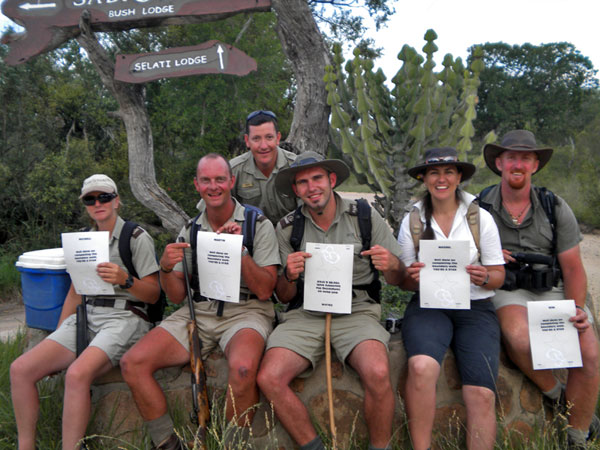 We completed the 44km Sabi Sabi trail in just over 11 hours of which we walked 9 hours in total. This is definitely an experience that will be engraved in my mind for a lifetime.
by: Magdel Vorster