It is hard to believe that we are already half way through the winter season, but then again time flies when you're having fun! We have had another incredible week in the bush here at Sabi Sabi so sit back, relax, and enjoy as we recap on the week's highlights.
The cats were amazing as usual this last week, but before we get into the feline dynamics, I'd like to share some of the moments captured on drive with our guests in between the impressive cat sightings. The bush is beautiful at this time of the year and it seems so ironic to me that in the coldest months of the year one is able to capture images filled with warmth due to the colors and hues of the surrounding veld. These are but a few of the moments that stood out for me… A mature kudu bull walking proudly past our vehicle in the morning sun; a young giraffe as it seeks to keep visual contact with the rest of the herd; and a very young zebra foal as it goes down to rest its tired little legs in the late afternoon.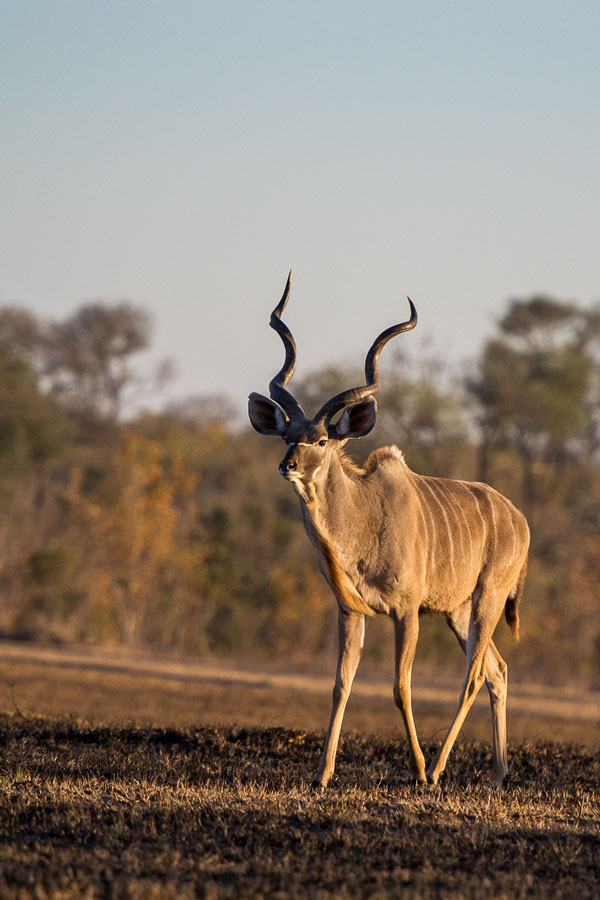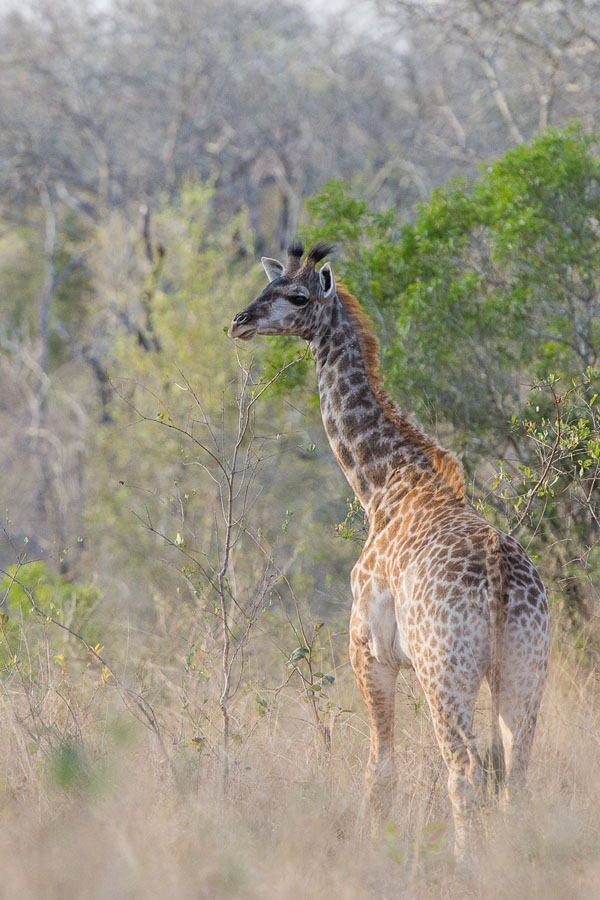 We have seen a large influx of elephants recently and we have some theories as to why. Elephants will readily 'migrate' to make use of remote resources often following ancestral paths, which would be shown to them by the matriarch of the herd. During the summer months the fruiting Marula trees would be the resource most sought after as water and other food sources would be in abundance. This all changes during the drier winter months as water and nutrient rich food become the prized commodities. Elephants are not by nature, territorial, but often occupy extensive home ranges within which they roam. In extreme cases though, it seems that perhaps they do become slightly territorial or possessive in order to ensure that each individual family cluster has access to the resources they need and the reason why I say this is due to the fact that we are beginning to recognize certain individuals making repeated appearances in the area. This image shows one of three different herds seen on one afternoon drive.
This has been a great week for birding and I have had a fantastic time sharing my passion for these feathered creatures with my guests. Birding is a pastime that one usually grows into after having been on countless safaris, but it must be one of the most fulfilling pastimes one can have in the bush. There are so many different species that you are likely to encounter on a safari in the Lowveld, yet most are happy to ignore these animals in search of the larger animal species. Below is a selection of bird images I managed to capture while out on drives with my guests this last week.
This female Black-bellied Bustard was abnormally relaxed with the presence of the vehicle and allowed us to spend a good deal of time with her before finally moving off. These birds prefer areas with dense long grass for concealment and foraging and are most often seen in the summer when the males are found atop termite mounds advertising for females.
The Fork-tailed Drongo is a bird often associated with larger game species, often following them around while waiting for them to disturb insects in the grasses as they move about. The bird will then hawk those insects from a perch nearby, ensuring very little energy is wasted in its search for food.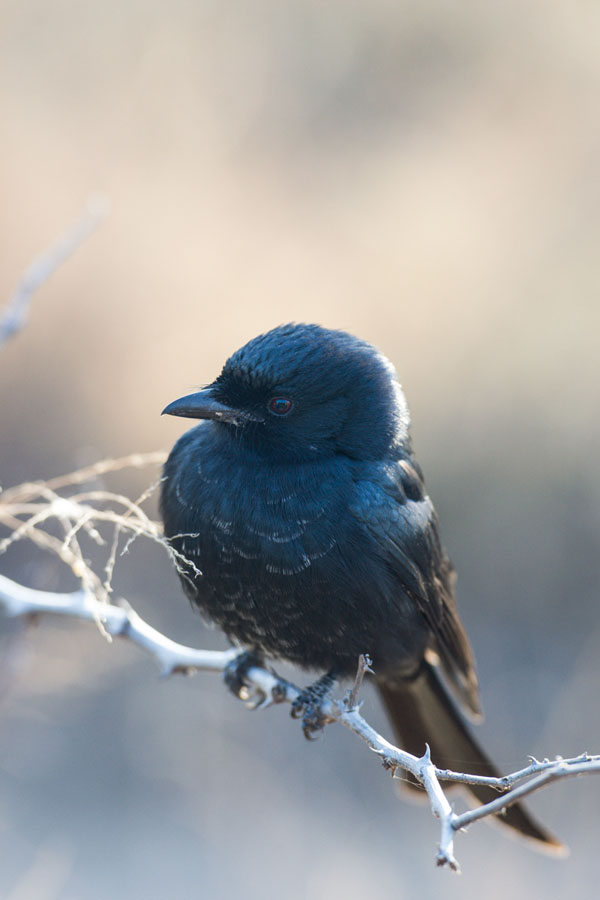 This is one of my favorite birds to see while out in the sticks, a Little Bee-eater, and one of only a small handful of bee-eaters that may be seen all year round.
The Fiery-necked Nightjar has a call that is one of the most iconic sounds of the African Bush. They can be heard at night once the sun has fallen long into the night. These birds feed on insects at night, hawking them from a perch or by lying down on any bare patch of ground, commonly roads, silhouetting insects against the sky and then flying straight underneath to capture the unsuspecting prey.
Another favorite. The Saddle-billed Stork is an absolutely striking bird, even to the uninitiated. They are quite large, getting to a height of 1,5m and are most often seen moving through pans or shallow rivers in search of fish or frogs. The stork in picture is a female, distinguishable by the yellow eyes and lack of pendant wattles underneath the chin.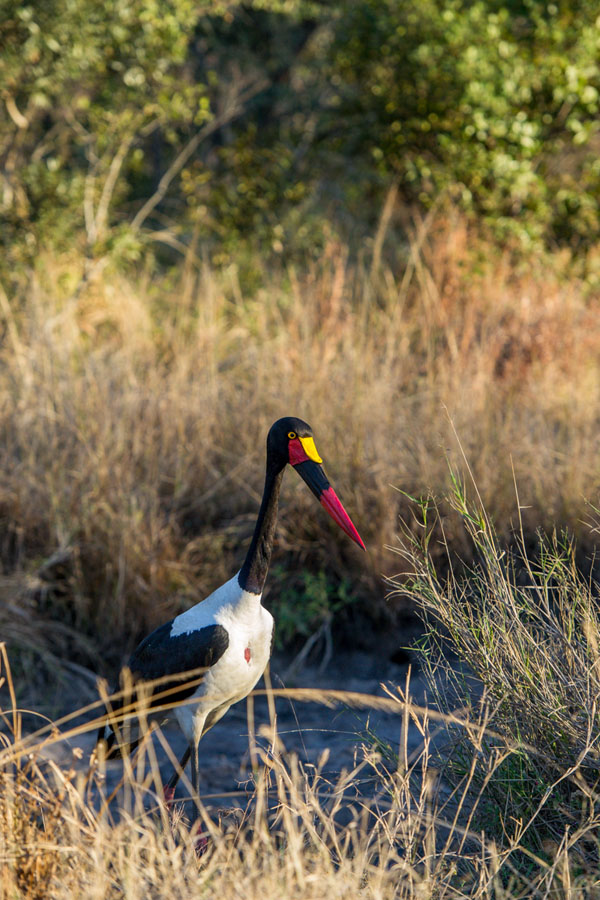 On to the cats…
The Little Bush female has been doing well to keep her cubs concealed, however earlier in the week she killed an impala nearby her current denning area and brought her cubs to feed. It was at this time that we were able to get a proper glimpse at the new additions to the growing repertoire of resident leopards in the area. These new cubs may very well disperse far from the area should they make it to maturity, but for now and the next year or so, we should be privy to some amazing moments with them as they discover themselves and their environment. Both cubs seem to be really healthy and relaxed with us at this point. It will be crucial at this time to introduce ourselves to these young leopards in a respectful and careful manner so as to begin the slow process of habituating them to the presence of humans in vehicles. This is how we are able to achieve close encounters with these animals without disrupting their natural behavior.
The Sand River males are still with the three Southern Pride girls and haven't really left their sides in many weeks now. They have been more mobile recently and seem to be traversing the territory in its entirety, while in between these marches they have been very successful in providing meals for themselves and the three ladies. We found them on yet another large buffalo carcass in the south of the reserve, which would keep them well fed and static for several days. With predators, it is either feast or famine. When they manage to bring down prey, they will literally feed until they cannot fit in another mouthful and they look as though they have swallowed a rather large beach ball. This makes for some highly immobile lions. Nevertheless our guests enjoyed seeing the six lions around the smelly carcass and the occasional interactions between the 'stuffed' animals.
The White Dam female was once again in hot pursuit of the Maxabeni male and we found both of them deep into Maxabeni's territory. We spent almost an entire morning drive following their tracks, covering a distance that was roughly 5km from the first track found. We eventually caught up with them though and we would then see the duo over the next few days as they moved about the male's territory between bouts of mating. The White Dam female is usually rather timid of the vehicles, but when in the company of the larger male, seems very relaxed with the attention surrounding their affair. I must say that it is nice to have her calm and indifferent to us so that we may take advantage of the opportunity to capture her beauty. She has a most peculiar spot below the pupil of her left eye that makes her very distinguishable and uniquely beautiful. Maxabeni as always looks to be in fantastic condition, showing no signs of slowing down in his quest to take over the world. Joking aside though, he seems to be really settled at the moment and the females are responding positively. His offspring are doing really well and a large part of that is the stability that he is bringing to the area by ensuring no other males venture into his territory and those of his females.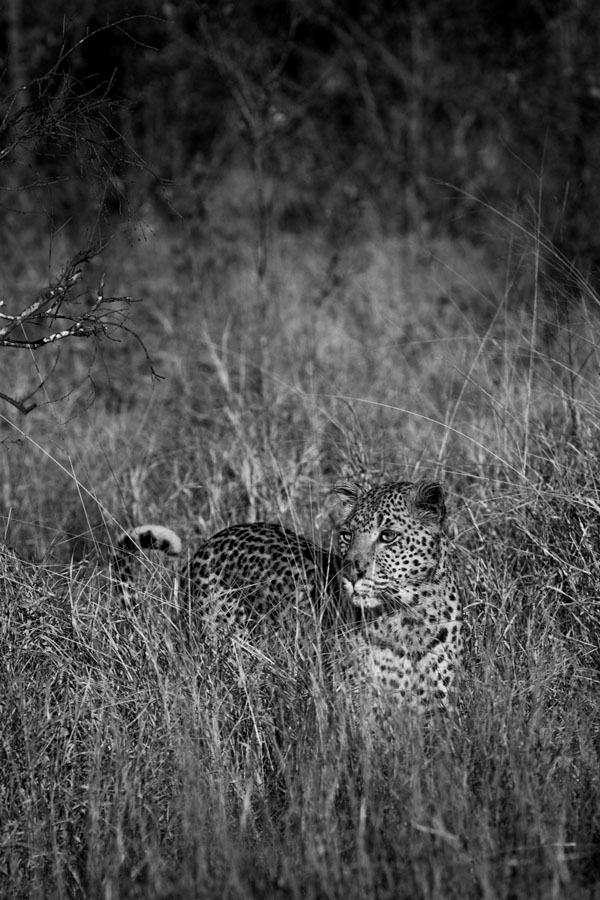 The final bit of excitement to the week came as a result of two young cheetahs which visited the area and spent a lot of time in the south of the reserve. It seems that all the cheetahs lately have been venturing into the south of the reserve for prolonged periods. My opinion on the subject is that they must feel that there is a lot less pressure from other predators in that space and are therefore more comfortable to hunt and hang around. These young males are most likely beginning to move away from their mother in search of their own home ranges in which to settle, bringing them down from the northern reaches of the Sabi Sands. It sure was a treat to have had them here for almost an entire week with us and I hope that we will see more of them in the coming weeks.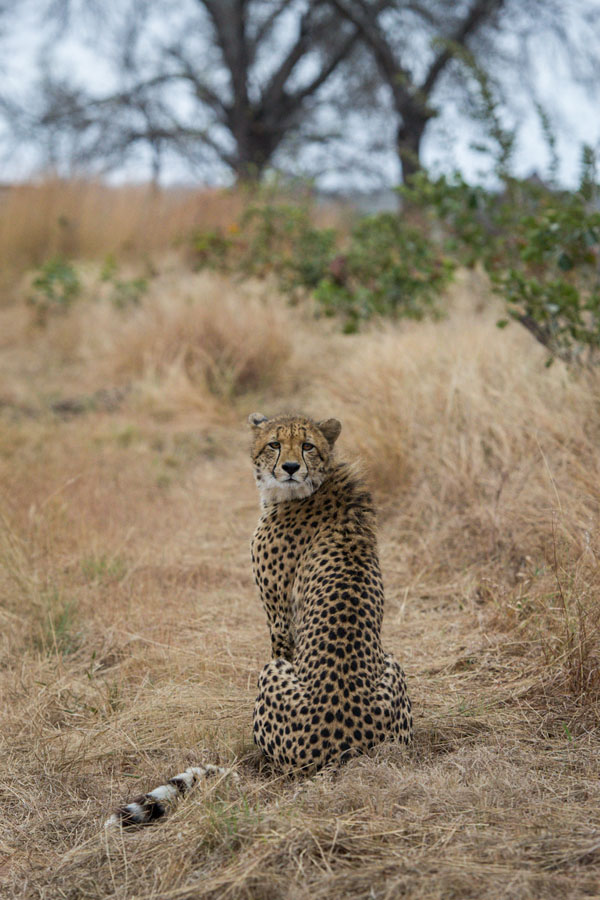 I hope you have all enjoyed this installment of A Week in the Bush… It has been an amazing week filled with exciting moments, new discoveries and new friendships. I hope to bring you more of the same in the upcoming week. Until next time…
BY: MIKE PALMER (BUSH LODGE RANGER)
IMAGES BY: MIKE PALMER AND PRAVIR PATEL