Welcome to this week's edition of A Week in the Bush… The reserve has been extremely busy of late and the animal sightings out of this world. I must commend our guests for leaving the warmth and comfort of their suites to join us for the morning safaris in particular as it has been a little bitter lately, but nothing a hot water bottle, warm blanket and some great game viewing can't fix.
With everything that's going on in the reserve it is actually becoming increasingly difficult to keep up with it all, but these are the moments that stood out for me this last week.
The week started off on a fantastic note as we headed out from Bush Lodge early in the morning only to find the young Tortillis male on an impala kill in a Marula tree less than 500m from the lodge. I suspect that the Warthog Wallow female had made the kill during the night and was resting somewhere nearby while the young leopard had his fill. A truly incredible way to start the day and an amazing experience for our guests!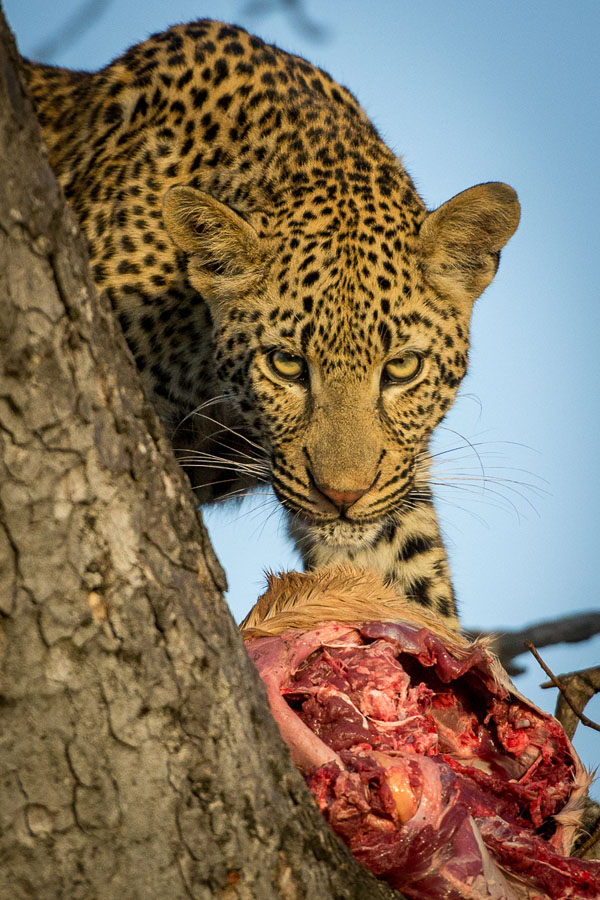 Keeping with the leopard theme, a theme that is becoming increasingly more exciting, I have been lucky enough to have had encounters with four new leopards this last week! The densities of leopard in the area are well known for being some of the highest in the world and it seems that we are seeing a number of dispersing young adults moving into our area to explore their options. We have been seeing the young Mandleve male in the south of the reserve a fair amount recently, which has been exciting enough, and I had my first encounter with him some nights ago. He is a handsome young male and pretty relaxed with our presence, but still a little weary.
Only an hour or so before I had seen the Mandleve male, a couple of the other guides on drive had found a young blue-eyed female in the same area. I would see her close to Earth Lodge the following day with another adult female I have also never seen along the Umlechwane River. They are both stunning looking animals, however the younger female seemed a lot more relaxed than the older girl. The blue-eyed female has been seen repeatedly around the area since.
A day or two after these encounters, we bumped into yet another new female leopard we had never seen before. She looked to be between 1 and 2 years of age and a little weary of the vehicles and so we kept our distance, which she responded to quite nicely. She allowed us to follow her for a while and get a small glimpse into her daily life. It never ceases to amaze me at how we can get to spend time with these usually very secretive animals. I hope to see more of her in our area soon.
I've been spending a bit more time with my guests in the south of the reserve lately and it has been really productive. The property itself is usually very dense in the warmer summer months and makes it very difficult for us to visually penetrate the vegetation while scouting for animals. At present, it is absolutely perfect and we have been having some incredible sightings. Personally, I prefer to visit this section of the reserve in the mornings and have yet to be disappointed. While moving through the area looking for signs of high profile game, we stopped at a dam and enjoyed a beautiful moment with a small group of waterbuck feeding along the waters edge listening to the morning chorus.
Shortly after, we moved off to help our colleague in the area to follow up on some leopard tracks along the Umlechwane River and while moving into the immediate location of the tracks we were to follow we encountered a beautifully sunlit cheetah moving along one of the firebreaks around the Sabi Sabi airstrip. Needless to say, we were all very excited to have spotted this animal and spent a large portion of our morning with him while he moved along to settle in a more open area. After our time with him, he moved off toward Earth Lodge and proceeded to capture a waterbuck in front of the lodge!
Fresh water and grazing are fast becoming rather rare commodities as we are heading deeper into the middle of winter and as a result, we are starting to see a lot migratory species moving in and out of the area in search of both. The zebra and wildebeest have been attracted to areas burned as a precautionary measure to indulge in the flushes of fresh sweet grasses protruding from the ashes and the elephants have been moving along river courses in search of more nutrient rich food. During this time they can be seen in front of the lodges to drink several times a day, which is a bonus for the guests.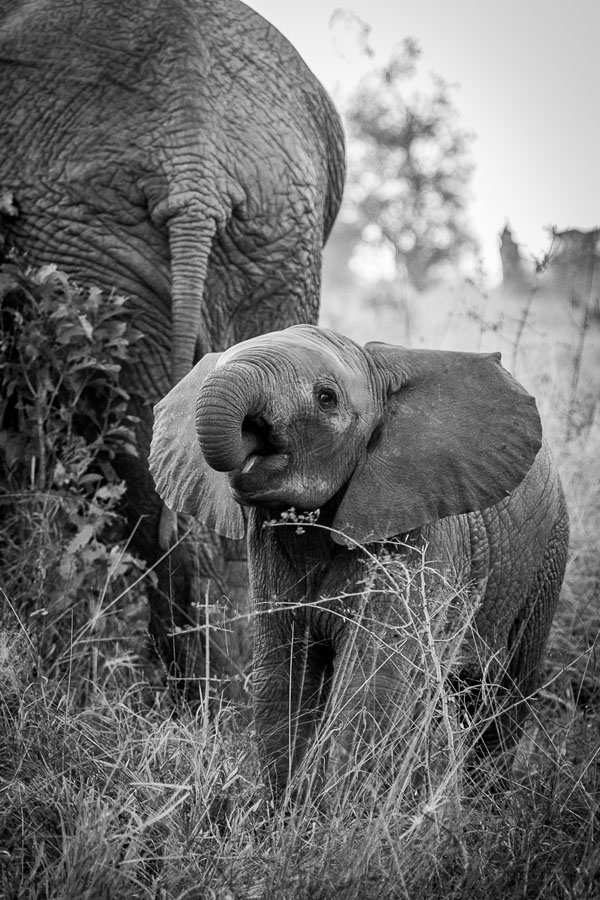 As for the lion fans out there, we have still been having regular sightings of the Sand River males and three Southern Pride lionesses. They have been covering a lot of ground lately as Floppy Ear has been leading them all around the extensive territory belonging to the Southern Pride females. The males seem to be showing signs of fatigue and don't look as enthusiastic as they did a couple of weeks ago. We still have had no further encounters with the rest of the pride being led by the scar nose female. I imagine they will rejoin as soon as she is comfortable with the situation at hand.
I would like to end this week's update with an absolute icon in our area, and that is the Nottins female. I have yet to see her cub, but she is doing really well in terms of providing food for both her and her youngster. We should start seeing the two of them together more over the months to come, and if Nottins is anything to go by, her cub is bound to be a super relaxed animal. I have never encountered a leopard that is so completely indifferent to people, in the vehicle or on foot. She is supremely confidant and a huntress second to none. She, like the Maxabeni male, is the epitome of what a leopard is and a testament to what is possible with regards to habituation of these elusive cats if approached correctly from the beginning. I have stated before that she is an old girl of around 15 years now, but I hope she will be around for many more.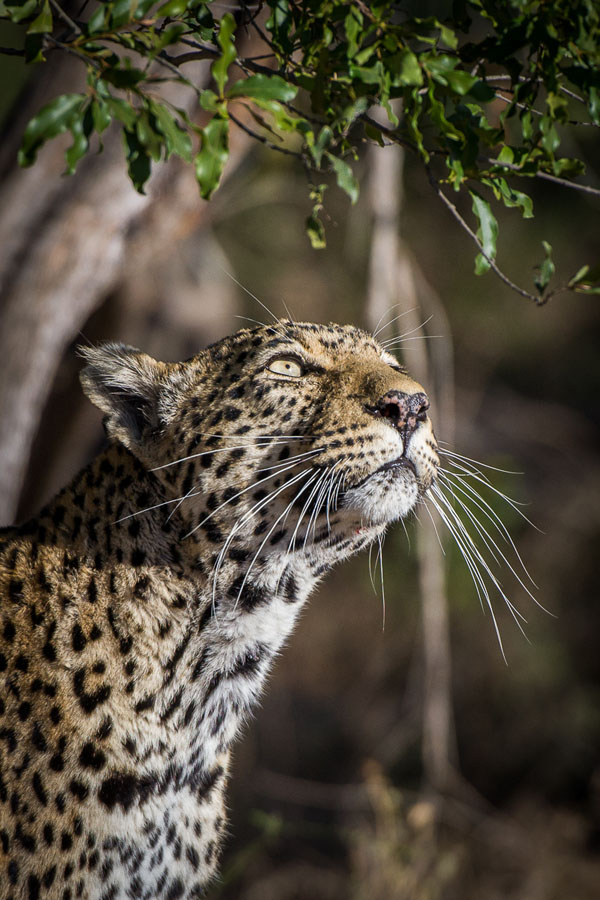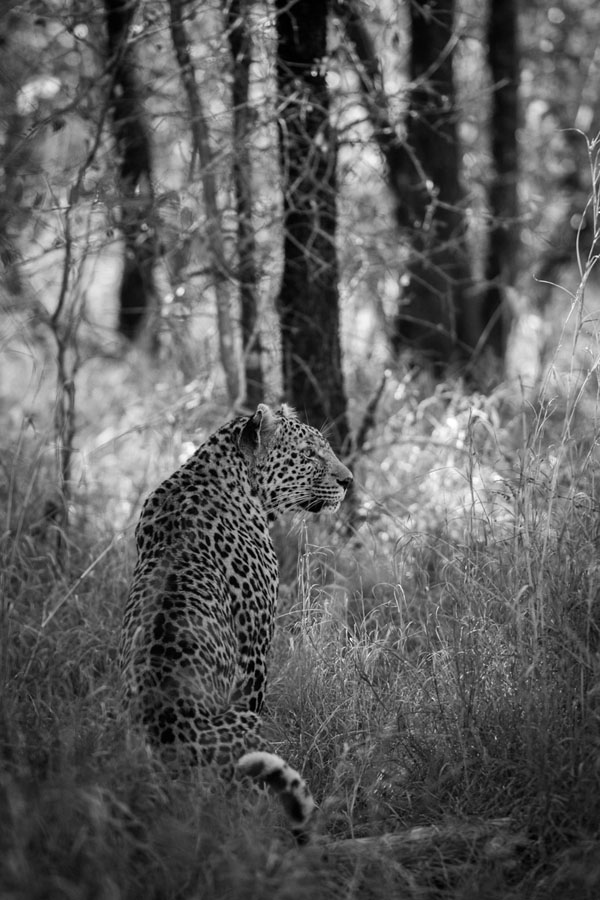 BY: MIKE PALMER (BUSH LODGE RANGER)
IMAGES BY: MIKE PALMER, PRAVIR PATEL AND CHARLES FERROW