Welcome to this week's edition and boy have we had some fantastic moments at Sabi Sabi this week. Winter is definitely well on its way and as a result we have been treated to some absolutely stunning weather, providing us with sunrises and sunsets that one can only dream of. A couple that stand out were of a male baboon sunning himself in the early morning and some impala moving between feeding grounds. It is such a powerful experience to be quiet with one's thoughts and watch the sun rising in its entirety, a moment that is not exclusive to the wilderness, but one that is most certainly enhanced by the tranquil surroundings.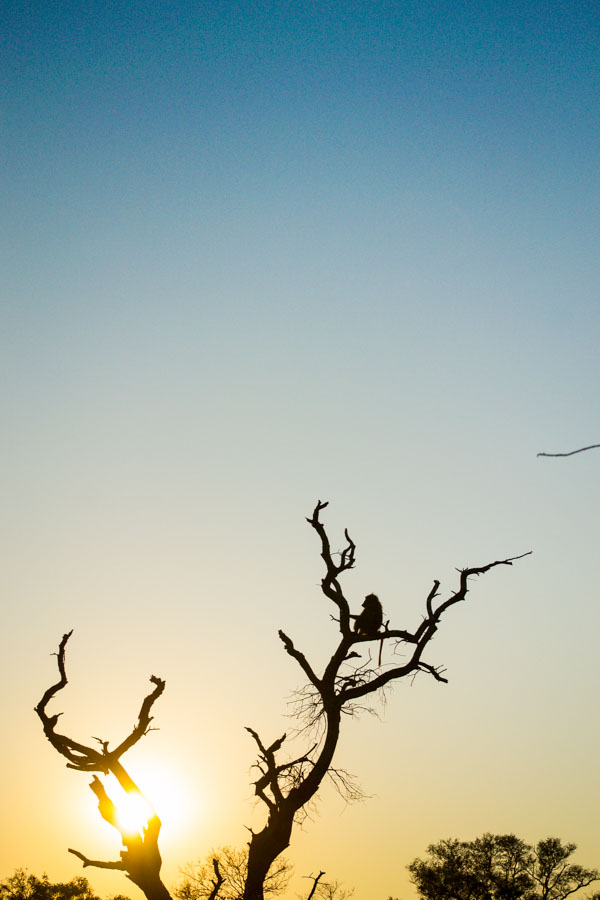 Activities of the Southern Pride have calmed down a lot this week. We have had regular sightings of Floppy Ear and a couple of the other lionesses moving about the north of the reserve earlier in the week and there are a couple of females still with the Sand River males south of the boundary. The Kruger male has been moving around a fair amount and staying well under the radar, although we did spend some time with him some nights ago after he managed to capture a young waterbuck. As for Solo, last we saw of him, he seemed to be trying to locate the pride and the Kruger male but whether or not he had success in this we do not know.
We also had a surprise visit from the Charleston Pride on the east of the reserve a few days ago and they are still looking to be in very good condition with the young males becoming more striking every time we see them. They still seem to be fairly nomadic at the moment, but with the Southern Pride still in a bit of disarray there isn't too much pressure on them for the time being.
Our resident leopards have been very busy of late and we have been afforded more than regular sightings of these striking cats. With no pressure from their larger feline cousins (lions), the leopards of Sabi Sabi are ruling the roost at present. One of these cats that has not been seen very much and was spotted recently, is the old resident male Mahlathini. We found him one day while watching a couple of male impalas fighting. They were so involved in each other that they neglected to check their surroundings, an error that Mahlathini took full advantage of, successfully ambushing one of the two impala rams.
Nottins female has again been featuring highly on many of the game drives this week, having made a number of successful kills. She really is a master of her craft, a skillful huntress. For a female of almost 16 years of age, she is in fantastic condition and not going anywhere in a hurry. She has settled in very nicely into her old territory and putting a small dent into the antelope populations of the area.
Another specie that has been benefitting from the peace and quiet is the buffalo. After the massive herds we had moving through the property recently, quite a few of the older 'dagga boys' have made themselves very comfortable in the area, making for some great sightings and interesting walks, especially with some of the bird interactions that one would expect to be associated with them.
Hopefully in the upcoming week, we will see our resident lion pride make a welcomed return to the area and with that, perhaps some of the questions making the rounds can be answered. Even though this is the case, there is still no shortage of excitement around the reserve and the rest of Sabi Sabi's characters are keeping us more than busy. Until next time…
BY: MIKE PALMER (BUSH LODGE RANGER)
IMAGES BY: MIKE PALMER, GRANT RODEWIJK, KOSIE LATEGAN, PRAVIR PATEL AND LANCE VAN DER VYVER