After a lot of speculation as to the whereabouts of our resident lions, the Southern Pride, they showed up in the beginning of the week and have afforded us regular sightings of them since. At first, only four females and six cubs were seen together and all were looking in desperate need of a good meal. The cubs' numbers seem to have dropped already by 50% which is very sad, but is in fact the norm and we do expect to see more casualties with the young ones in the near future as there is still very little stability within the pride dynamic, especially pertaining to the males. The Kruger male is hanging on to his position as pride male by a thread and is being protected by the females for the time being. We do suspect this behaviour will change once his offspring have either seen maturity or have fallen by the wayside. Either way, there will be some trying times for the pride still to come. The Kruger male was spotted shortly after the appearance of the four females, with seven other members of the Southern Pride, however at present he is stranded on the southern side of the Sabie River in the Kruger National Park fending for himself. In his absence the Sand River males have now also moved north onto our property again, vocalising heavily to announce their presence. It will be interesting to see how this plays out in the upcoming week. We will however, post updates on the situation as soon as we can, but before we move on, are happy to report that all members that we have seen this week have managed to feed, if only on some smaller game.
The Southern Pride lionesses as seen on the night of their return. Image by Pravir Patel
One of the Southern Pride sub-adult males gives off a big yawn as the group begins to wake. Image by Grant Rodewijk
Three of the six cubs remaining take some time out to play. Image by Grant Rodewijk
The Kruger male as he moves south toward the Sabie River. Image by Franscois Rosslee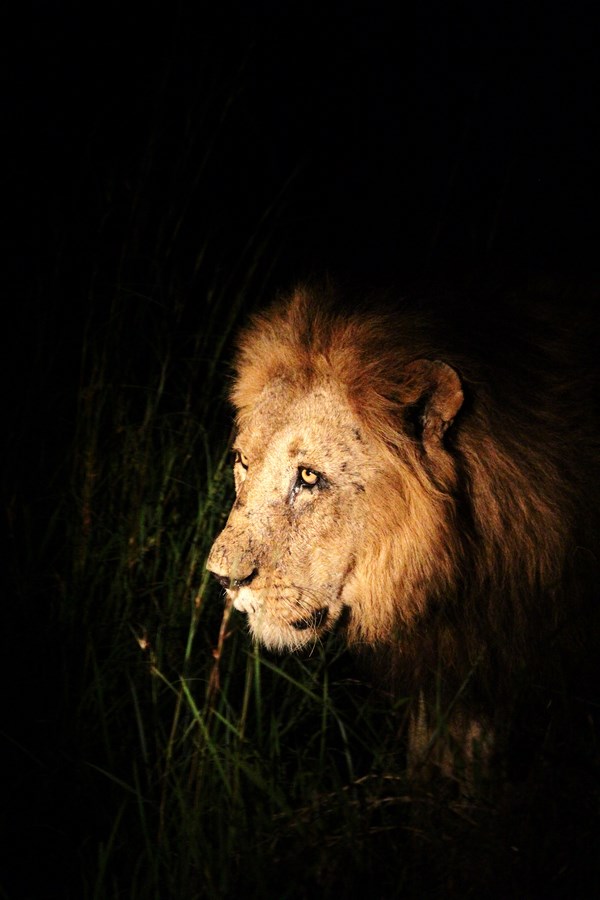 The three Sand River males have made their presence known yet again being very vocal. Are these the males to take over the Kruger male's territory? Time will tell. Image by Steve Volkwyn
As for the leopards, Maxabeni male and Little Bush female were seen together early in the week, with Little Bush trailing the ever-active Maxabeni on one of his boundary patrols. We do suspect that Little Bush has a cub or cubs, but this is merely speculation at this point as we have not had any sightings yet to confirm this although her behaviour and appearance would suggest we could be right. We also encountered Mahlathini male this week in the eastern extremity of our range and are happy to report that despite the pressures being placed on him by Maxabeni, he is still looking good and not backing off completely. Time will most certainly tell if Mahlathini will be able to take back some of the territory lost to the younger and more powerful Maxabeni.
Maxabeni looks back at Little Bush as he continues to scent mark. Image by Pravir Patel
 Maxabeni looks perplexed as he contemplates crossing the flowing Msuthlu River. Image by Craig Reiche
Maxabeni moves with purpose during a boundary walk. This cat has so much confidence. Image by Mike Palmer
 The biggest news of the week though, has to be the immense amount of rainfall this entire area has experienced in recent days. At Sabi Sabi we had no less than 300mm in the space of a few days resulting in the flow and substantial rise in both the Msuthlu and Umlechwane river systems (predominantly 'dry' river courses). This was amazing to watch as the events unfolded, and even though there were some inconveniences to the human element in the area, the flora and fauna are most certainly reaping the rewards of such a vast amount of rainfall.
A great capture of an approaching storm. Image by Franscois Rosslee
For some scale, we parked our vehicle on the edge of the flowing Msuthlu River. Image by Charles Ferrow
Charles gets low in an attempt to show the force of the torrent. Image by Charles Ferrow
A big buffalo bull cools himself off in a freshly filled pan while a terrapin attempts to dry off. Image by Craig Reiche
A really impressive elephant struts his stuff for our guests. Image by Grant Rodewijk
All the rain has had a slight impact on our movements, but the sightings have still been great with the rain making for some 'interesting' drives. At Sabi Sabi we try to limit our impact on the environment as much as possible and have therefore not been traversing off road to approach animals, but rather relying on alternative tracking methods to find animals in open areas and areas that are accessible. With the amount of rain and the weight of vehicles loaded with guests, the damage that we would inflict is simply not justifiable in the long term. With that being said, going 'off-road' without the vehicles has been loads of fun. We have been having some great walks with our guests out in the bush, allowing them to experience the smaller wonders of the wilderness from a much more humbling perspective.
Myself and Eve treated our guests to some 'off-roading' with a nice long walk in the bush. Images by Ricardo Fontanari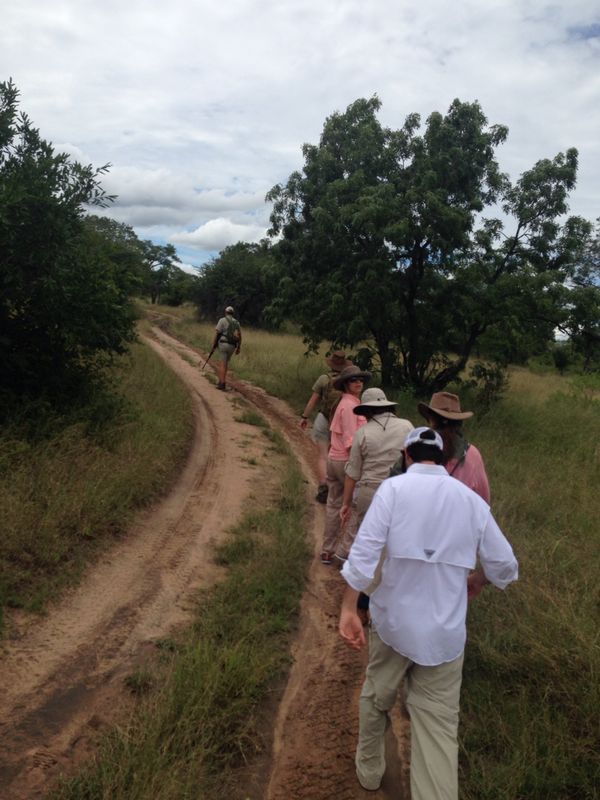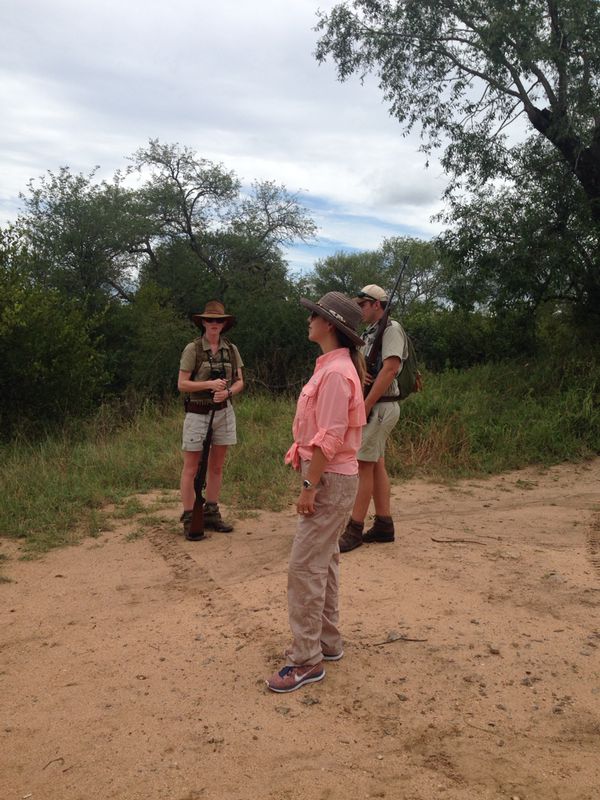 And for the days where the weather got the better of us, we offered to our guests the option to join us for some amazing presentations. We offer talks on many topics, such as 'The Venomous Snakes and Reptiles of Sabi Sabi', 'Interpreting the Bush', 'Rhinos of Africa and Asia', and 'The Southern Pride: Behaviour and Social Dynamics of Lions' to name a few. The lion talks are always a firm favourite…
Richard, as he explains to guests about the dynamics of lions and our Southern Pride in particular. Image by Mike Palmer
In conclusion, it was a very wet week with some more rain expected shortly and although there were a few challenges in dealing with situations that arise from such events, we all had a great time with it ensuring that our guests had fun, left with smiling faces and fond memories of their safari experience with us.
BY: MIKE PALMER (BUSH LODGE RANGER)