Tracking a pride of lions and finally finding them is always such a reward! The Mhangeni Pride kept us on our toes as they went through thick areas, through a drainage line, and then decided to find a nice shady spot right next to the road.
A herd of impala made their way toward them, unaware of the danger that lies ahead. The cub of the pride could not contain her excitement, and there she went, trying her luck to catch one of the impalas close by. One of the females chased after her, but of course, with such an uncoordinated hunt, it was unsuccessful. The two returned where the rest of the pride was waiting, and you could almost see how the other females teased the cub for her "hunt"!
Hunts are very carefully coordinated by the dominant female, and one wrong move can result in an unsuccessful hunt. Although they weren't lucky this time, this was a great learning opportunity for the Mhangeni cub to see how important it is to follow the instructions of the leading female.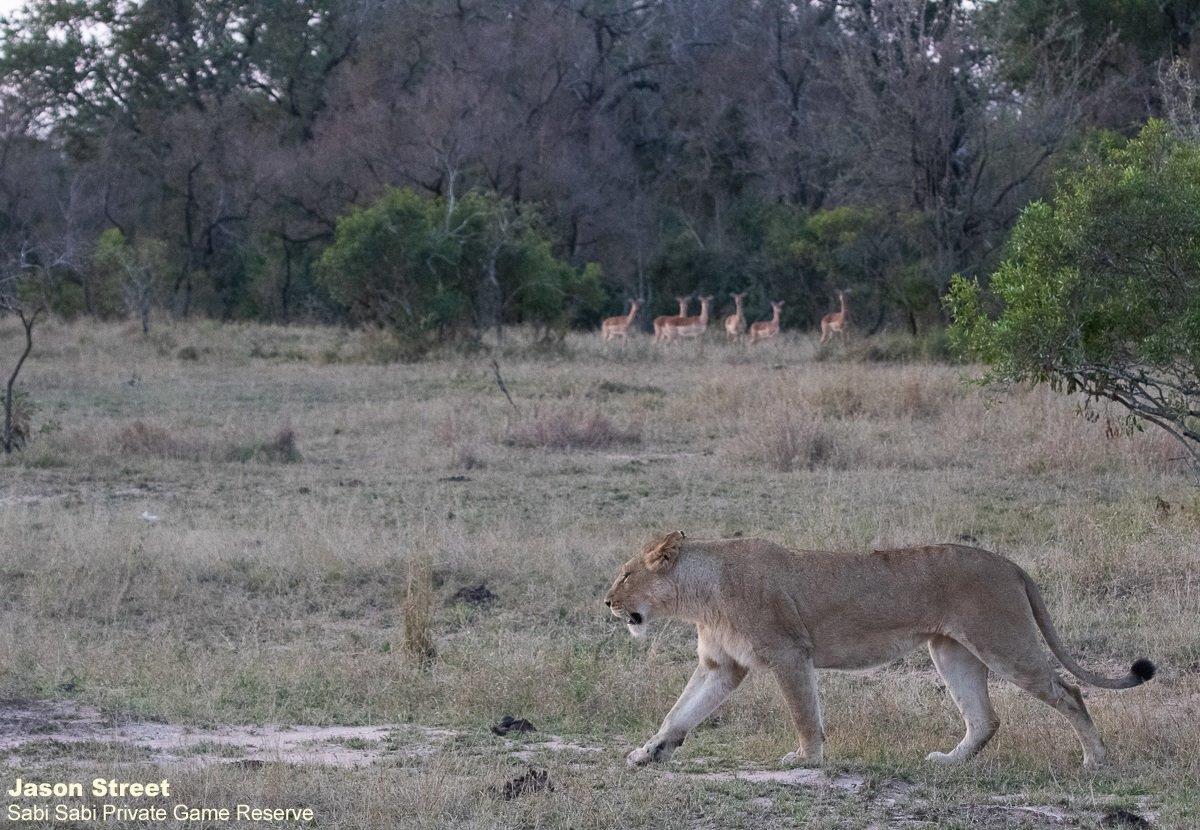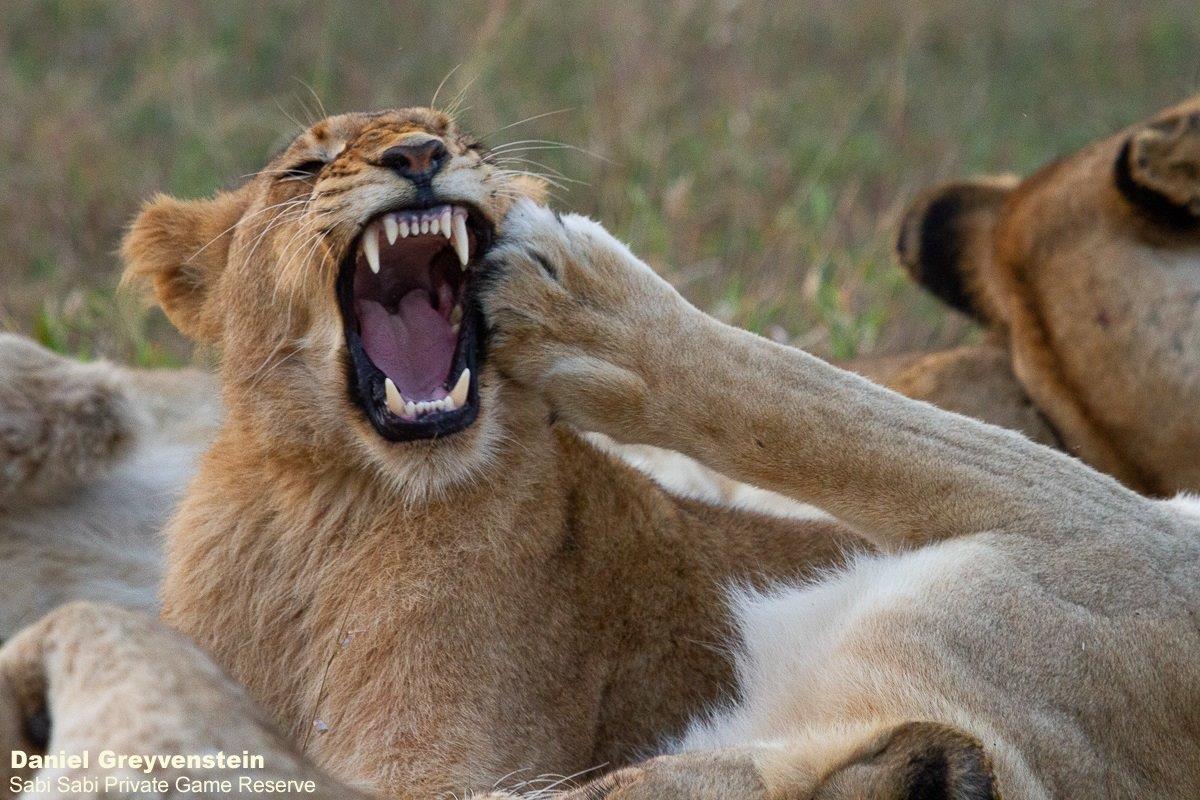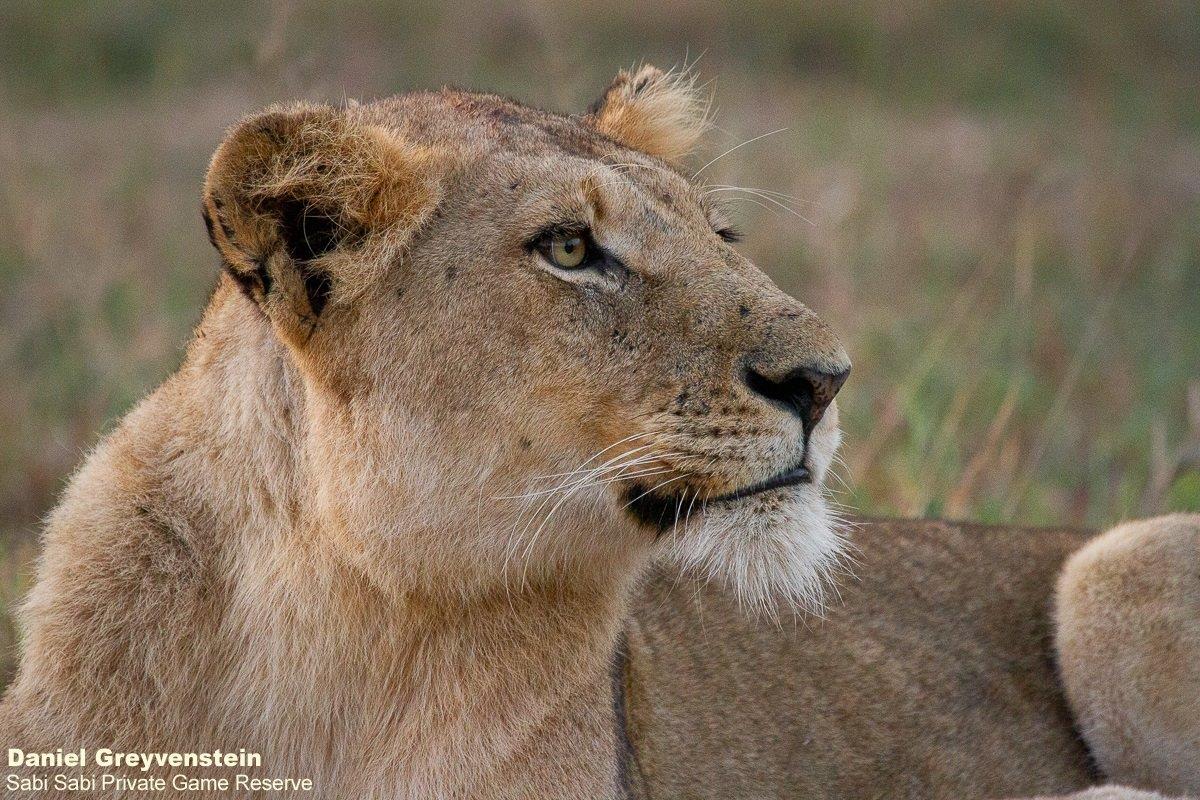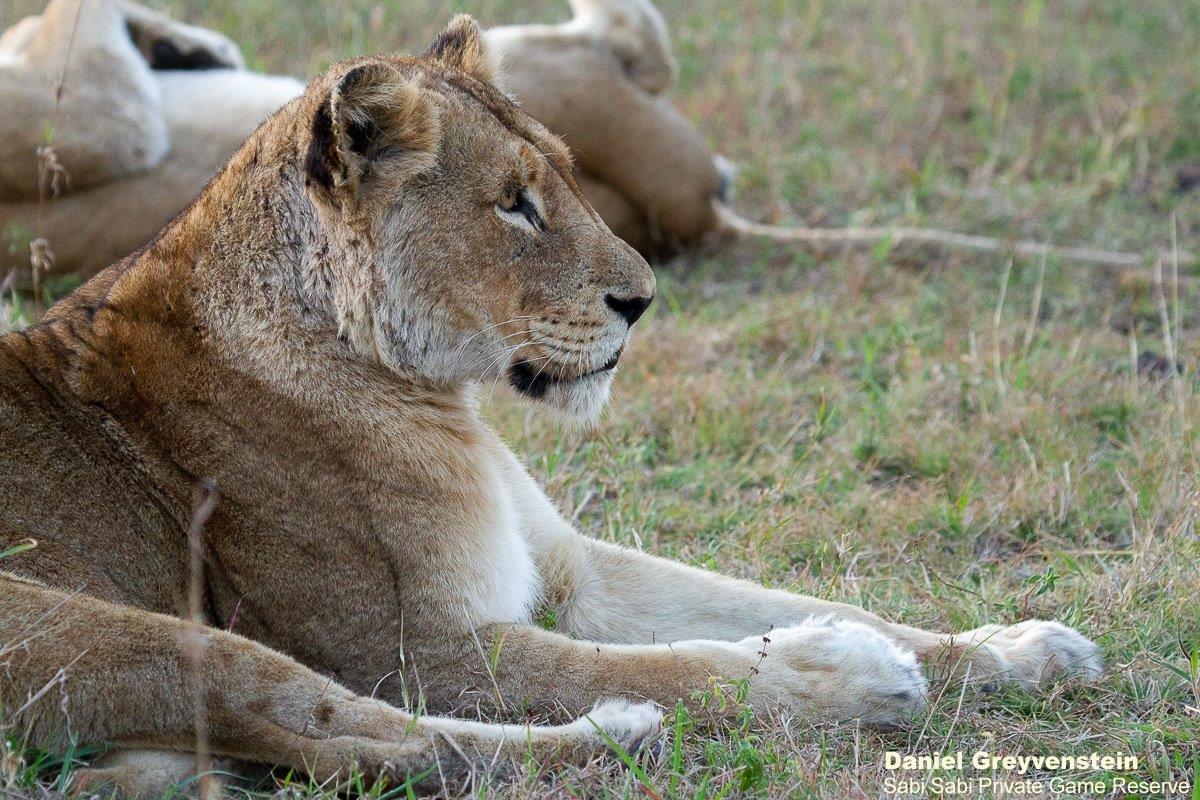 Despite the earlier failed hunting attempt, they managed to kill a buffalo. With the pride all feeding and hyena gaining in numbers, the air was filled with eerie "whoops" from the hyena. We followed up early this morning to see what had transpired during the evening and a young male lion had taken over the carcass and dragged it into a drainage line leaving the hyena and vultures still waiting for some scraps.
He later moved the carcass into a more open area – a big mistake! The hyenas saw this as an opportunity to come closer, trying their luck to get a piece of meat. Although you could see he was a bit nervous with 7 plus hyenas around him, he stood his ground. Just as the hyenas thought they had a gap, he sprinted towards them, growling, and chased them all away… for now!
Young nomadic male lions live secretive lives, often living off scraps just to survive while they learn the skill of hunting for themselves. They will pass through areas avoiding dominant adult males until they are big and experienced enough to challenge for a territory of their own.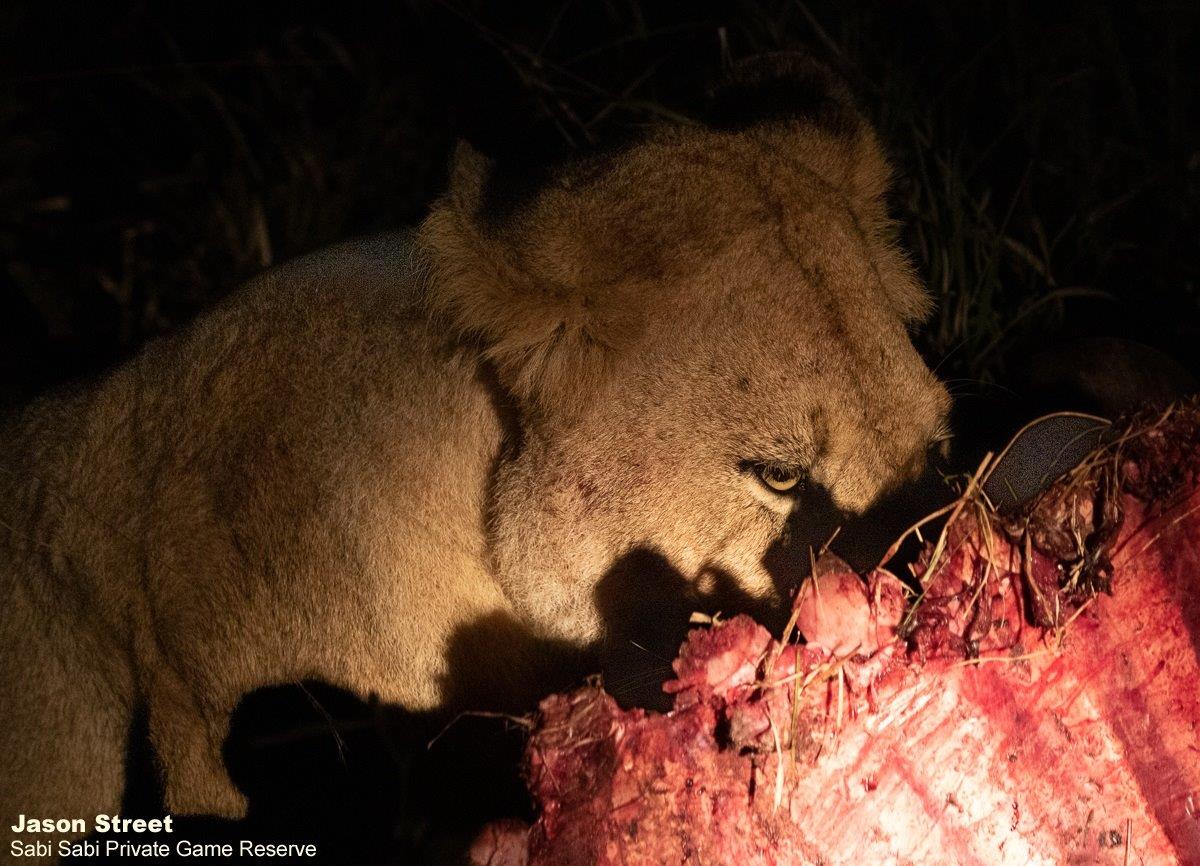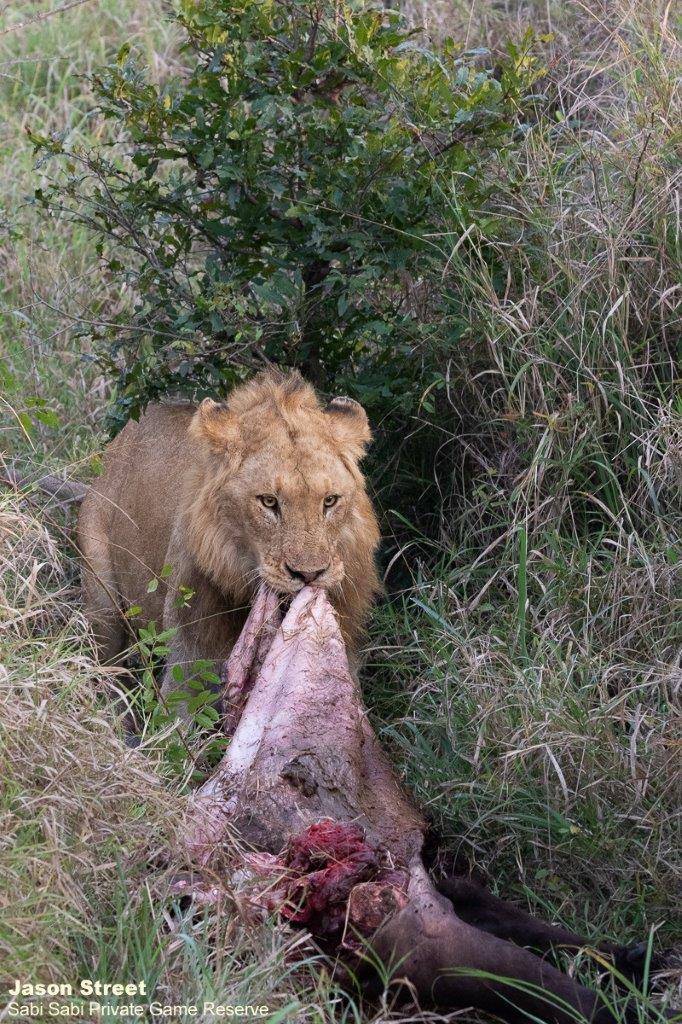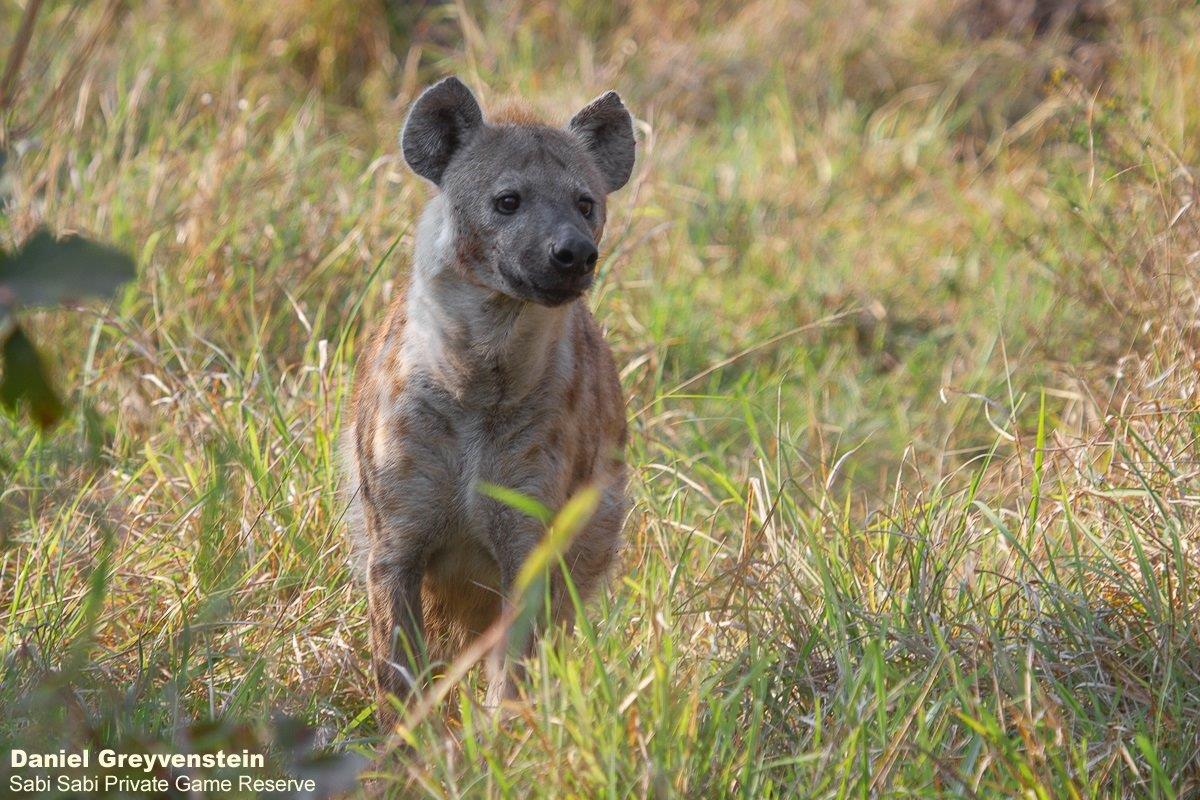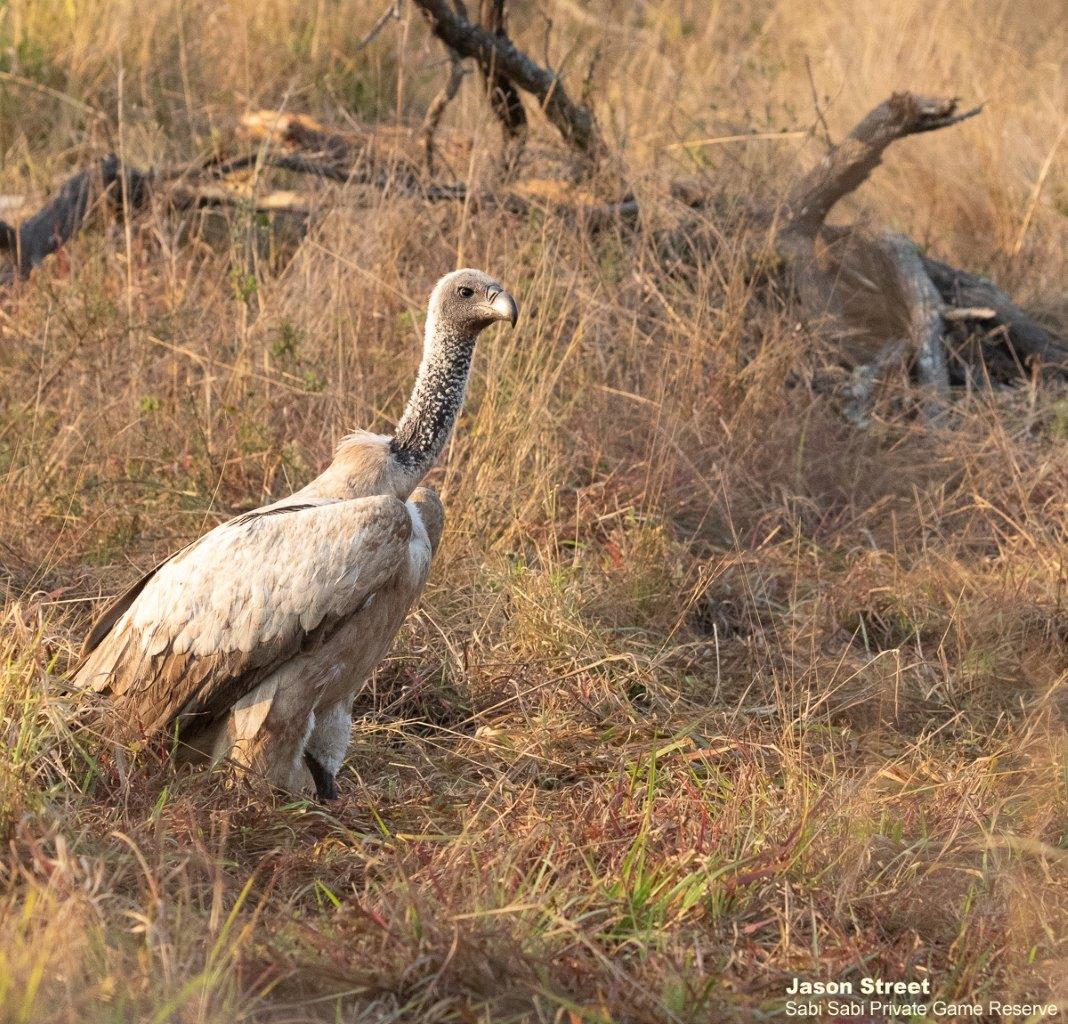 We followed up on a sighting of the Mhangeni Pride and they were still in the area, finishing up on the remains of their buffalo kill. Hyenas were all waiting their turn to pick up any scraps, but the lions did not make it easy for them as they barely left anything.
In most cases lions will leave the bigger bones they are unable to chew, and the hyenas and vultures will help themselves to the remains. This was a different situation as the lions were still feeding on the bones after finishing the whole buffalo carcass. If lions make smaller kills like impala or otherwise younger animals, they will try to eat the softer bones as well. This time, they left only the horns and hard skull of the buffalo.
After dark, the pride got mobile, making a beeline for the nearest water source for a drink, before disappearing into the darkness in search of their next meal.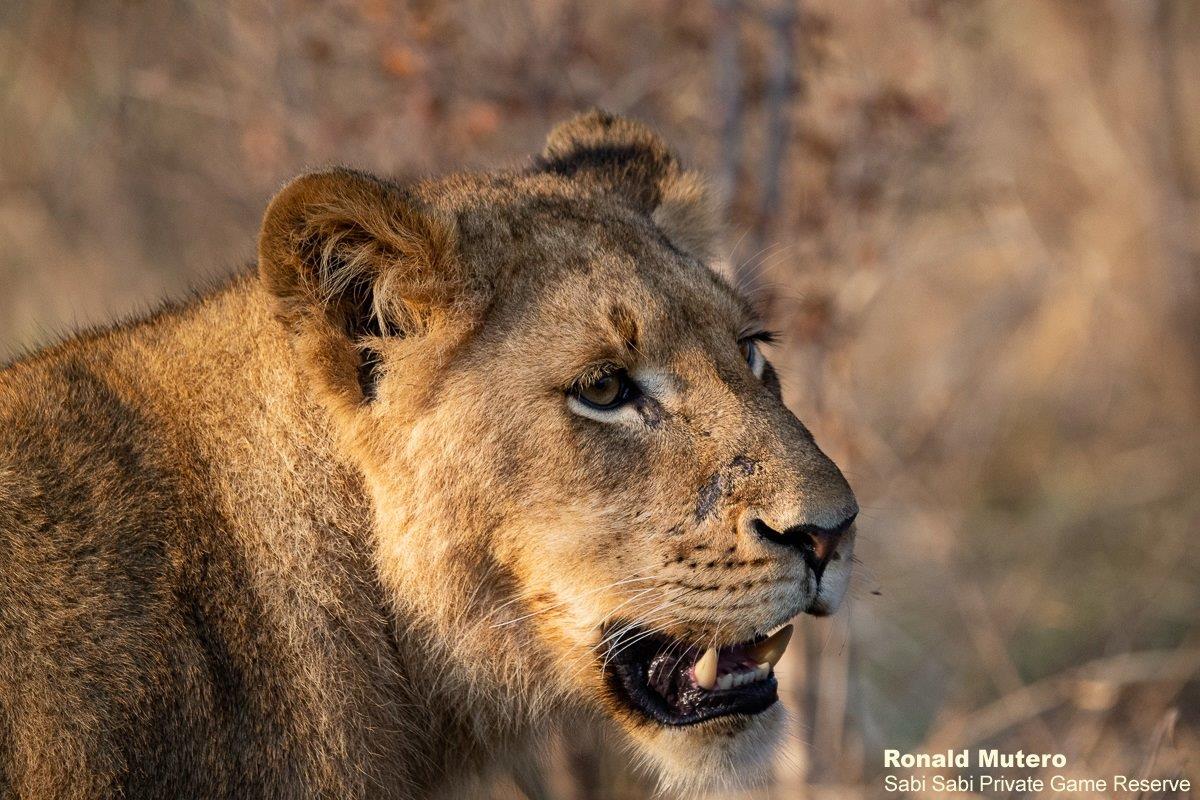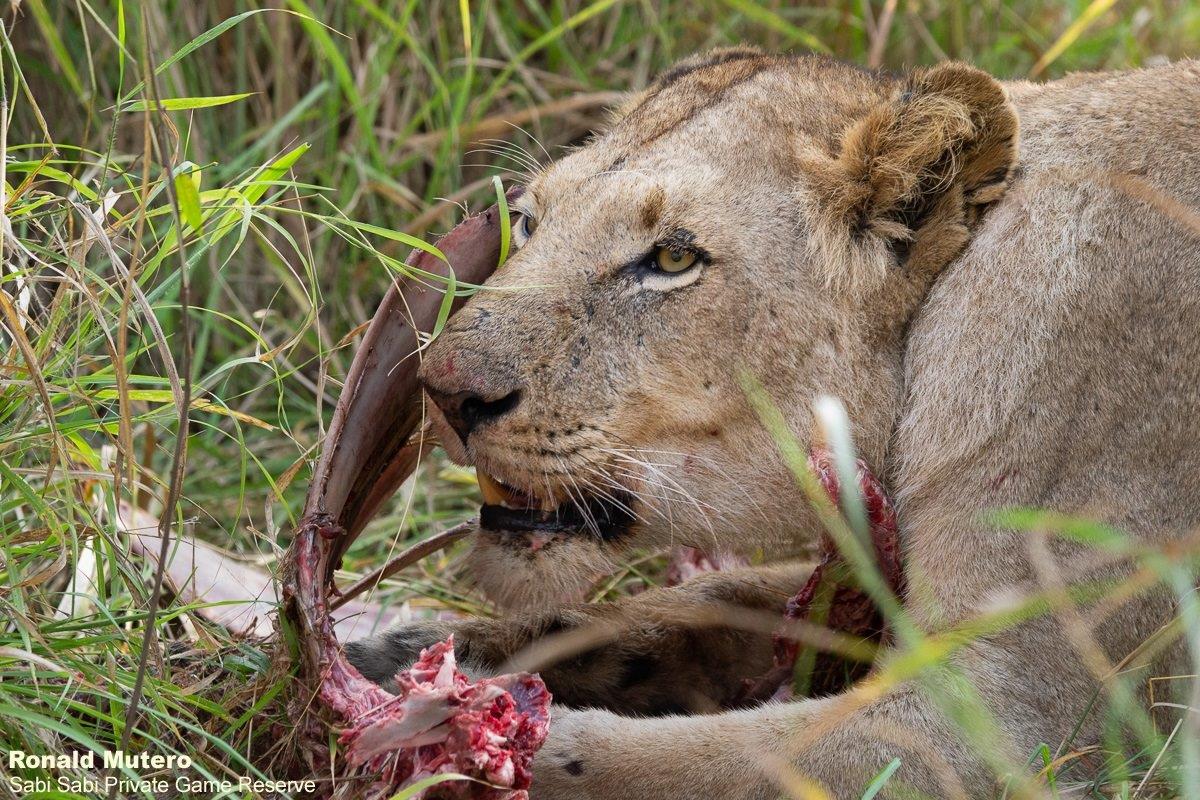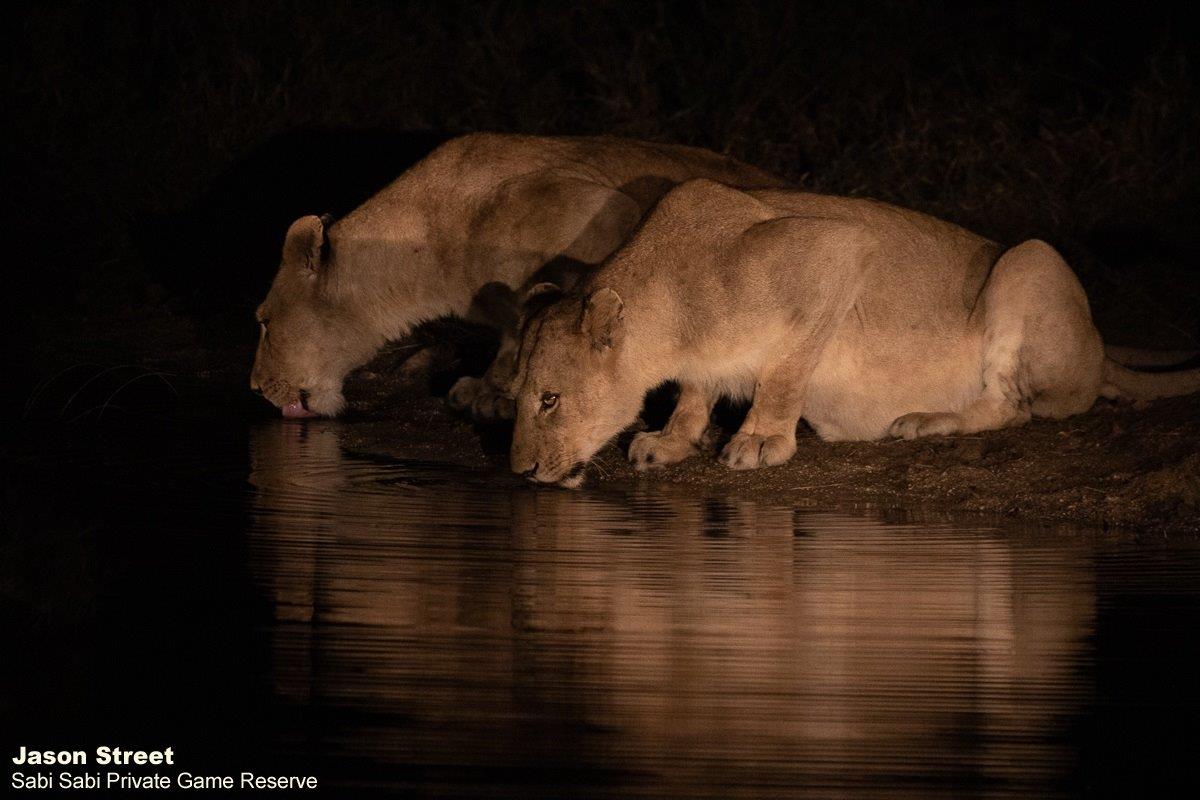 We followed lion tracks for a while and noticed hyena tracks following in the same direction. Vultures were starting to land not far from where we were. We explained to our guests what this could possibly mean, and excitement grew! We headed straight towards the vultures and as predicted, we found a lion pride feasting on a big buffalo they had killed, possibly only a few hours before we got there.
The Styx Pride has done so well in taking care of their cubs and ensuring they remain well fed and healthy. Over the past few days, we have seen them on a kudu kill and now a buffalo! The cubs need a lot of food as they are no longer suckling from their mothers, so the females have their work cut out for them until they can assist in hunts when they get a little bit older.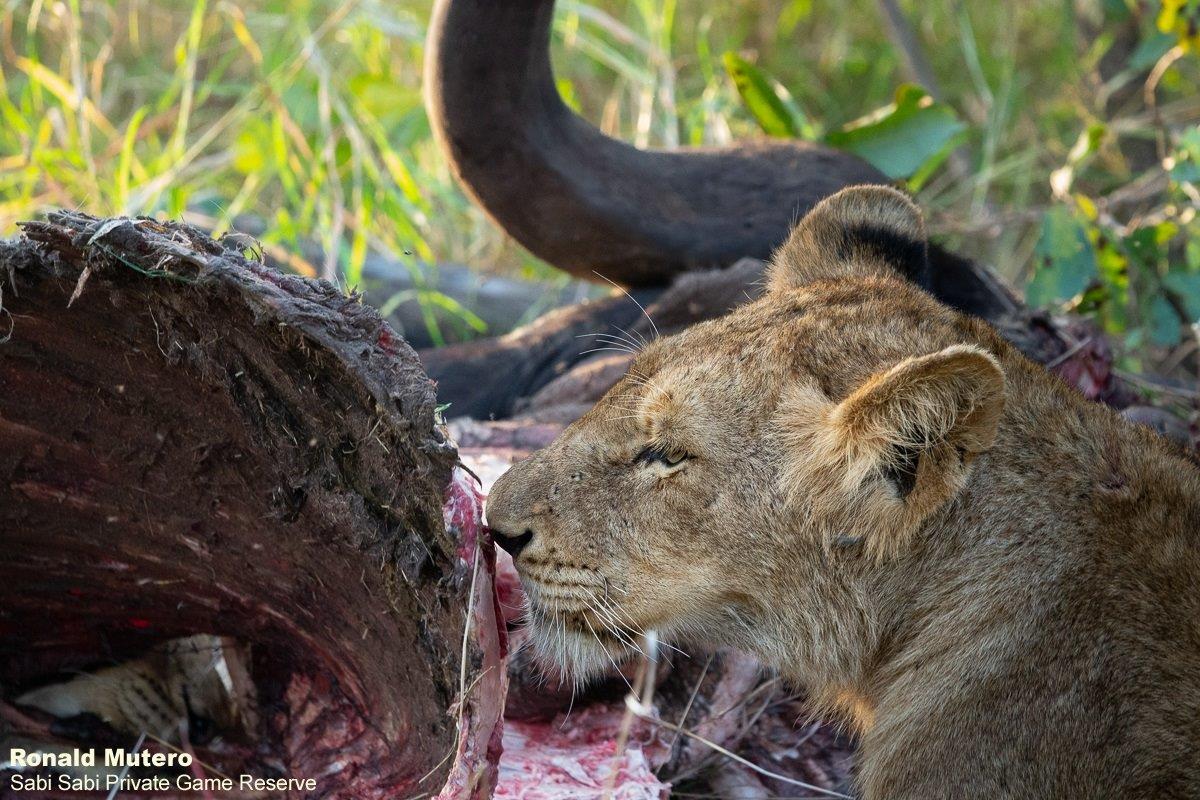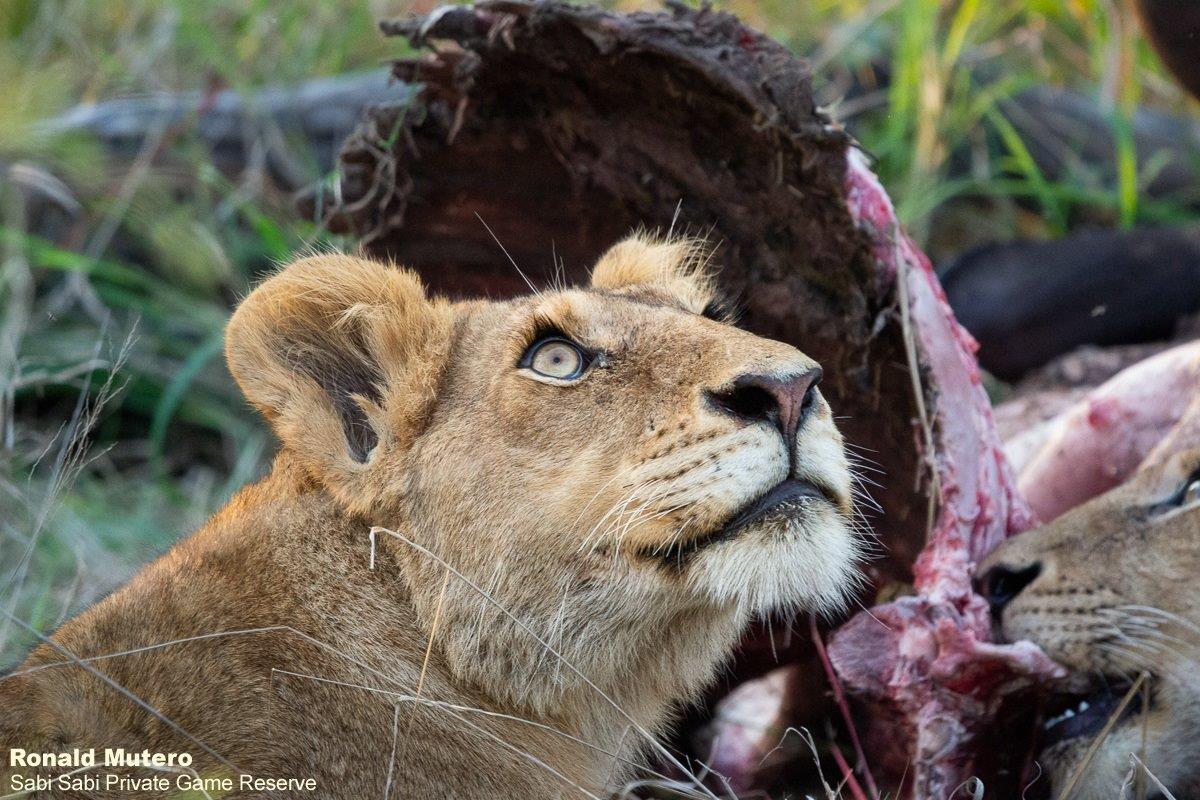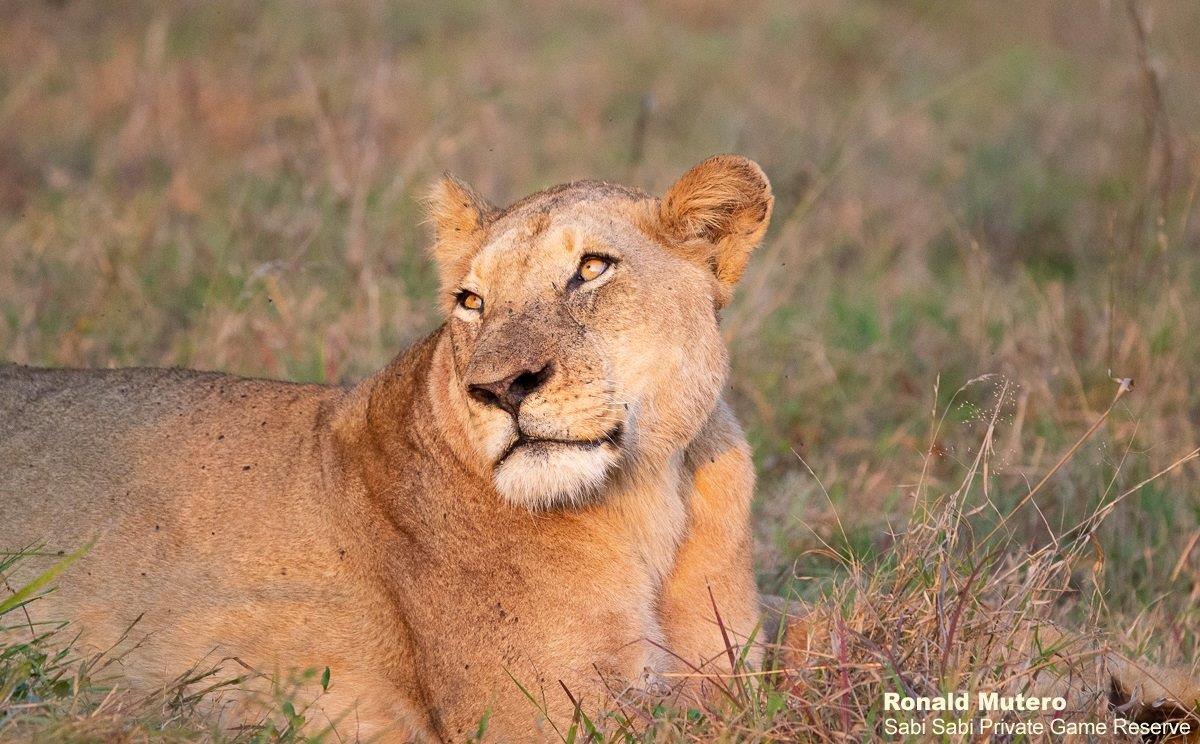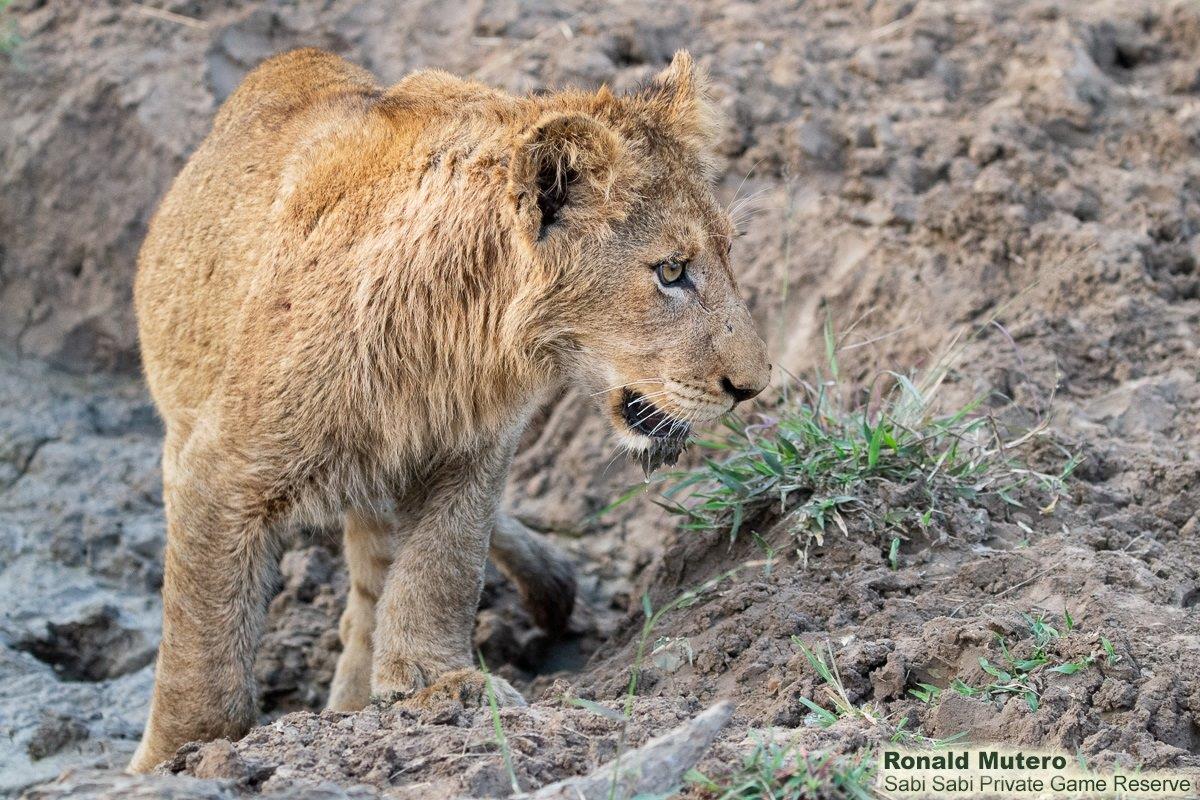 After a good meal, the Styx Pride were content and resting in the late afternoon. We had noticed one of the females was missing and was seen drinking water from the waterhole in front of Selati Camp, quite a distance from the rest of the pride. Suddenly, one of the adult females sat up and was instantly alert. There were soft contact calls coming from the east. A short while later the pride re-joined the female, and all were happy to see her.
Lions have strong social bonds and care deeply for each member of the pride. This is evident every time a pride member re-joins after a short time away. Lions will affirm social bonds often by grooming, and with soft nudges and nose touches.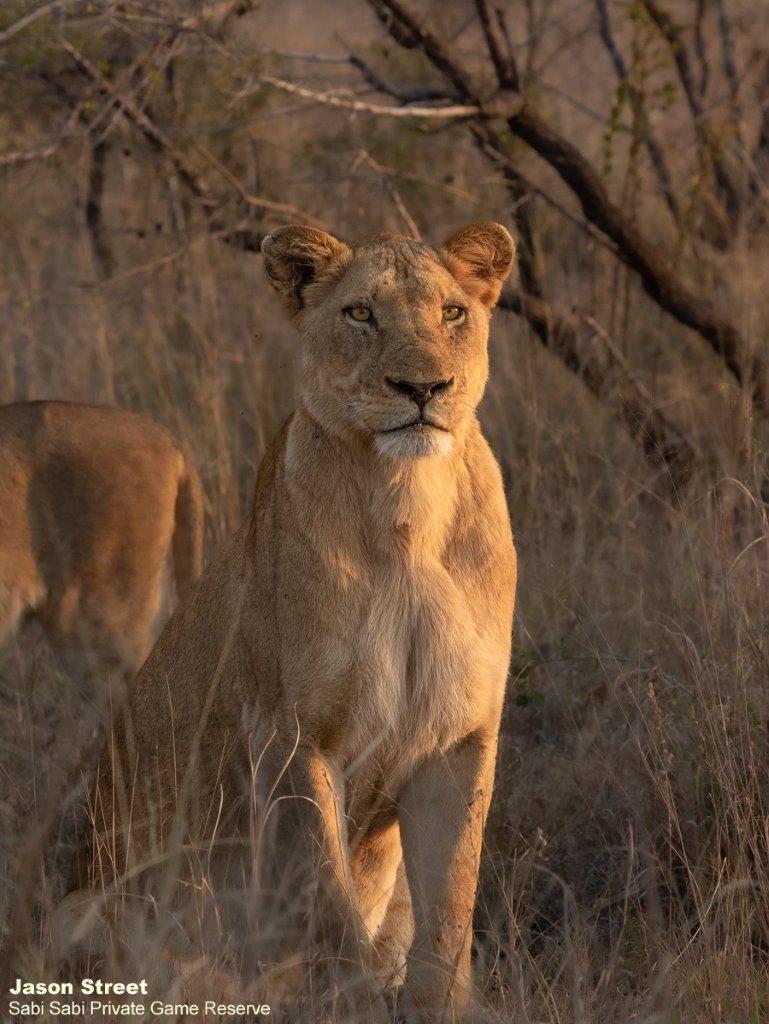 It was not long into our morning safari when we found two wild dogs that had just made a duiker kill. They made short work of their kill, eating very quickly before moving off, leaving a few scraps for any lurking hyenas and vultures.
As endangered as wild dogs are, spending time with them is always precious. Wild dogs are very successful hunters and following them in early morning or just before sun set, you are almost guaranteed to see them hunt and make a kill. They have evolved to consume their prey quickly as they are not the strongest of predators out there, hyenas and lions in most cases would chase them away from their kills. Depending on how big the pack is, they may be able to stand their ground and fight intruders but their relationship with hyenas is hostile.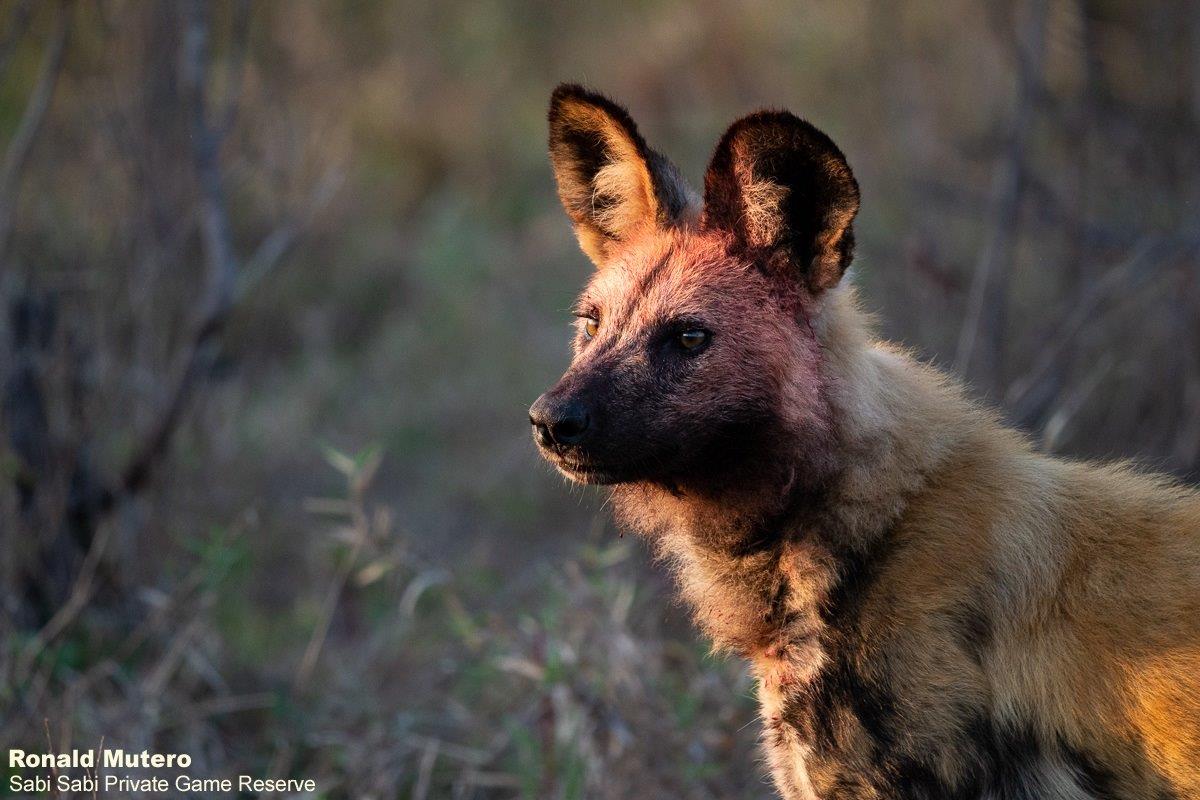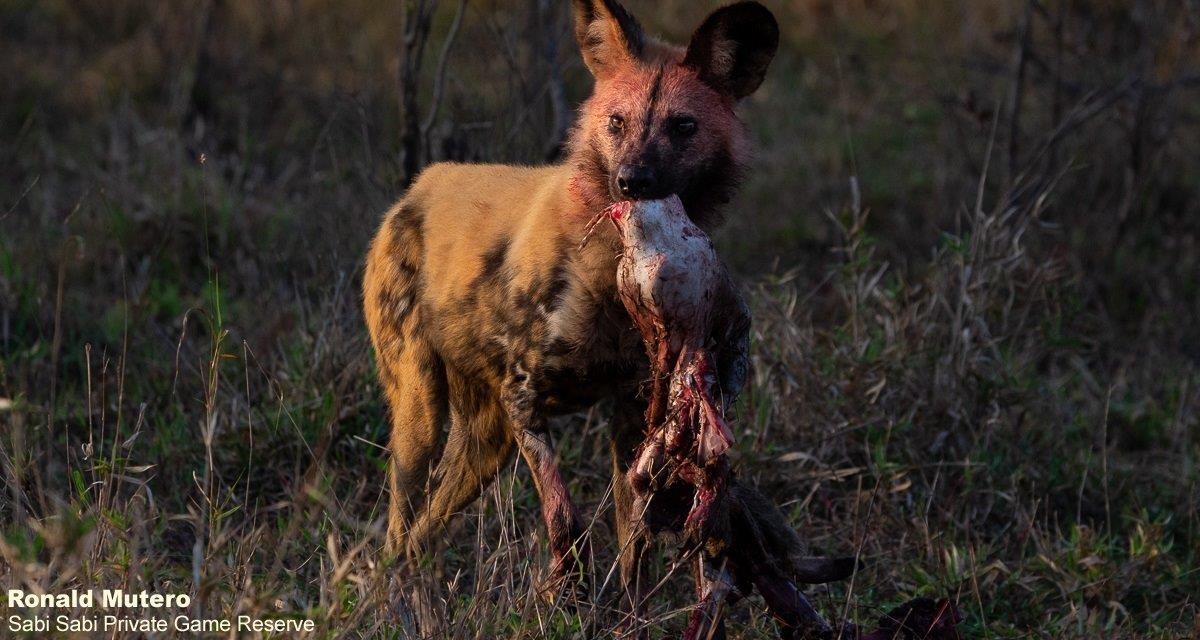 A pack of two wild dog have become a fairly common feature over the past while at Sabi Sabi. Over the weekend, the pair narrowly missed out on some impala they had been chasing around.
These two dogs are thought to be part of a breakaway pack from the Toulon pack. With the size of the Toulon pack, these wild dogs have decided to move away from their natal pack and start a pack of their own.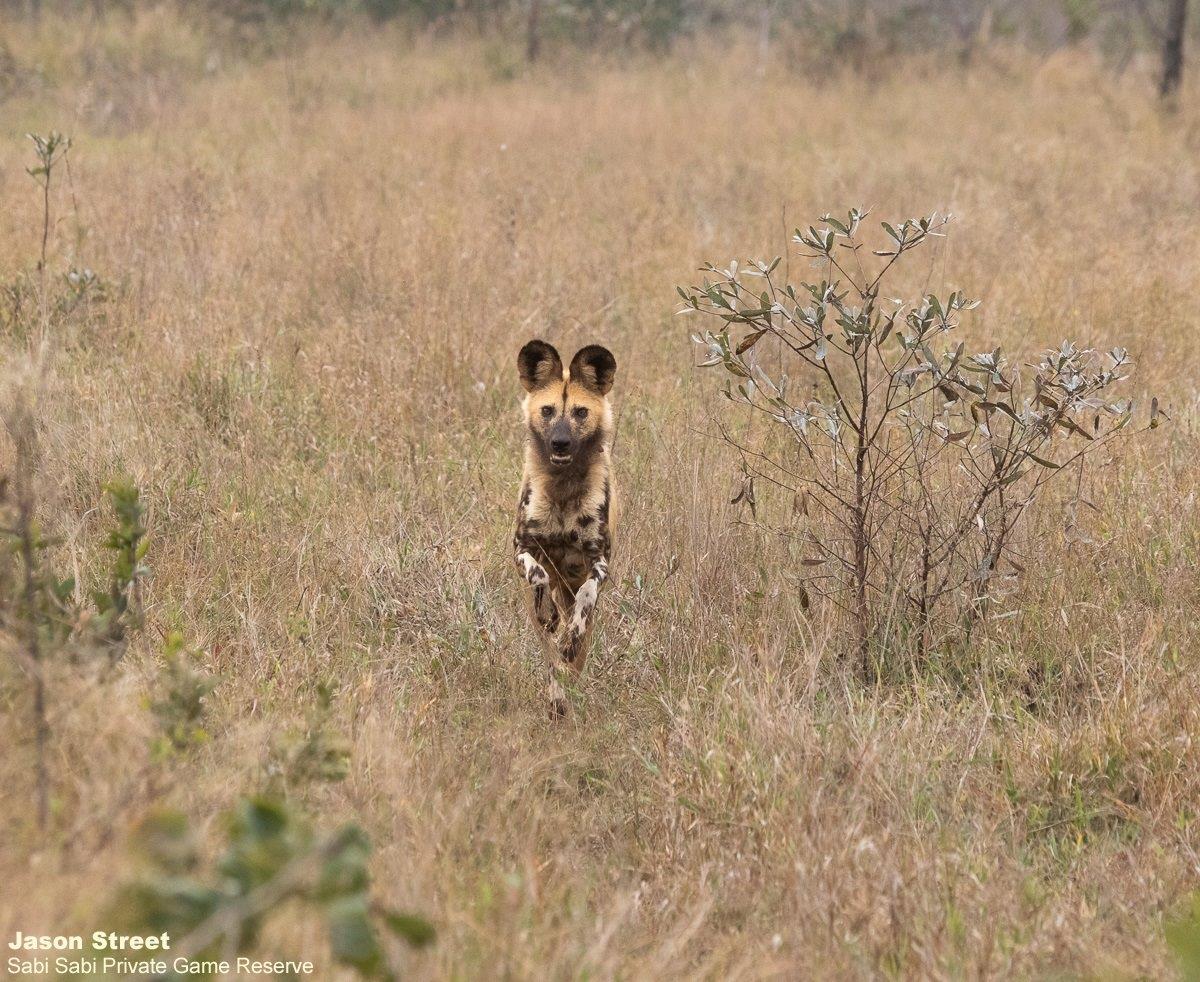 N'weti male leopard made an appearance late on a warm winter morning. With an empty stomach he sat up on a termite mound looking out for a potential meal.
Being solitary, leopards have a far lower success rate at hunting than animals that hunt in groups. They are also less likely to risk injury as being injured and solitary will leave them with no way of obtaining a meal.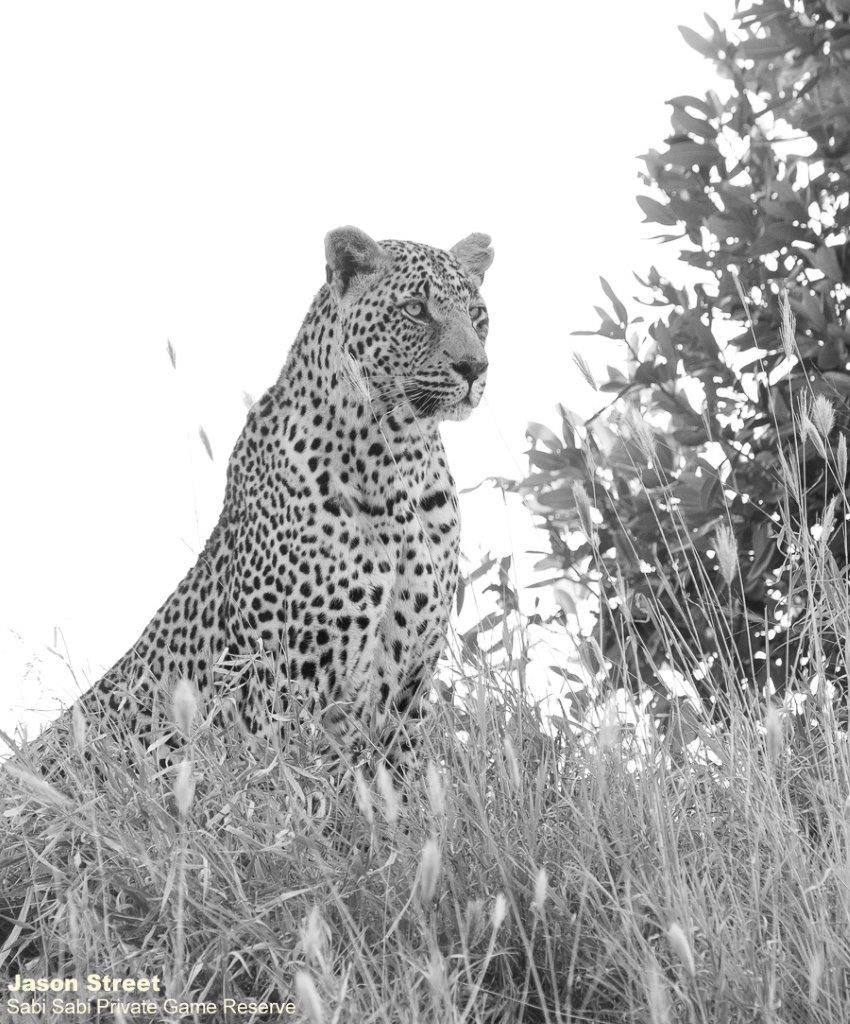 With her cubs growing and needing more and more food, Ntsumi has been out hunting non-stop the past few days. While leopards have a massive advantage hunting at night, they will never let an opportunity pass by.
With large eyes set on the front of the face which give binocular vision to determine distance. Pupils are large and forward facing allowing ample light to fall on the retina even on dark nights. Additionally, they have a reflective layer at the back of the retina which allows the brain to process the image again. They probably do not have colour vision as rod cells dominate the retina. Their day vision is probably no better than ours but at night they can see 6 to 8 times better than us. Sight is arguably the most important sense for leopards while hunting.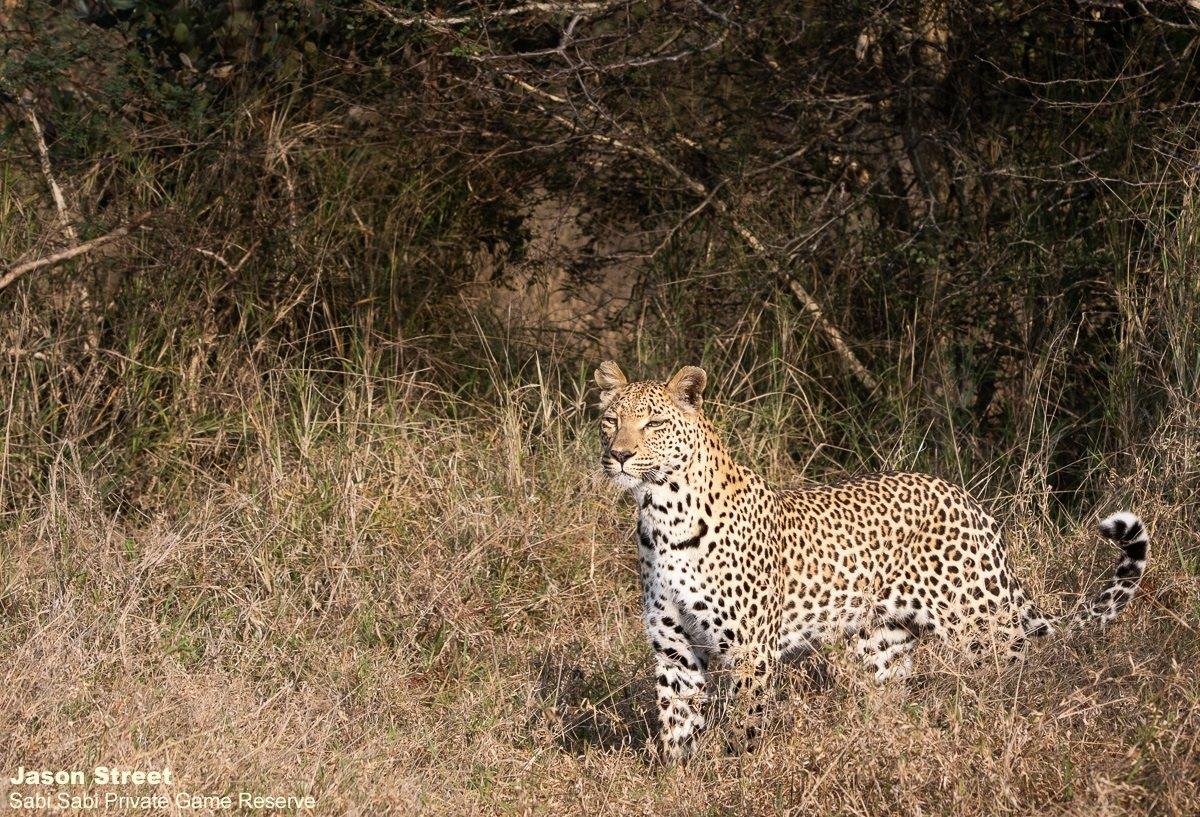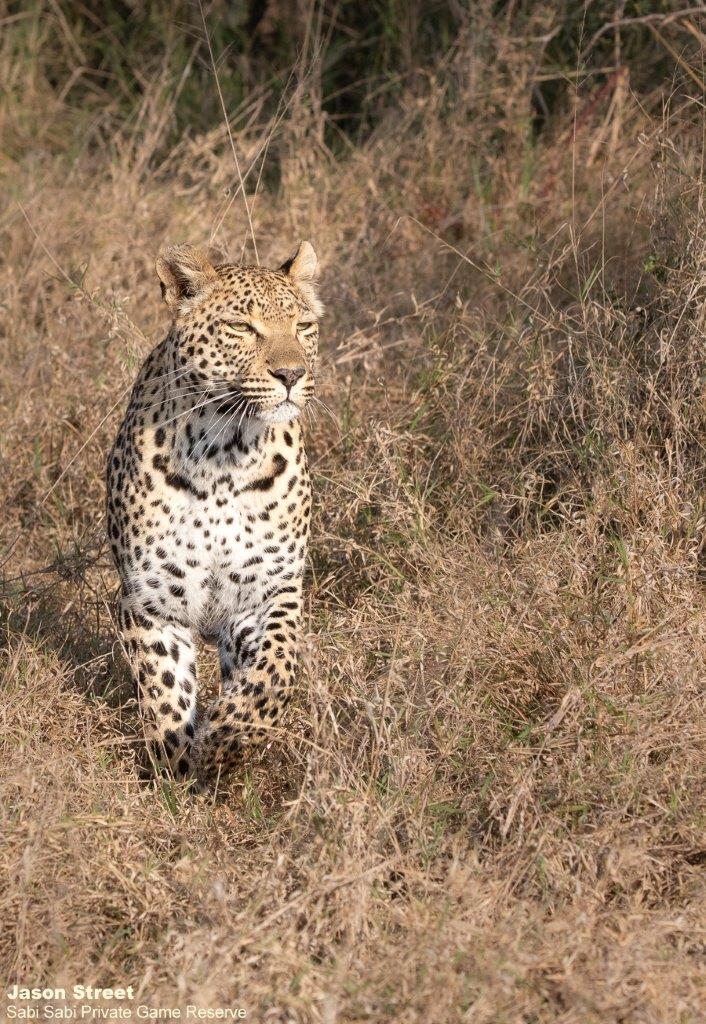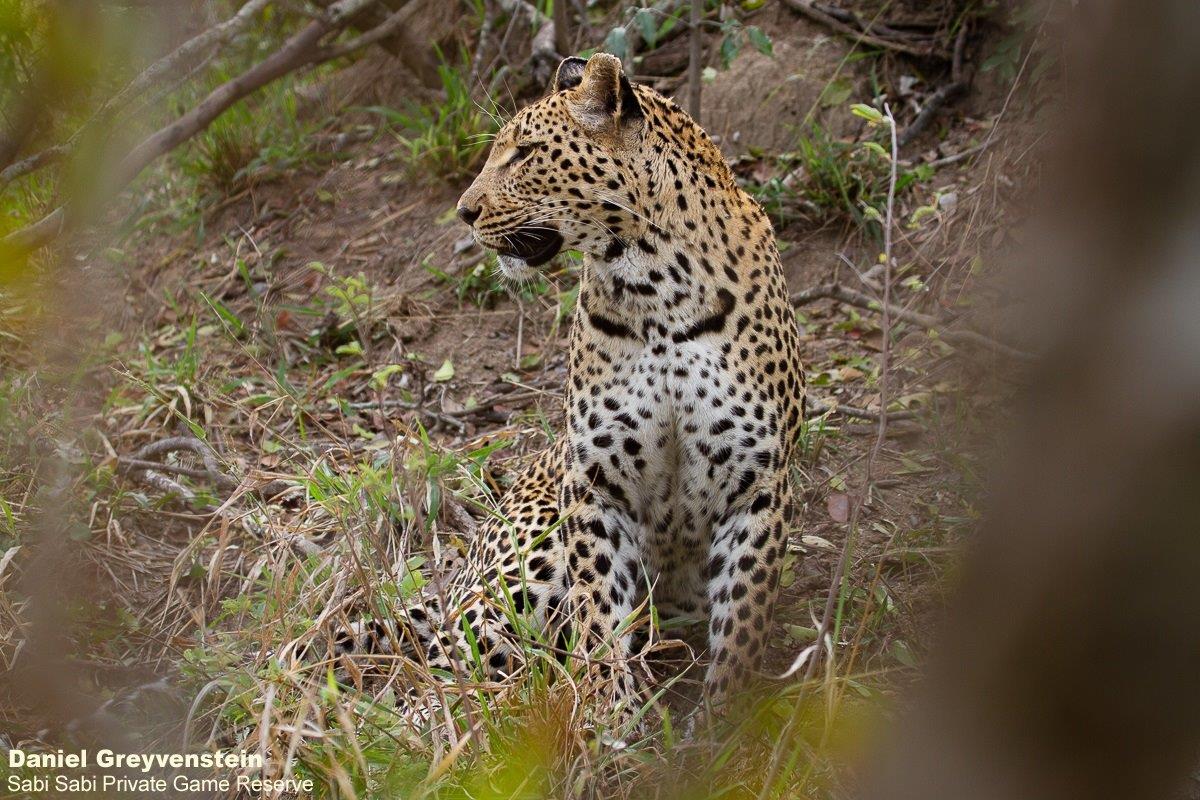 Golonyi female leopard was seen early one morning as she was hunting some impala in an open area; but as she moved closer towards a bush, she was spotted and abandoned her hunt. We followed her for some time where she finally climbed to the top of a termite mound to use as a vantage point. She never saw anything so decided to take a rest, and we moved on with our safari.
Since becoming independent from her mother, she has done extremely well and is often seen with impala kills which is a great meal for a leopard of her age. Her hunting techniques have improved over time as she has become more patient than before. It has been wonderful watching her journey to independence and we look forward to seeing her bring up her own cubs one day!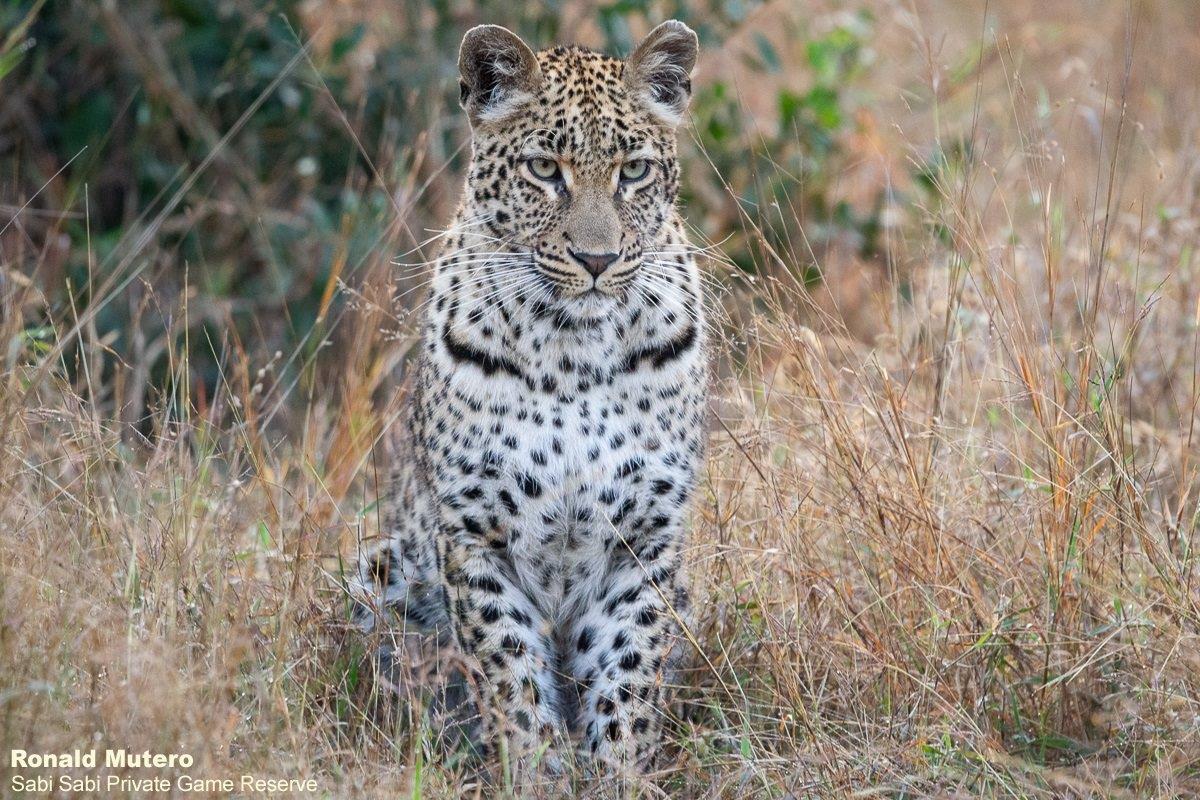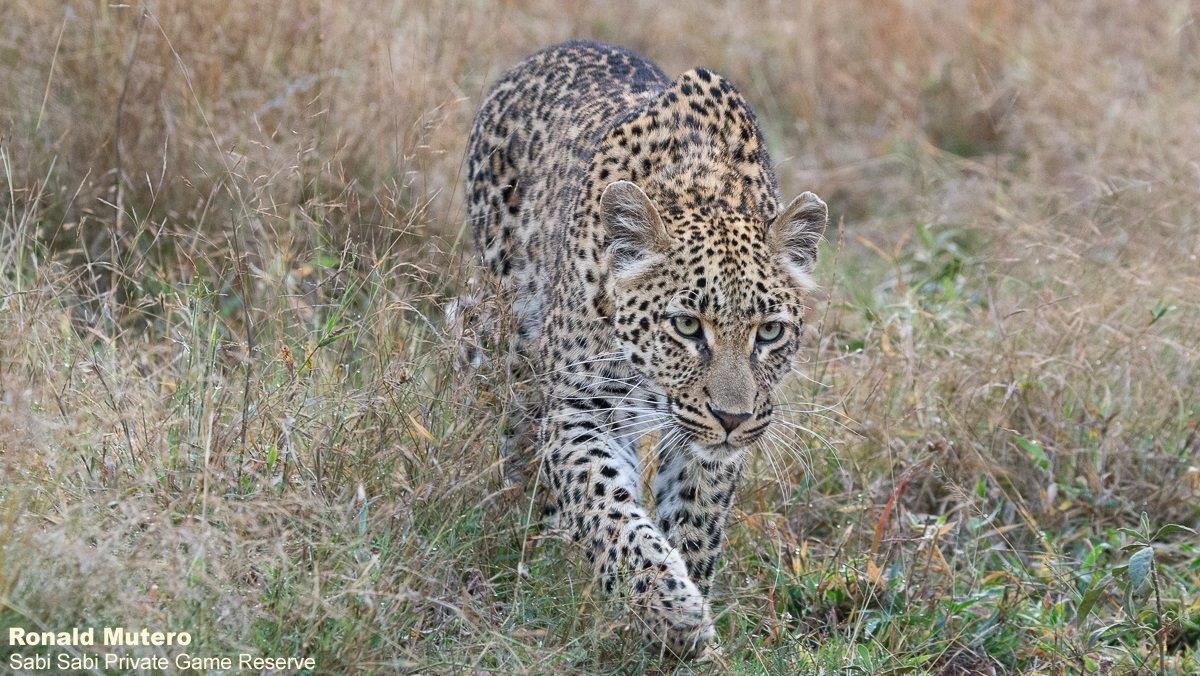 What an amazing experience we had with Golonyi and Tsutsuma! Read all about it in Jason's blog, The rivalry of the new generation of leopards at Sabi Sabi.
After the burning season you start seeing Zebra in the burnt plains. They absolutely love to feed on the new sweet grasses that sprout after the burns. It provides a great photographic opportunity with bright green grass against the black ground, orange leaves from autumn, and this beautiful animal!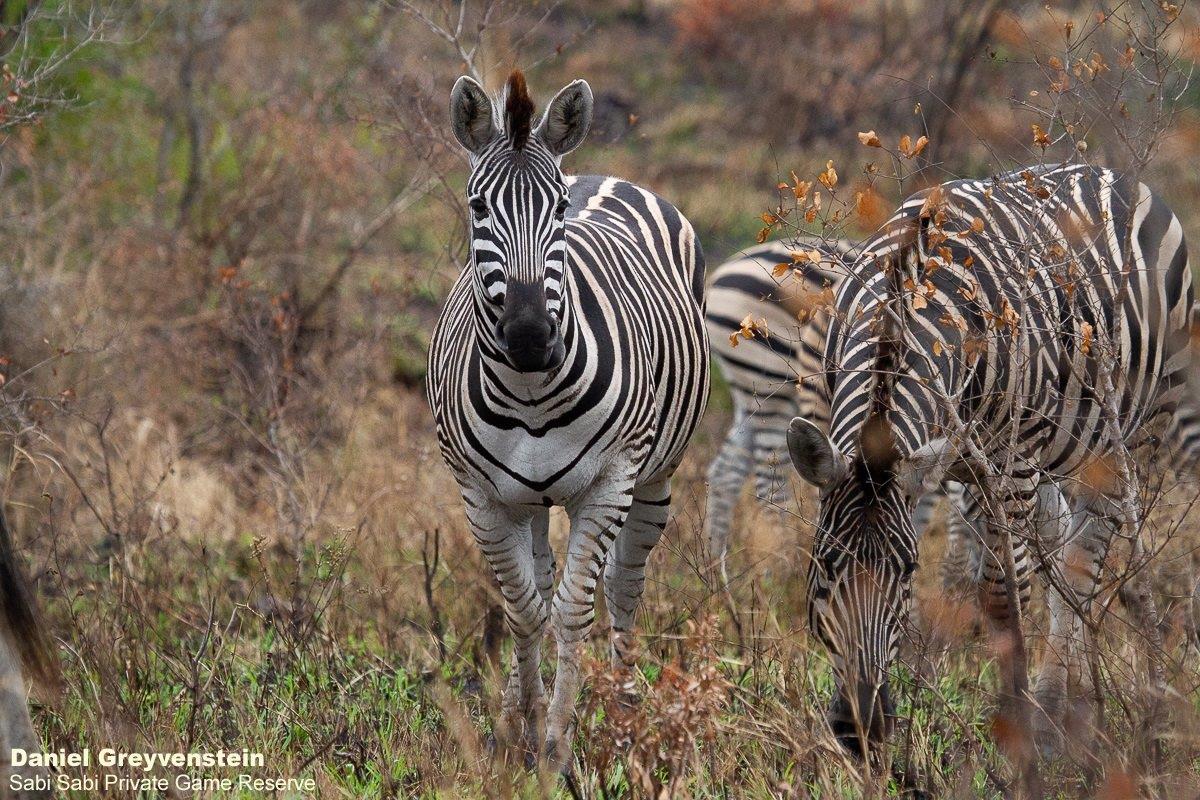 The Coqui Francolin is the smallest species of francolin found in Southern Africa and is the only francolin with an ochre-yellow head. They feed on seeds, shoots, small fruits, invertebrates, and small frogs.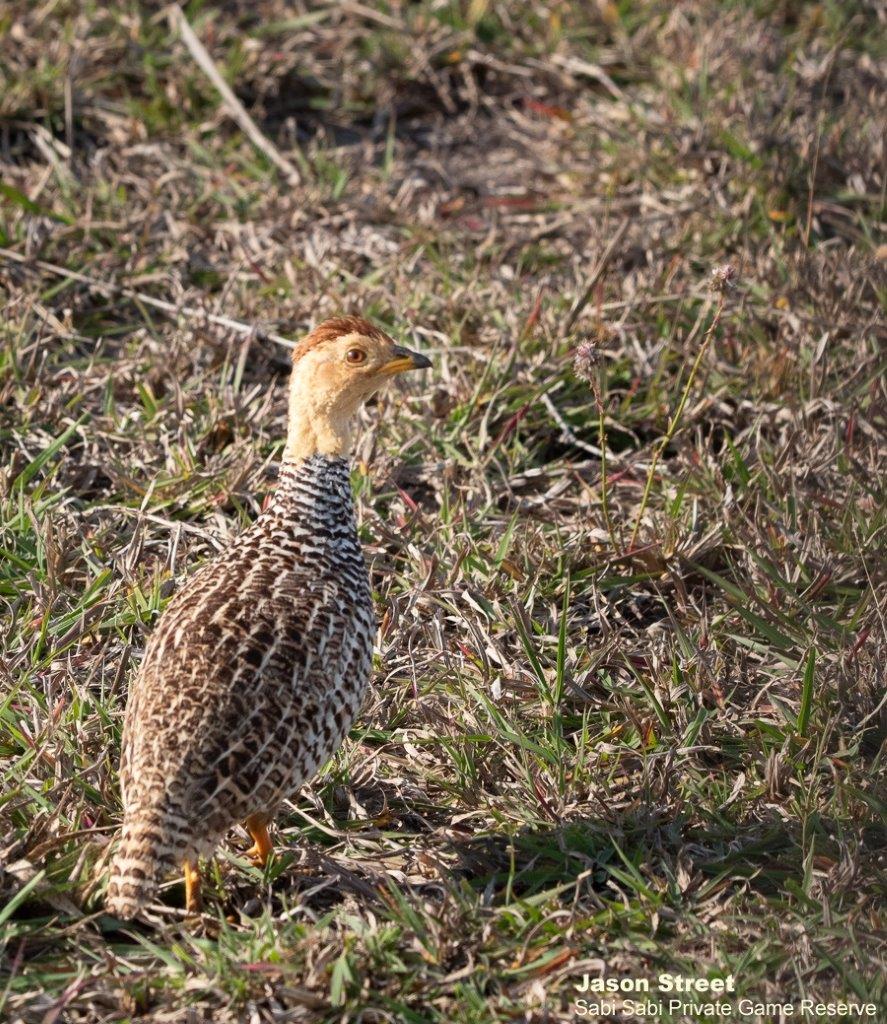 Impala Lilies flower from July to September, which is the height of winter here at Sabi Sabi, adding some colour to the dull grasslands during our dry season. This plant contains a watery late which is highly toxic. The latex can be extracted from the bark and trunk and has been used for the tips of arrows.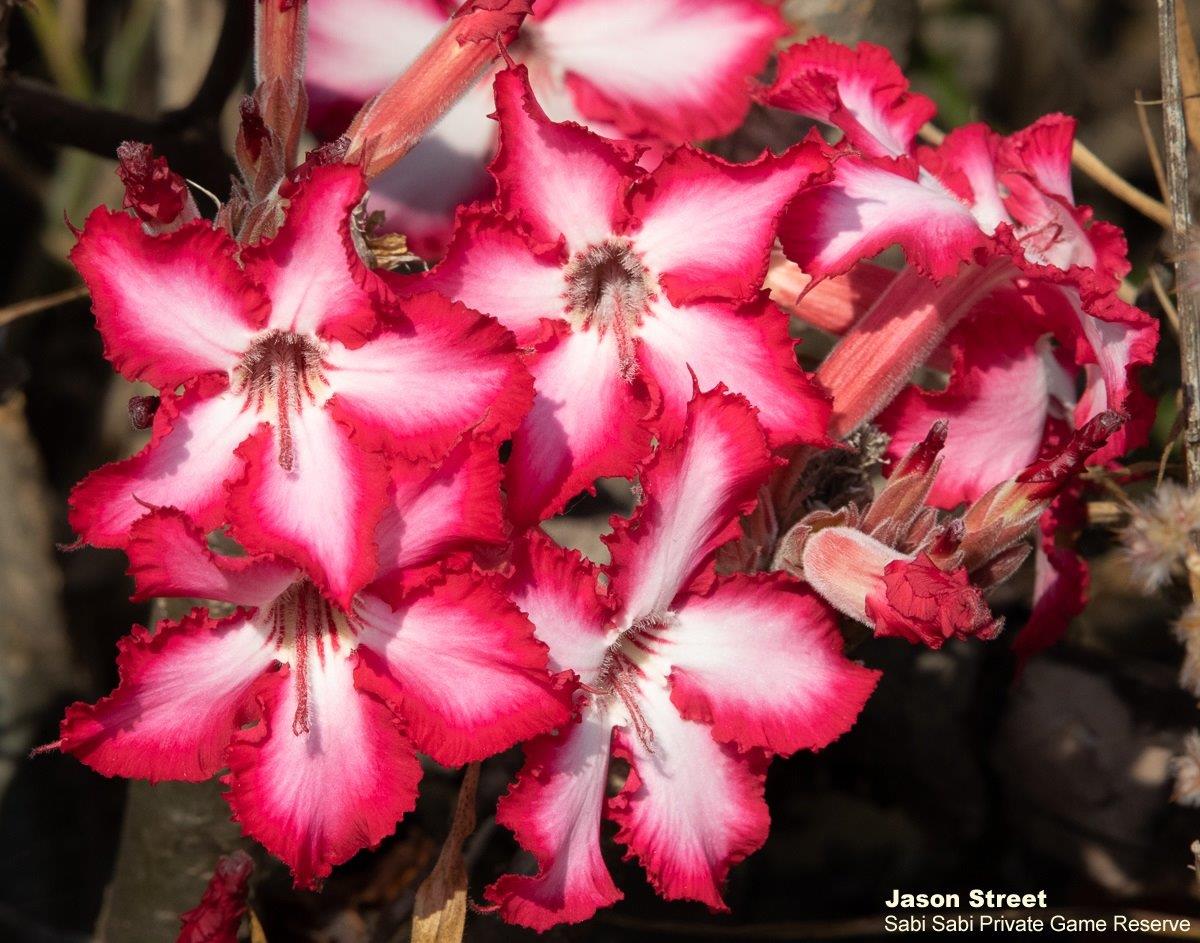 Until next time…
Blog by Wendy Claase
Images by Daniel Greyvenstein, Jason Street and Ronald Mutero
Video by Jason Street