With more rainfall on the reserve this past week, the reserve is looking amazing with plenty of lush green grass forming the backdrop of the majority of sightings.

After thinking it was a rock at first glance, this tortoise moved out of the long grass to prove to us that it was much more than just a rock.

Grooming time. Just like us, animals are creatures of habit. These two Yellow-footed Bush Squirrels were starting to emerge, getting ready to face the day, a grooming session and some sunbathing are all part of the routine.

Standing atop a large termite mound, these female kudus were able to survey the area around them.

Bennett's Woodpecker pairs remain together throughout the year, maintaining territory together which can be as large as 80ha. Although you often see them together, foraging in a similar area, we saw this male moving alone.

With a herd of impala and wildebeest around, this baboon, together with the rest of her troop were foraging. Taking advantage of the many eyes and ears being vigilant for predators.

Planning to go out on a game drive, our mission was to find a herd of elephants for our group. As luck would have it, we came across a beautiful herd just around the corner from the lodge entrance, together with this big bull who was following the ladies.

In an open area, Ronald's tracker, Mike, spotted a cheetah far off into the distance. On closer inspection, we could see that it was a female and her cub together, a great treat for Ronald's guests and a great way to end their visit here at Sabi Sabi!

This female cheetah and her cub were feeding on a young impala, but the moment was short-lived as a hyena moved in swiftly and snatched the kill away.

We were delighted to find this female cheetah and her cub close to where they were left last night, still with full bellies from their previous kill.

Three of the Styx lionesses were trailing and possibly trying to hunt a large herd of buffalo. The three disappeared into a riverbed and out of our sight. We hope they will be successful in their hunt!

Shortly after leaving Selati Camp one morning, we saw a male and female lion. As we approached, the female spotted some impala close by; stalked them and gave a short chase with the male in tow, but soon gave up. We located them again. The female was constantly growling at the male as they walked past our vehicle. A few meters later, she lay down and they mated. What an incredible sighting!
The three Styx lionesses were lying close to the road. After some time, a herd of impala wandered close to them, and a short chase pursued but the herd managed to outrun the three lionesses.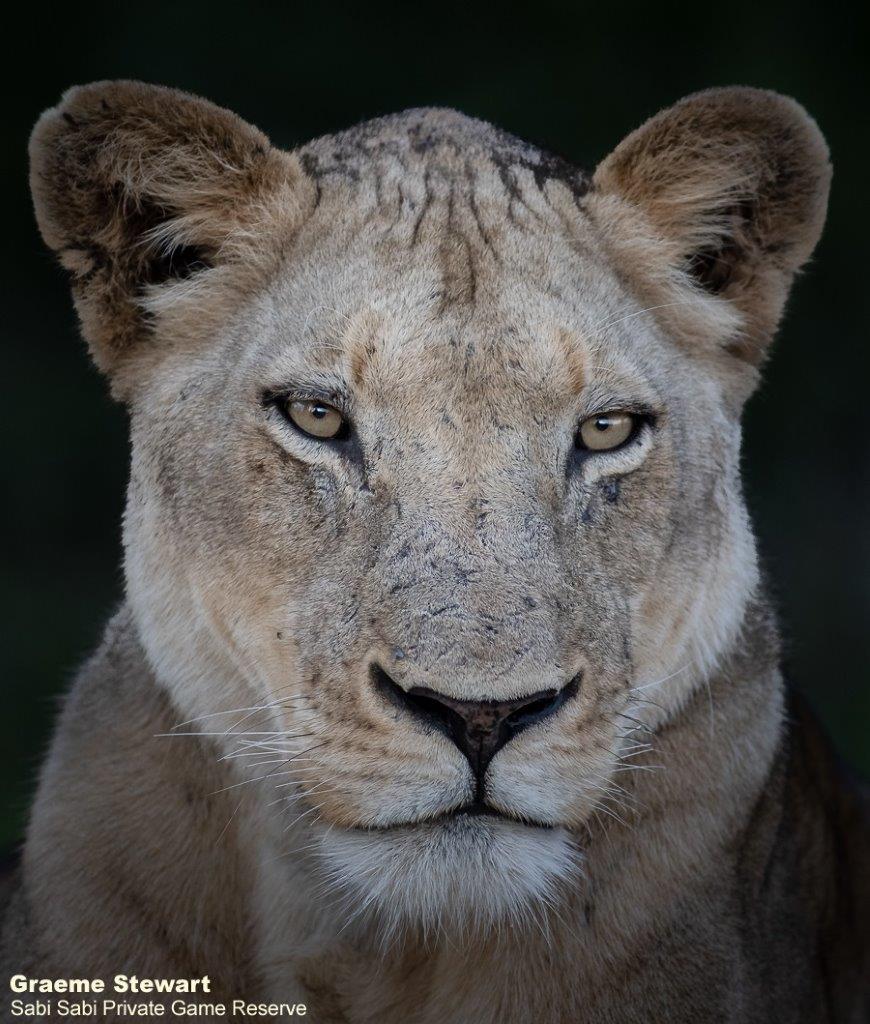 We noticed some kudu's standing on top of a termite mound with their eyes fixed in a certain direction. We followed their gaze and shortly after found a pack of wild dogs feeding on an impala kill.

In the early hours of the morning, this pack of wild dogs were extremely active. They zigged and zagged, changing their direction constantly before eventually finding a place to rest.

After tracking the Kigelia female leopard for some time, we found her with her cubs playing on top of a fallen tree. After staying with them for some time, we noticed that they had an impala kill stashed under some bushes nearby.

Ntsumi's daughter was walking along the road, seemingly trying to avoid the wet grass around her. She looked to have a full stomach and after some time she found a dry spot where she could rest and groom herself.

She was seen again a few days later and still has much to learn as we watched her trying to hunt impala on a few different occasions but couldn't quite get the hang of how to keep her cover just yet!

On a rainy morning, we found Tengile female leopard up in a tree. After some time, she descended and tried to hunt some impala but then soon disappeared into the thickets.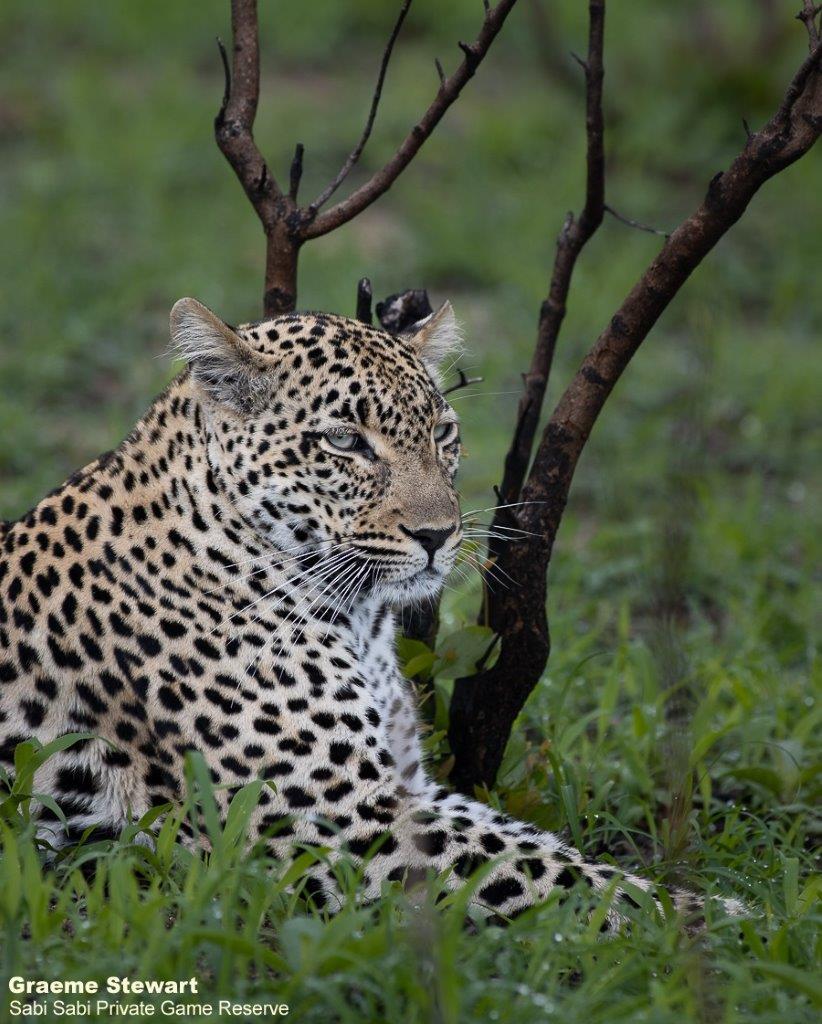 There is something special about the presence of a large male leopard and his walk of pure confidence… Dewane walked purposefully past Bush Lodge and scent marked as he went. He then soon settled in some lush green grass to investigate something that had caught his eye, before moving off swiftly into the thickets.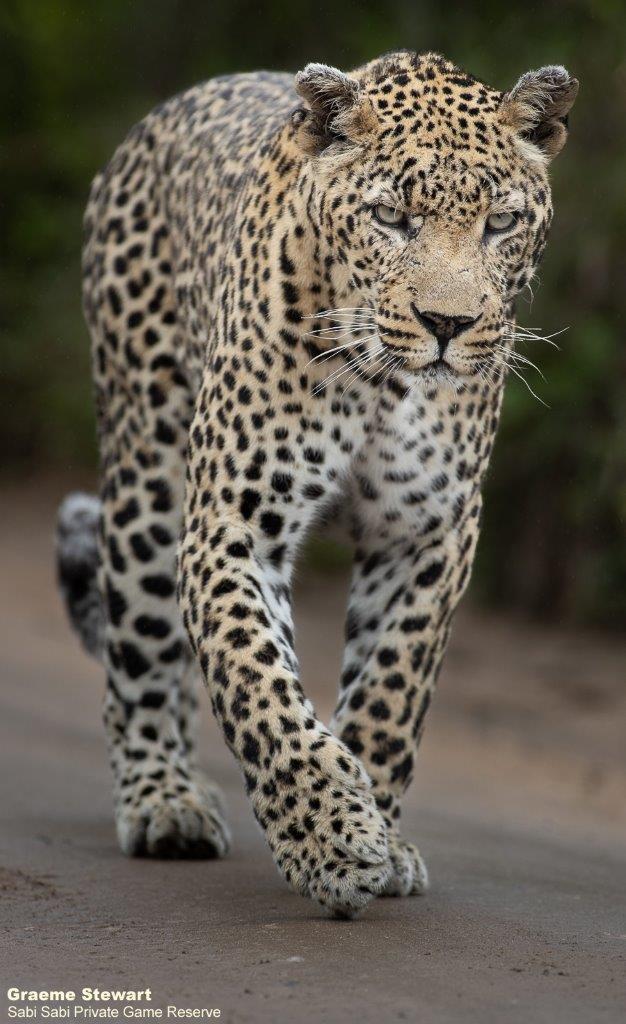 Until next time…

Blog by Wendy Claase
Images by Amy Leigh, Erin Herbst, Graeme Stewart and Ronald Mutero
Video by Jaco Faber