The last 6 weeks have been some to remember. I find that with every end to a 6 week cycle, I think back to myself, how does it keep getting better and better? Every day in the bush is like no other, each day as exciting as the last.
I will be sharing a few highlights from my previous 6 week work cycle in the bush at Sabi Sabi.
My cycle started with the opportunity to spend 11 nights with clients from a well-known photographic tour company.  Eleven nights with the clients, as well as photographic guides, allow for incredible opportunities to capture amazing images while out in the bush.
It all started with a female cheetah and her two male sub-adult cubs sitting on a termite mound. The dark green background created the perfect back drop for the cheetah's colours to jump out of the image; the golds, whites and blacks of the cheetah were all enhanced.
The bond between these cats, when at this age is amazing to see, knowing that in a few months the cubs will be left to fend for themselves, they savour every moment they get to spend with their mother.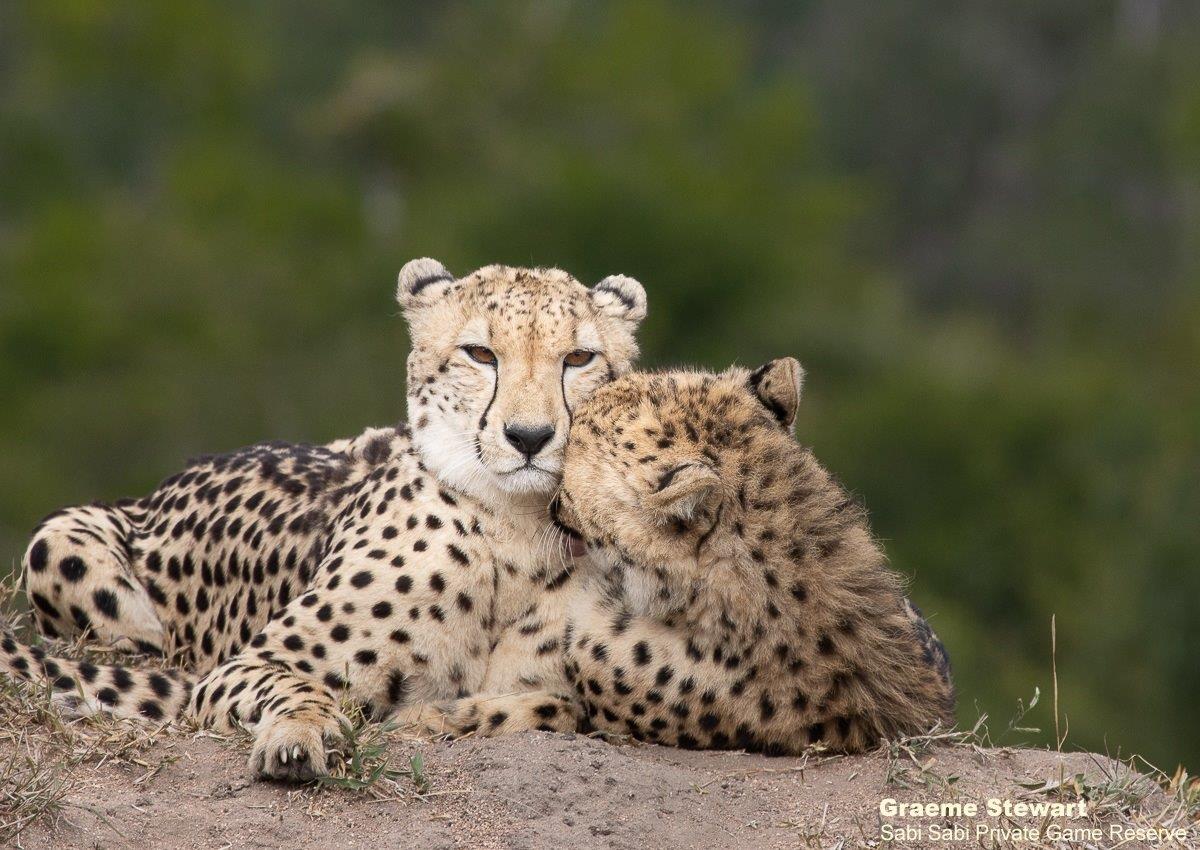 That very next day we had probably one of my most exciting leopard sightings to date. Whilst viewing a male leopard, a female lion came out of the shadows and chased this male for quite some distance before he was able to climb up a tree safely and watched as the female lion walked away. The sounds coming from both animals is unexplainable, the growls and grunts could be heard from a long distance away. A sighting never to be forgotten. To watch the leopard climb up a tree so effortlessly was an incredible feat of strength, only taking a spilt second to get from down below all the way to the top.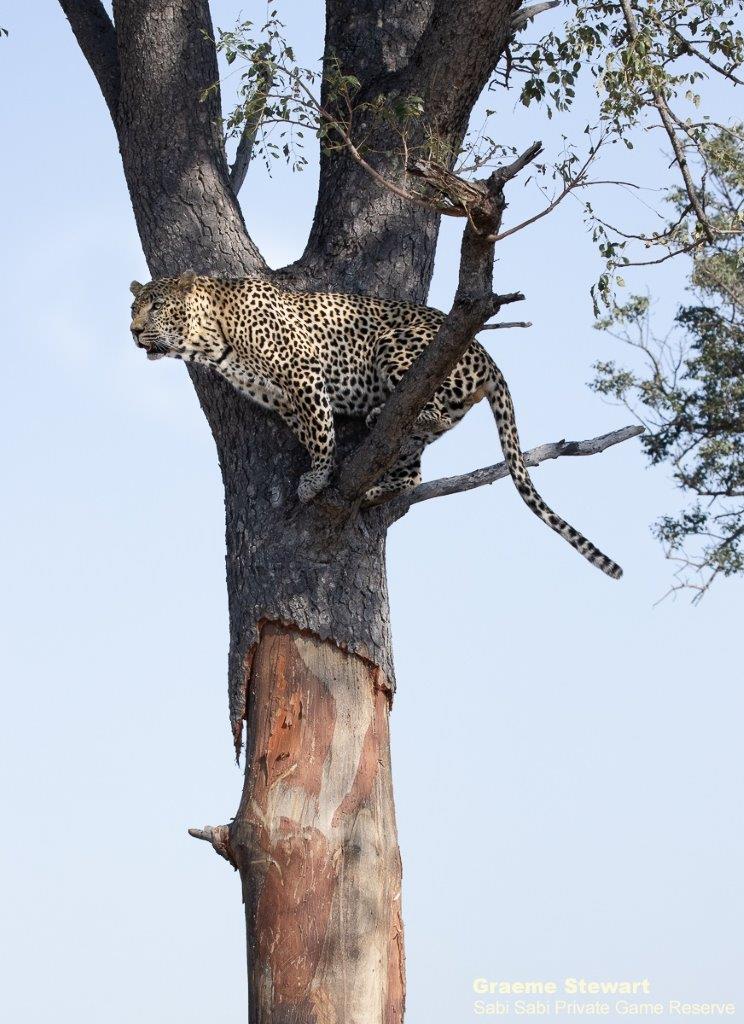 To make this drive even more exciting, thinking back now, it is surely in my top 5 sightings of all times! After leaving the male leopard resting up a tree, not more than a few hundred meters away we found a young female leopard lying on top of a termite mound watching the scene unfold from a safe distance. As we arrived, she sat up, yawned, and stretched and to us on the vehicle it all seemed to be planned. She then continued to move away from the action, scent marking against a tree and finally moving off into a dried riverbed where she could rest in the cool soft sand just out of sight.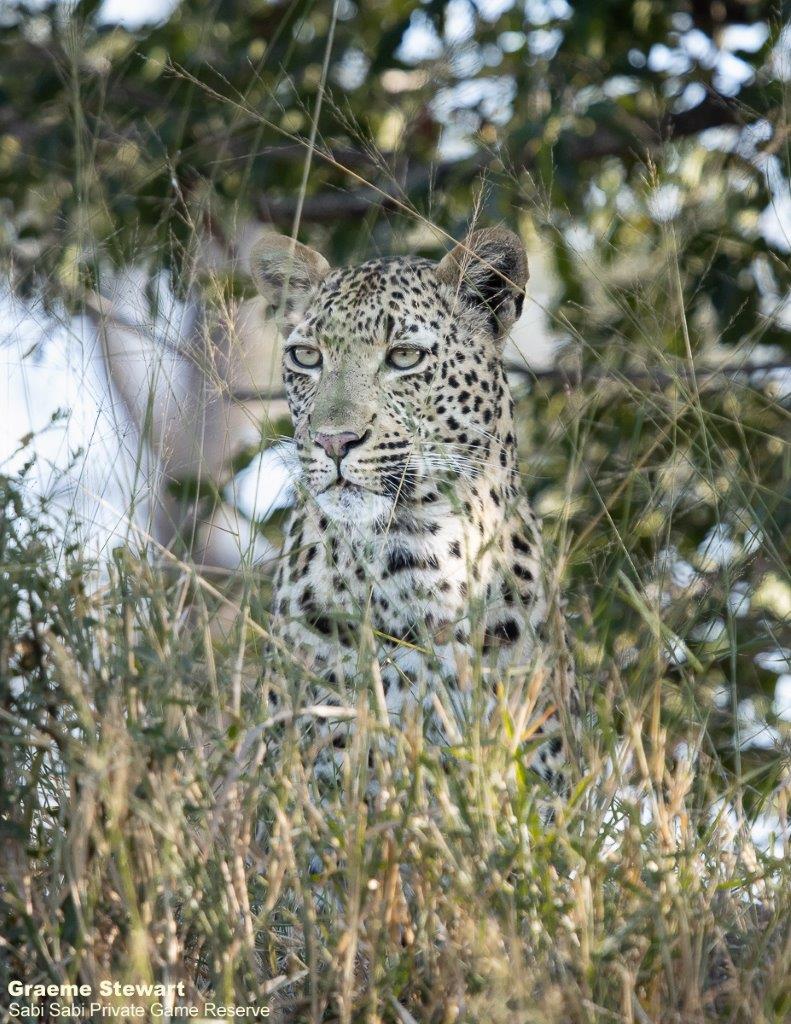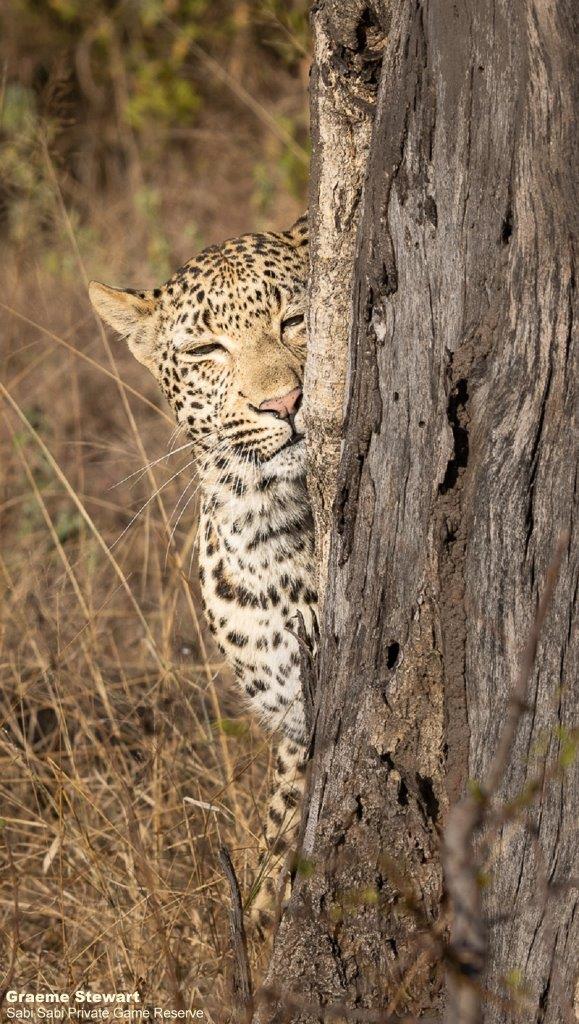 That same afternoon we set out with the aim to try and beat what we had just experienced that morning, knowing very well that it was almost impossible, but the bush is a magical place, and anything is possible…
A guest of mine had mentioned earlier that day that there was a certain male leopard that she would love to spend time with and photograph, so we had a plan and set off to find him. After some searching, well actually a large amount of tracking and planning, my tracker found the tracks of what we believed were his in an area that we knew he loved to spend time in. After a few hours of following the tracks and with the help of fellow rangers and trackers, we finally found the male we were in search of lying on top of a termite mound keeping an eye out for any unsuspecting prey.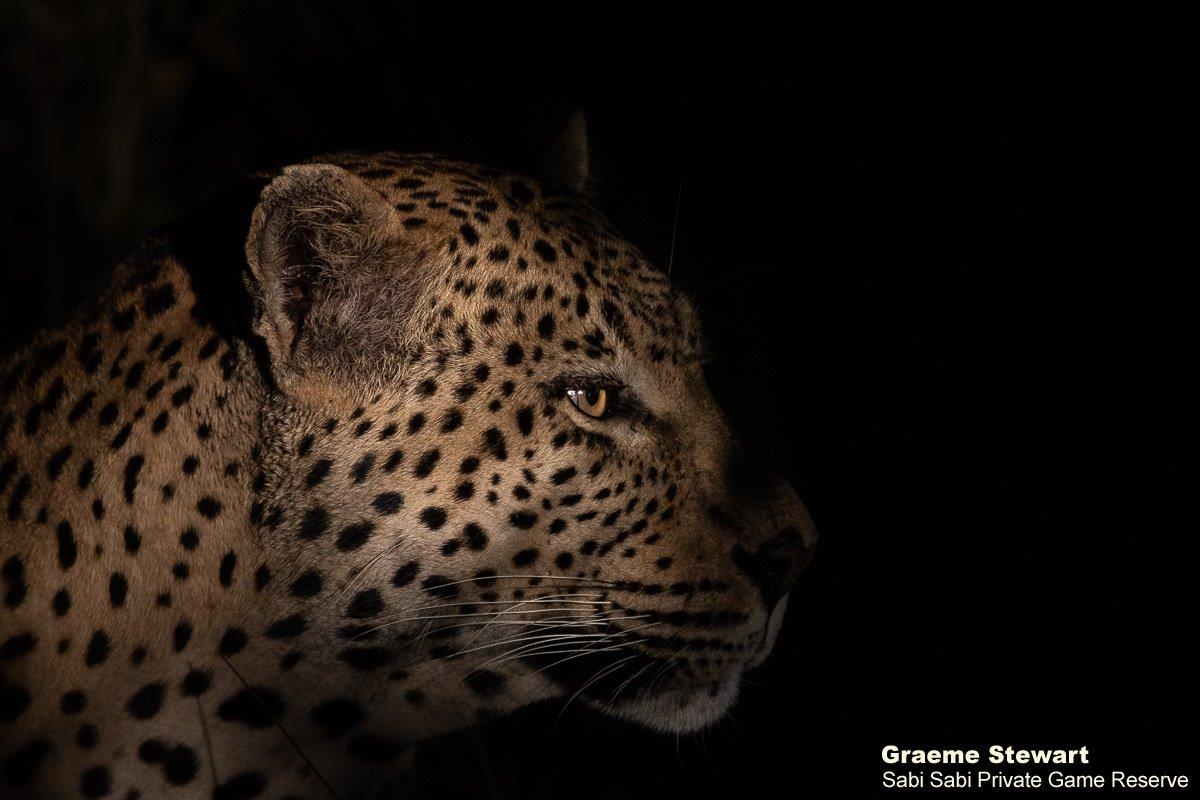 The next few days we spent time searching for the ultimate predators, the African Wild Dogs. It took a few days to find any sign of them, but eventually all the hard work payed off and we managed to view a pack of wild dogs for almost 4 hours. They were moving from open area to open area, chasing every impala in sight until they were successful in catching one of them allowing us to view the entire scene from start to finish.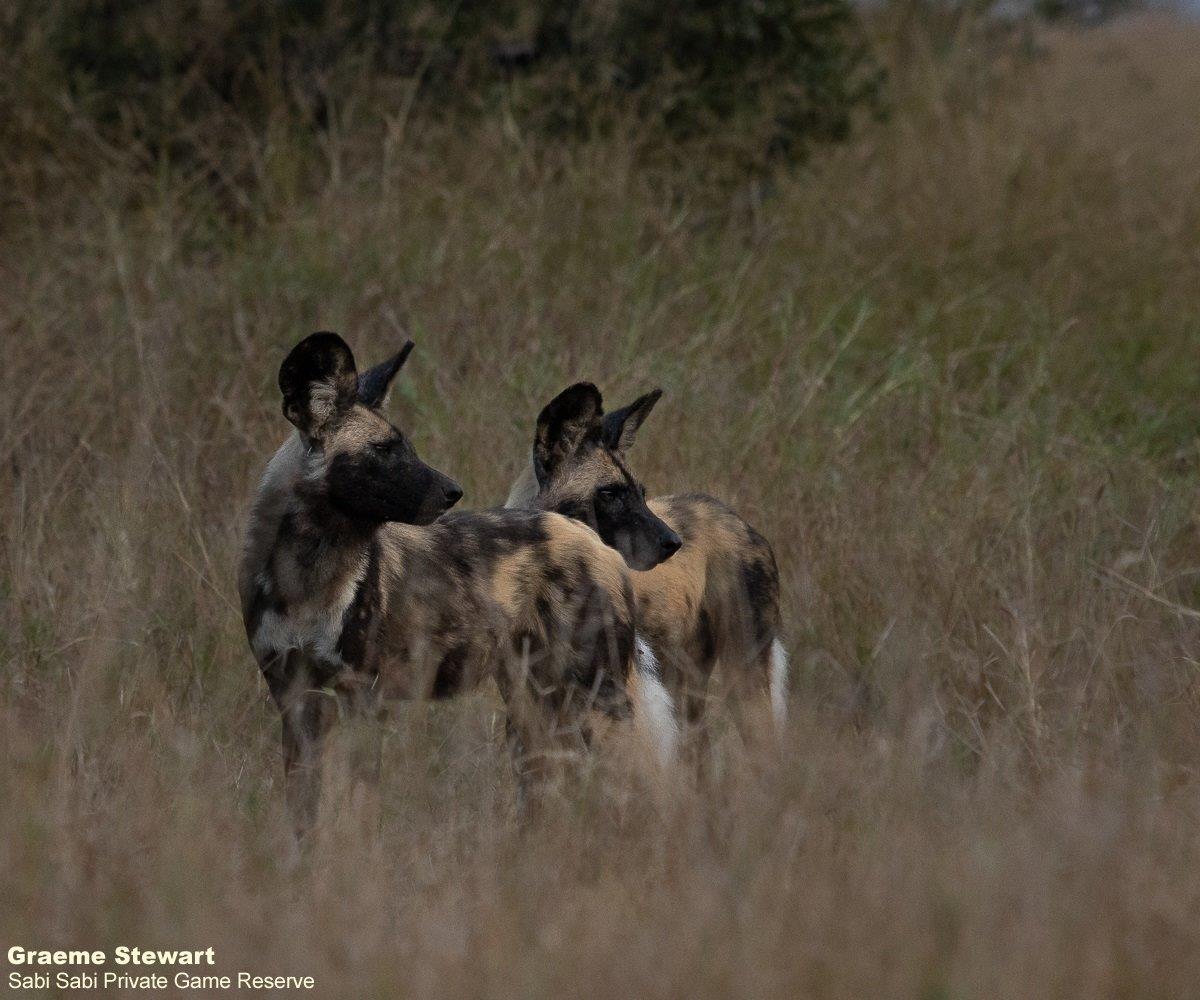 After a few days of not being on safari, I asked a fellow teammate what had been happening out in the bush, and what he said next made my entire body jump with excitement! To be entirely honest I cannot remember exactly what he said other than the words "lions" and "cubs". Lion cubs are one of the most adorable animals to see, with their extremely curious and playful nature, they constantly seek attention – climbing over their moms, and chasing anything that moves!
That afternoon I sat down with my guests before the safari, and the exact same feeling I had when hearing those two words (lion cubs) was evident by the looks on their faces! My guests immediately put down their coffee and delicious slice of cake – our chefs do know how to make amazing cakes – and off we went with excitement! Upon arriving at the location where they were last seen earlier that day, we could only see one mother resting in the shade. I explained to my guests that even though we are in winter, our afternoons still get rather warm, and most animals seek shade during these warm afternoons, especially lion cubs. So, we sat there and waited for the day to cool down, luckily the temperatures drop quite quickly in winter, and within an hour of waiting in anticipation we heard what sounded like a contact call from one of the cubs. If anyone has ever had the privilege of hearing such call, I challenge you to try and describe the sound in words.
After a few minutes of hearing these little cubs calling for their mothers, they all appeared out from under a tree and went straight to the lionesses and began to suckle and terrorise every individual of the pride, including their fathers, which is always great to see.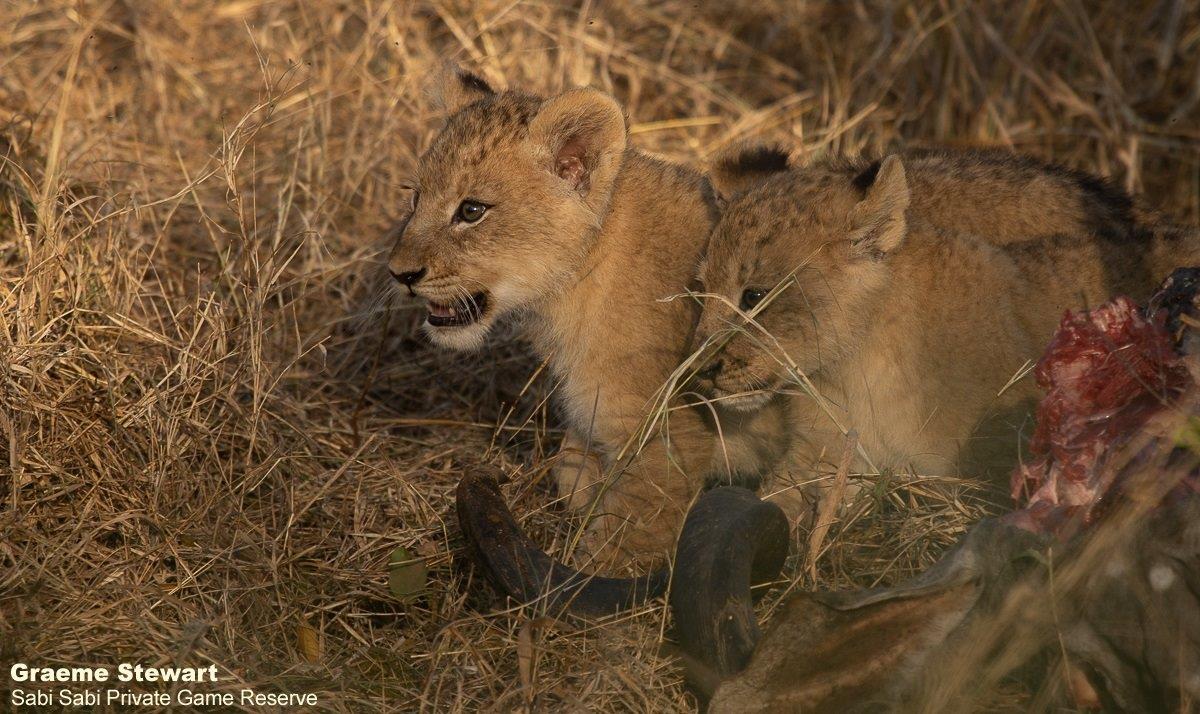 A perfect way to end my 6 weeks in the bush!
Blog by Graeme Stewart (Bush Lodge Ranger)