The last few days have seen a spate of cat sightings that has left the rangers and guests extremely pleased with their safaris! The catalyst for this feline extravaganza: the Sparta males. Their presence has meant that the Southern Pride has been AWOL for a while now, doing everything they can to avoid these intruding males in their inner sanctum. The lack of such a formidable presence has meant that the other, less massive, members of the cat family can move about unimpeded. You know what they say: while the cat's away, the (other)….cats can play!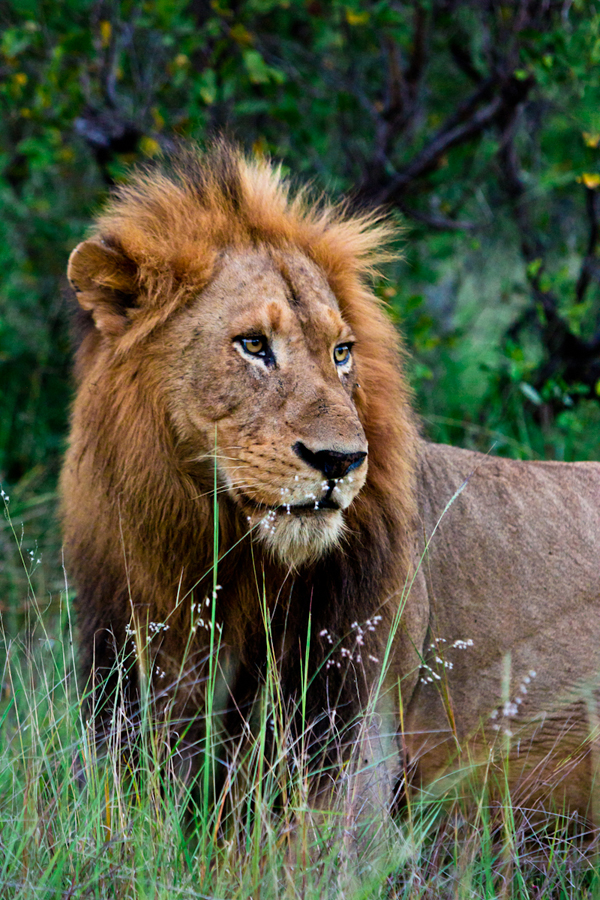 In the last 48 hours, not only have we had the luxury of regular cheetah sightings (see previous blog), but also great views of Nottins, Xihangalas, Mahlathini, Selati, Sandriver and the new kid on the block, Maxabeni!
Nottins and Maxabeni
The latest love story to emerge at Sabi Sabi has been the not so subtle advances by Nottins towards our latest addition, Maxabeni. This stunning newcomer has made frequent visits to the area around Little Bush Camp and even paid a visit to the car park of the lodge itself! It looks like he has pushed south from his birth place in the north in search of a territory and at 4 and half years old, he is in prime condition to take over this coveted area. The open plains surrounding Little Bush Camp promise much in the way of succulent impala and the tangled vegetation bordering the Msuthlu riverbed house many bushbuck and duiker. For reasons unknown, thus far Maxabeni has rejected Nottin's advances and for the time being she seems to have grown tired of rejection and moved back east. It looks like her attempts at conceiving with Xihangalas last month have failed and it is interesting to see that she is now searching for other partners. We are hoping that she will track down Mahlathini and thus secure her presence in the centre of the reserve for months to come!
Xihangalas
The mighty Xihangalas, dominant male of the eastern side of our reserve, has been seen regularly over the past few days furiously scent marking and re-establishing his territory around Selati Camp. Perhaps the renewed vigour in his territorial activity is due to the rising empire of Mahlathini in the centre portion of the reserve, or maybe it is the return to the area of the Selati male? Whatever the reason, seeing this magnificent leopard is a sight to behold and we look forward to more sightings of him in the coming weeks.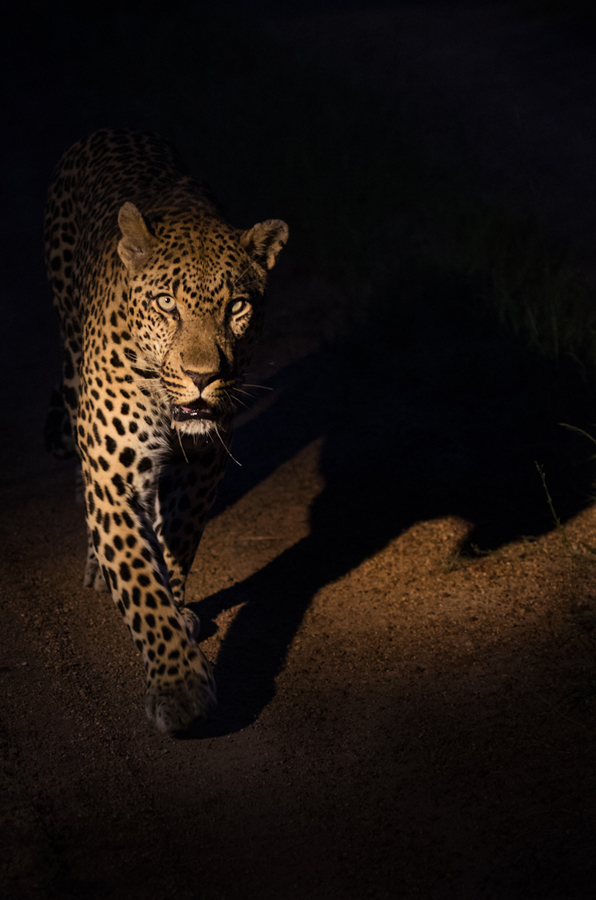 Mahlathini
The enigma that is Mahlathini is a double edged sword. This young confident leopard has become a stalwart of the area in and around Bush Lodge, but his illusive nature means that our rangers have to work very hard to find him. He is a stereotypical leopard in that he loves the thick undergrowth provided by the many drainage lines in the area and is thus hard to locate. Most evenings though, his territorial calls can be heard echoing through the still night close to the lodge as he shores up his recently acquired territory. For the last few days he has been held up in a Tamboti thicket finishing up a duiker kill, but thanks to a marauding hyena I was able to get a few shots of him as he took to the branches to enjoy his meal in peace. We are unsure of his roots but estimate him to be about 5 years old and this beautiful leopard promises to be a formidable adversary to any pretenders seeking territory in this area!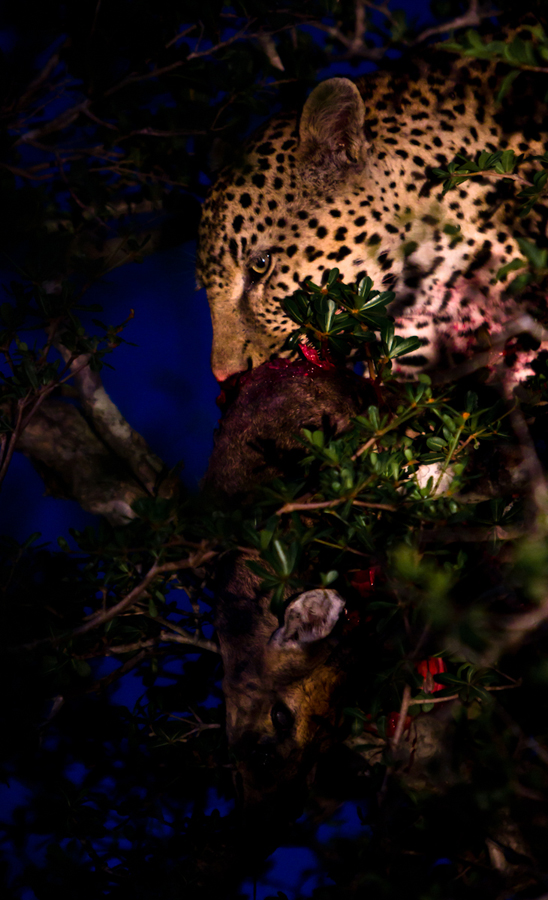 Selati
This cocky youngster has been fortunate to reach 3 years and full maturity in an area heaped full of such stiff competition. Son of Nottins and Sandriver, he had a traumatic childhood that included the death of his twin brother at the hands of Xihangalas during his takeover of the east from Sandriver. I was privy to see the unfortunate demise of his sibling at the hands of the rampaging Xihangalas but thanks to his mother's savvy, Selati has matured into a fine animal. He still has some way to go before he can fight for his own territory but of late he has returned to the area around Selati Camp and having watched him survive against the odds from a cub, I for one am delighted to welcome him back. He has had run ins with his brother's killer before but has always bested the bigger Xihangalas so maybe there is space for him to thrive within Sabi Sabi's borders…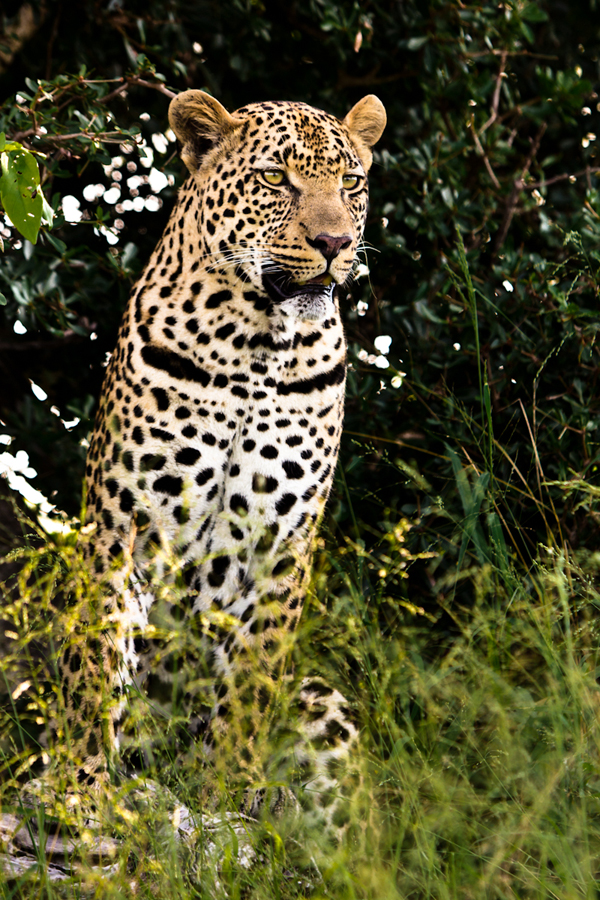 Sandriver
The old king of Sabi Sabi has seen his territory shrink in the last 2 years thanks to the arrival of all above mentioned males. Once ruler of the entire reserve, he seems to have now resigned himself to holding only the area close to Earth Lodge. His blind right eye and compromised vision may have something to do with his fall, but his penchant for warthogs still makes him a force to be reckoned with. In his mid-teens we estimate, perhaps his increasing years have also had an effect on his dwindling territory. His aging frame simply may not be able to cover and defend such a huge area and perhaps, like a boxer in his twilight years, his desire is not what it used to be. His legacy promises to live on though in the form of young Selati and we wish him the best as he reaches the latter stages of his life.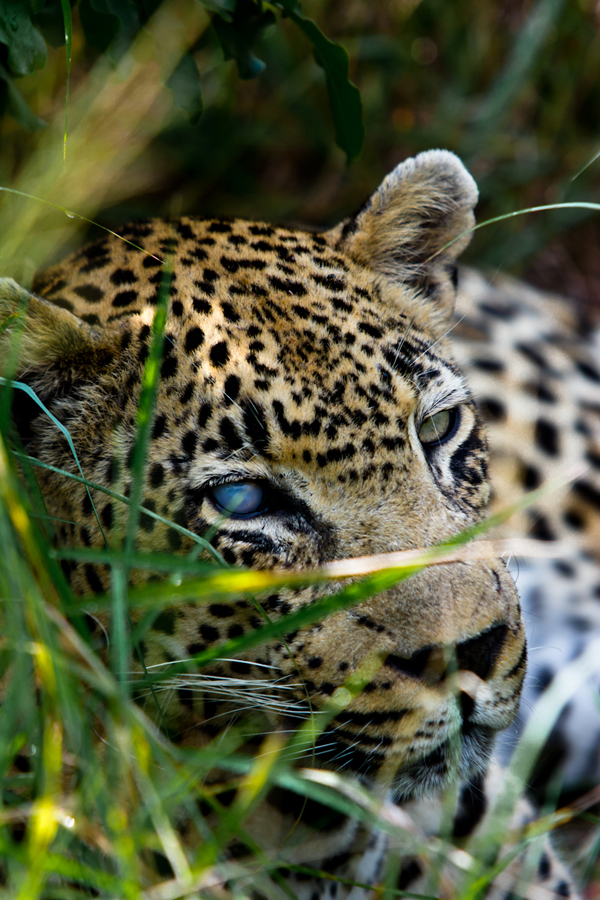 by: Ben Coley (Bush Lodge Ranger)
images by: Simon Smit, Ben Coley and Richard de Gouveia