His shoulder blades were pumping much like the pistons of a fine tuned engine, smoothly propelling his body inches closer to what was a potential meal for the next few days. This is how we came across the Young Selati male and it instantly threw everyone on the Land Rover onto the edge of their seats. The wind was in the favor of the young hunter and there was enough cover to conceal him from the unsuspecting herd of Impala, if he played his cards right.
He was eventually discovered by the ever-alert antelope and the sound of alarm calls pierced the still morning, broadcasting the presence of a predator. After watching a pain staking stalk, you only begin to grasp the level of patience these cats have. Their lives sometimes rest on a successful hunt and one wrong twitch of an ear or a carelessly placed paw could ruin all the time and energy invested in that approach. With no time to dwell on the mistake, he set off to look for his next opportunity with his newly acquired turbulent entourage in tow.
Still found in and around his mother's territory he has the small chance of running into some unwanted contact with either her or one of the dominant males in the area. He was very carefully making his way along, frequently stopping to note the different and complex scents left behind on nose height shrubs, undetectable by our poor senses. He is growing rapidly and with some more experience will start to seek out his own piece of this wilderness. For now though it remains hit and miss with the odd successful kill and close encounter with bigger more experienced leopards.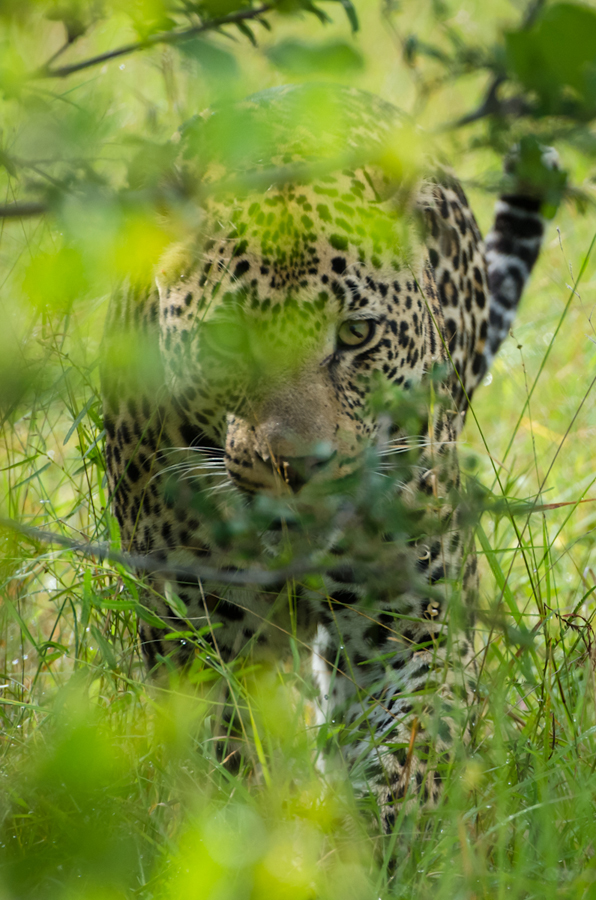 We left him for the morning, a blur of spots and green bush as he launched off the road in pursuit of a small colony of Dwarf Mongoose disappearing into their abandoned termite mound. After he allowed us into his world for a short amount of time we sat quietly, playing it over in our minds as we made our way back to Bush Lodge for a 'hard earned' breakfast.

BY: SIMON SMIT (BUSH LODGE RANGER)