It all started on a crisp, early morning.  My guests and I had a hot cup of coffee and spoke about our safari plan. We were discussing as to where we were going and what we would like to focus our energy on finding.
What did we all decide that we were going to look for? LEOPARD!
We had a very brief sighting of a male leopard the previous morning as he moved quickly into thick bush and off through a dry riverbed. The plan was to search the north western section of the reserve where a female leopard had a cub. Sounded like a good idea, right? It was… but Kigelia female leopard had her cub at the beginning of the year and she has done an exceptional job hiding her cub and herself.  We had only seen mom a handful of times in the past six months, let alone her cub, so there was a fifty-fifty chance that we would find her. The few sightings of mom that we had, she would be seen crossing a road and it would just be a glimpse.  So often we would drive around and try follow her tracks but to no avail. The next day, trying to follow up on her location and direction that she was walking in, was more difficult.  She could have been long gone and that would have been even harder to follow.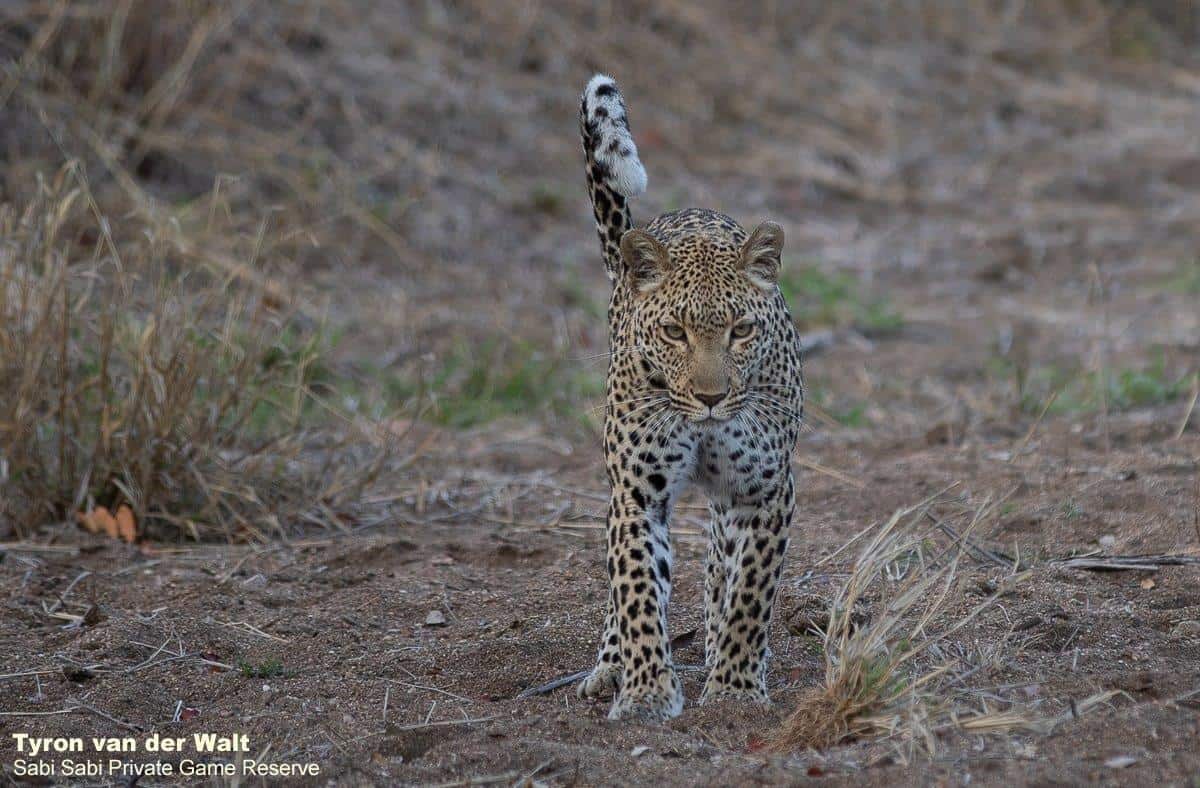 But I digress… so back to the story. One of my colleagues had seen her and her cub near Little Bush Camp late in the afternoon the day before, but I was in the southern section that day, and I wouldn't have made it in time to see her. So now we are having our cup of coffee at the lodge and we are about to set off in the morning. My guests and I did not waste any time and drove directly to her last location and began to look for any tracks or signs of mother and cub. We searched the riverbed and all the areas surrounding until we reached our starting point – with no luck. My Tracker, Creamson, suggested that we should rethink our action plan and where to look now, so we discussed this with our guests. We took a decision to drive the whole loop, to try our luck once more. All of us were alert and looking intently, under bushes, in trees, on branches, between boulders and everywhere the eye could see. We drove slowly from a waterhole towards a crossing and had only driven about fifty meters before we got to the crossing, when Creamson called out "LEOPARD!"  And added, "Her cub!". I was in such awe of the utter cuteness of the cub with its little pink nose and how fluffy she was. This was the first time in over six months that Creamson and I had seen this little cub. We had heard about it from fellow rangers but were not fortunate enough to have seen this little bundle of joy until now, and this cub is absolutely adorable.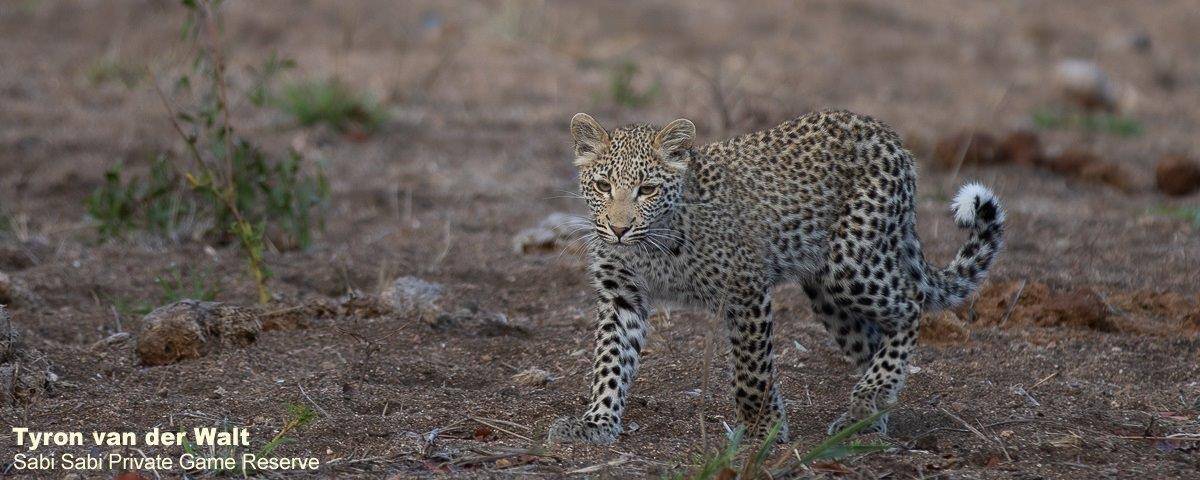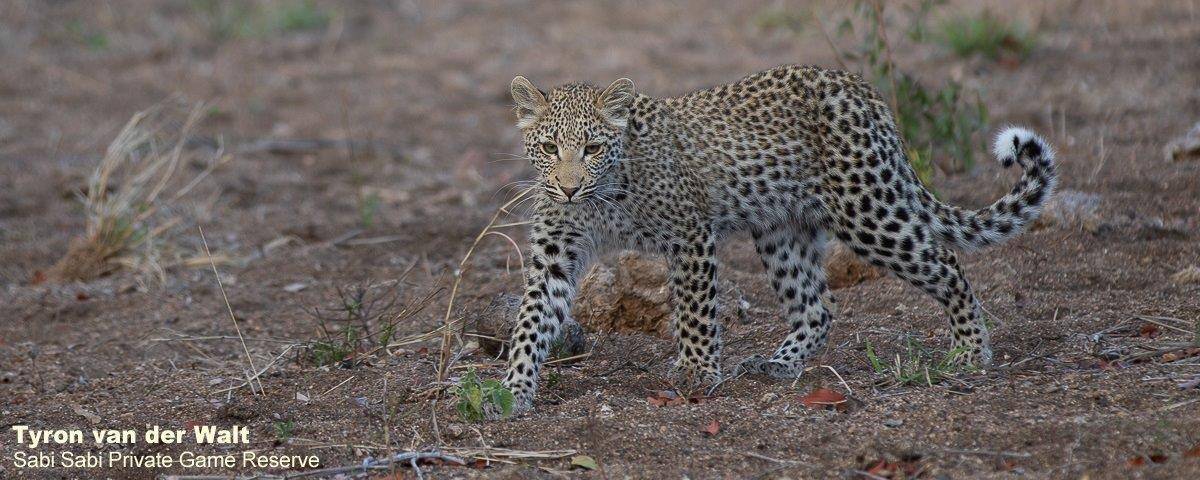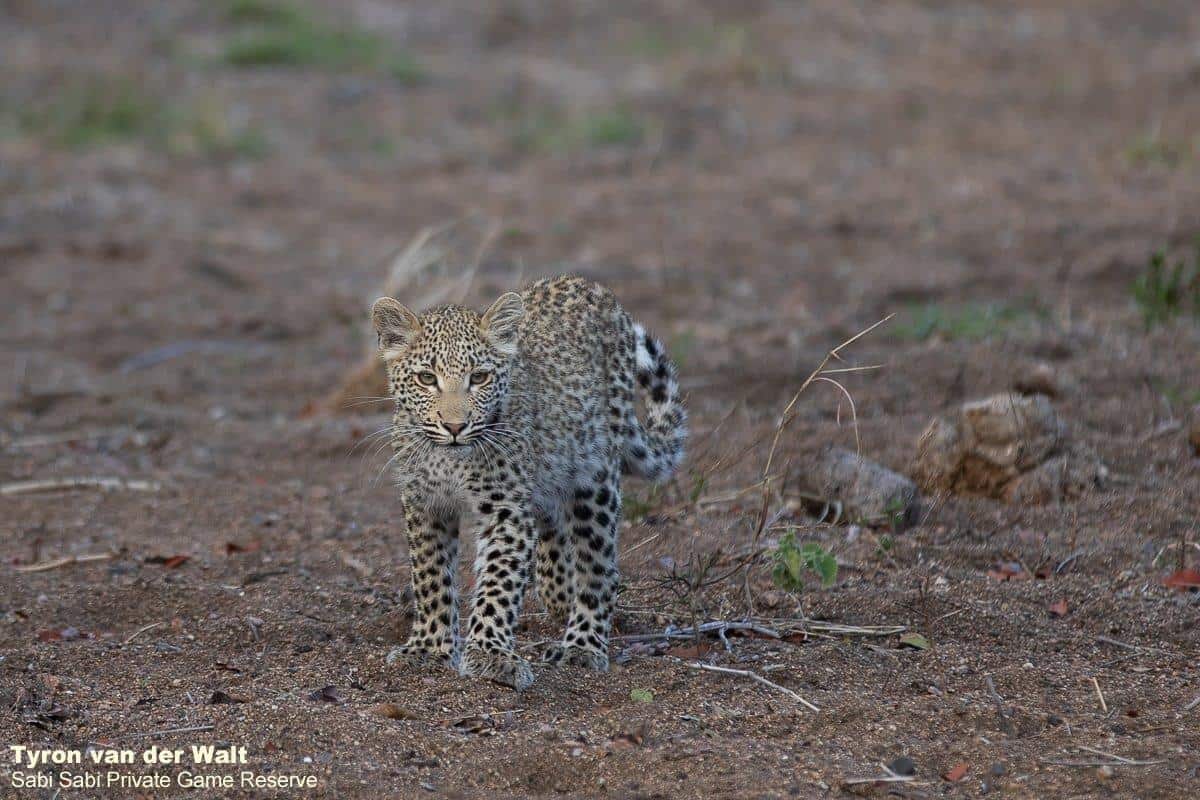 We watched them cross the road just in front of the vehicle, the cub was leaping and bounding through the bushes playing around mom. They made their way down into the dry riverbed and strolled through the soft sand for a little bit. Mom was scent marking shrubs and often glanced back keeping a watchful eye on her cub. The cub walked back down towards the riverbed to join mom, but it seemed to struggle with its footing – as we would when walking on the beach. Both mom and cub walked right past us as if we were not there and proceeded up the opposite bank of the riverbed. We quickly manoeuvered to the other side and watched them moving through the long grass. The cub barely being seen, as the grass was taller than itself! All that we could see was the white tip of the tail unless it bounded from behind a bush. We observed them as they continued to walk through the grass, zig-zagging, stopping to smell and – the cub being a cub – playing with pretty much everything, including mom!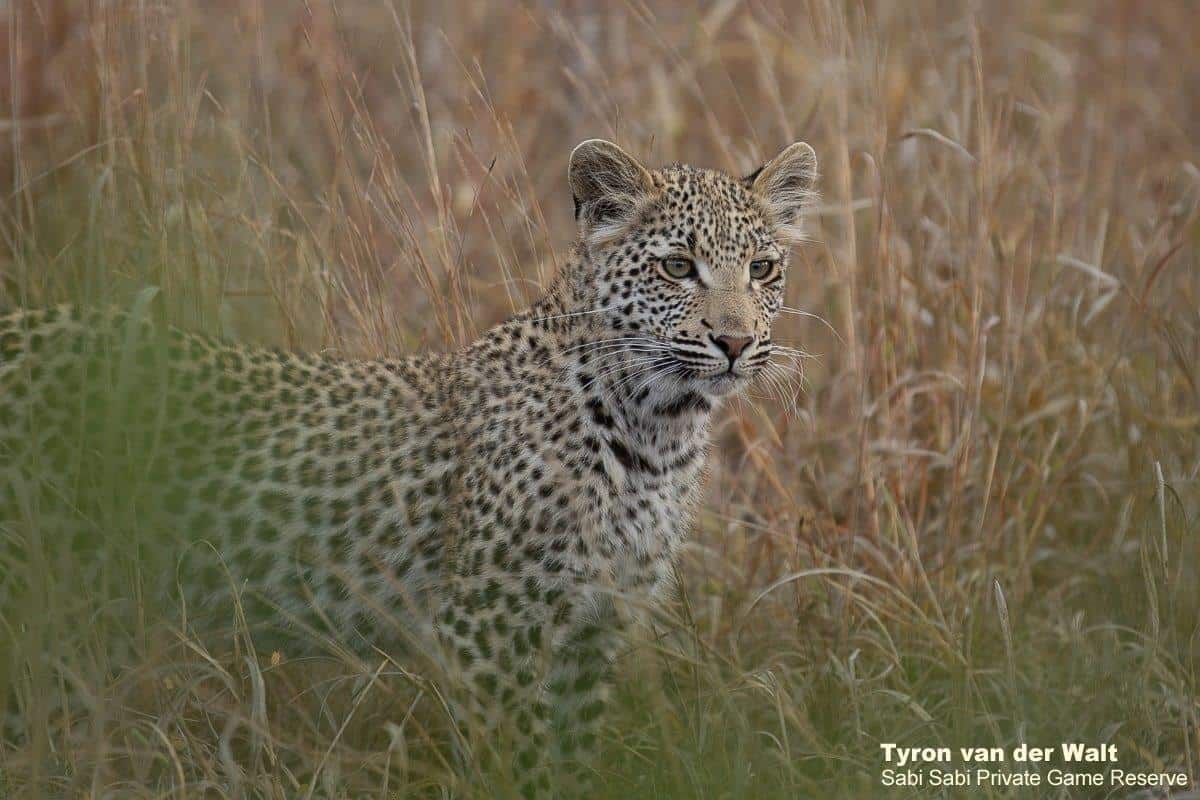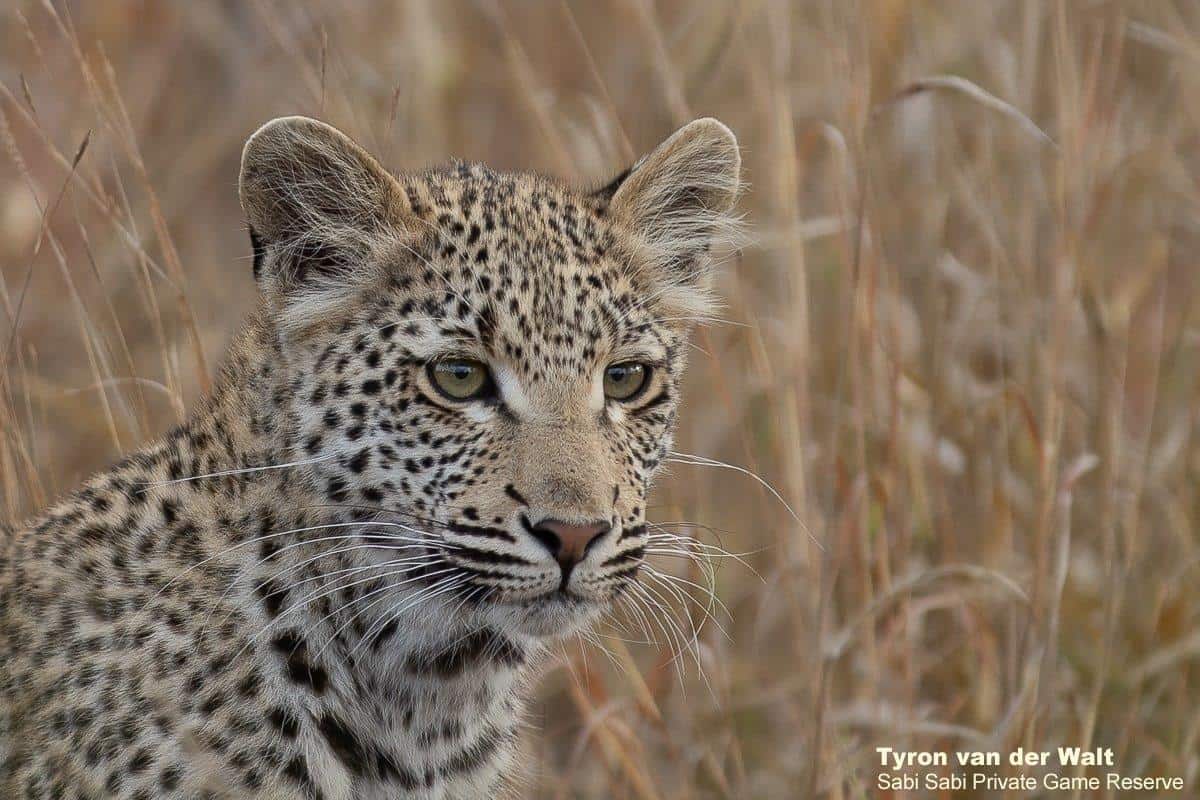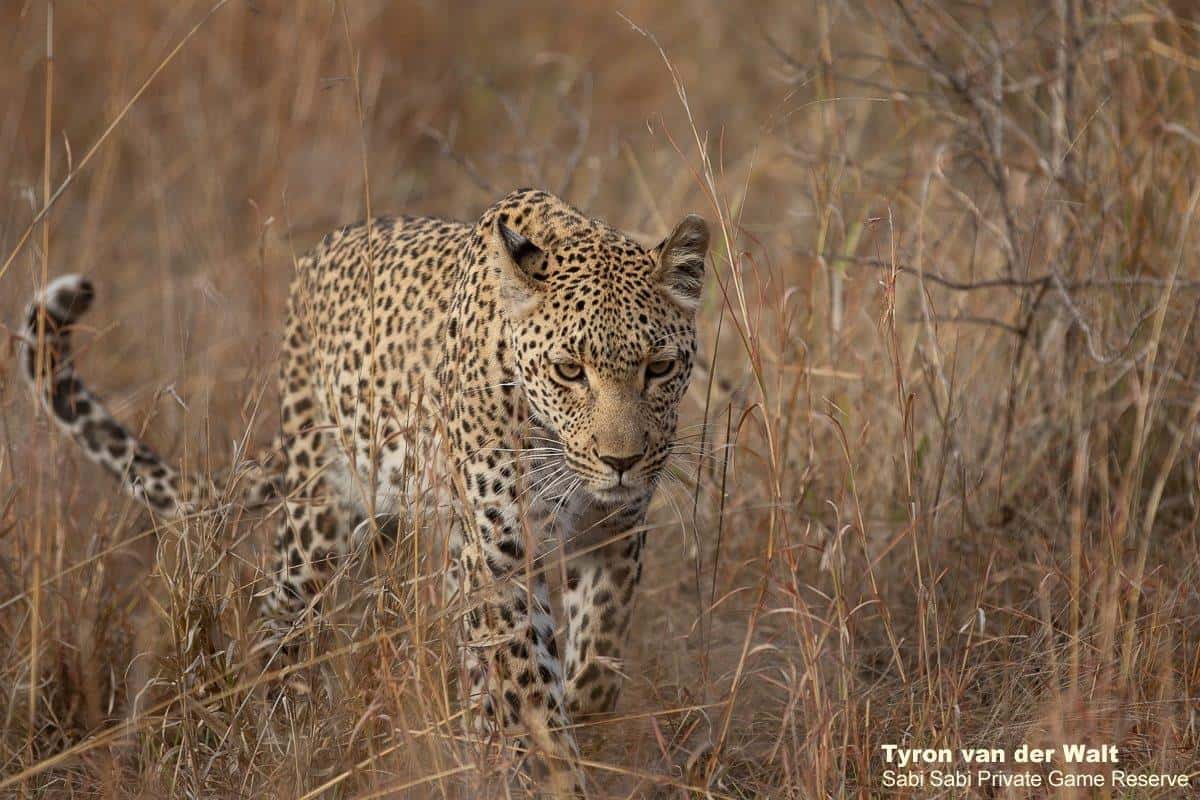 What happened next, none of us were expecting…
We were following them through a smaller drainage line and across the other side when Kigelia suddenly crouched and the cub scampered off away into the bushes. It couldn't have been more than 10 seconds when she pounced, her jaws firmly clamped on a Common Duiker's neck. "A kill! She killed a duiker!"  We couldn't believe what was happening. I have only seen a handful of leopard kills in my life and this was the most surprising leopard kill that I had seen.
The duiker, after about five minutes of struggling with the leopard, gave out his final bleats and kicked his legs for the last time. It was a bittersweet moment in the bush, on one hand an animal is fighting for survival and on the other hand, one animal is fighting to survive and feed her cub. It's a sad thing to watch an animal die or get killed, but it's the cycle of life – knowing that a leopard and her cub have a meal for the next couple of days, is a blessing.
Kigelia carried the duiker towards a small tree. As she reached the base of the tree, she looked up towards the branches in search of a good branch to hoist her kill up on. Calculating the small task at hand, she took a moment but eventually jumped up, heaving approximately half her weight in meat in her mouth and effortlessly climbed the tree.  She navigated through the criss-cross branches and finally placed her meal in a safe spot. Afterwards, she was panting quite heavily and scanned the area for any potential danger of hyenas that may have heard anything.  Deciding it was clear, she made a "chuffing" noise, calling her cub, who was not too far away.  I'm sure that it watched this all unfold and had definitely learnt a few new skills.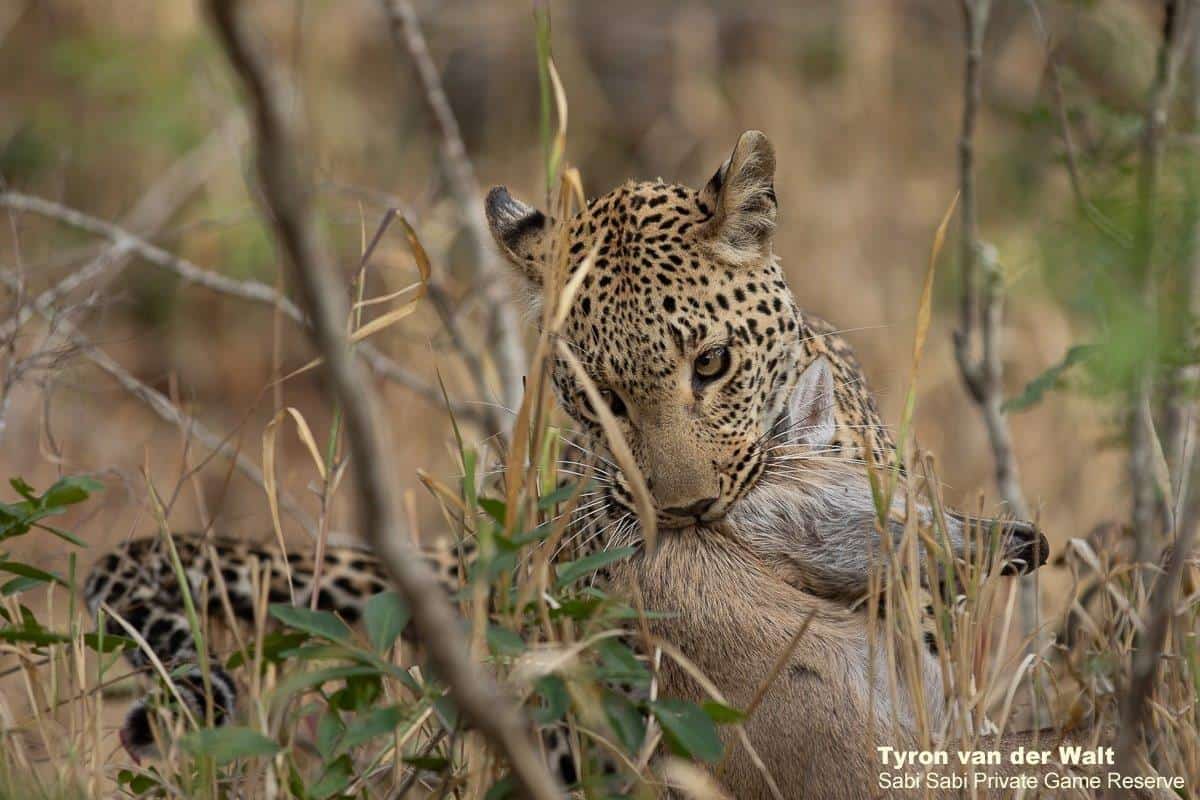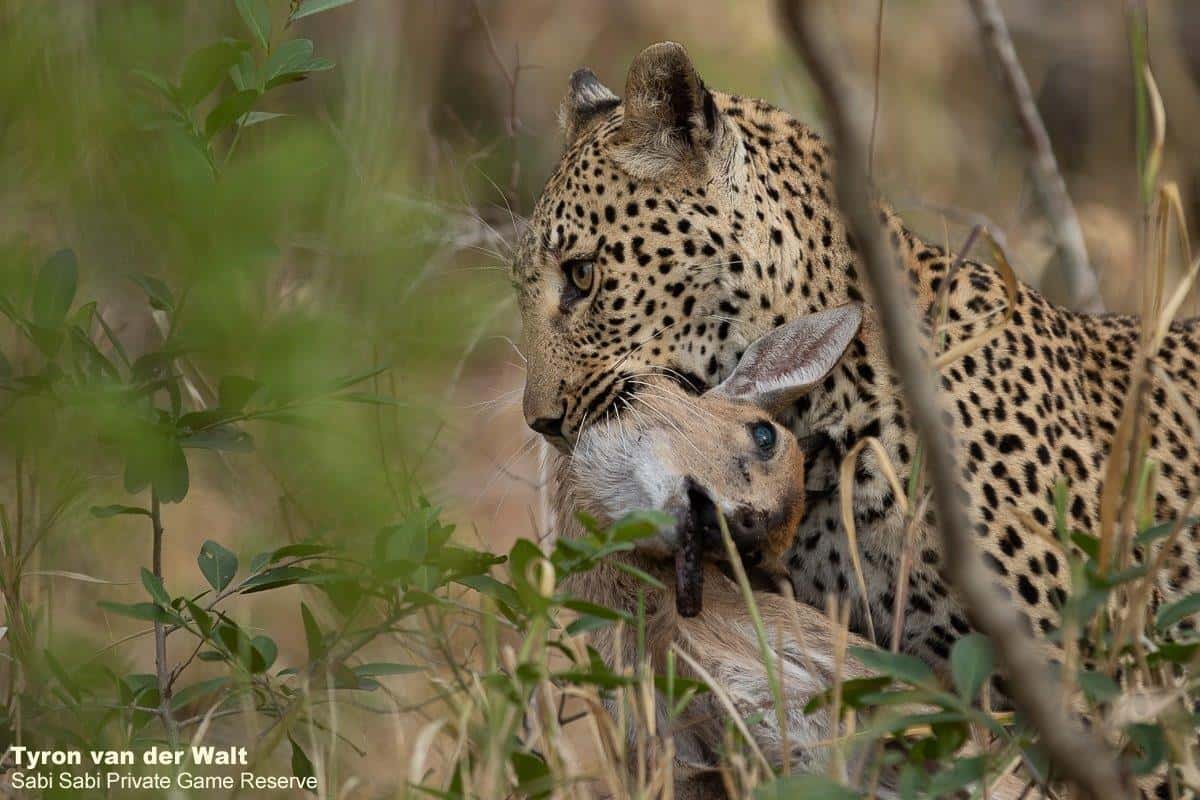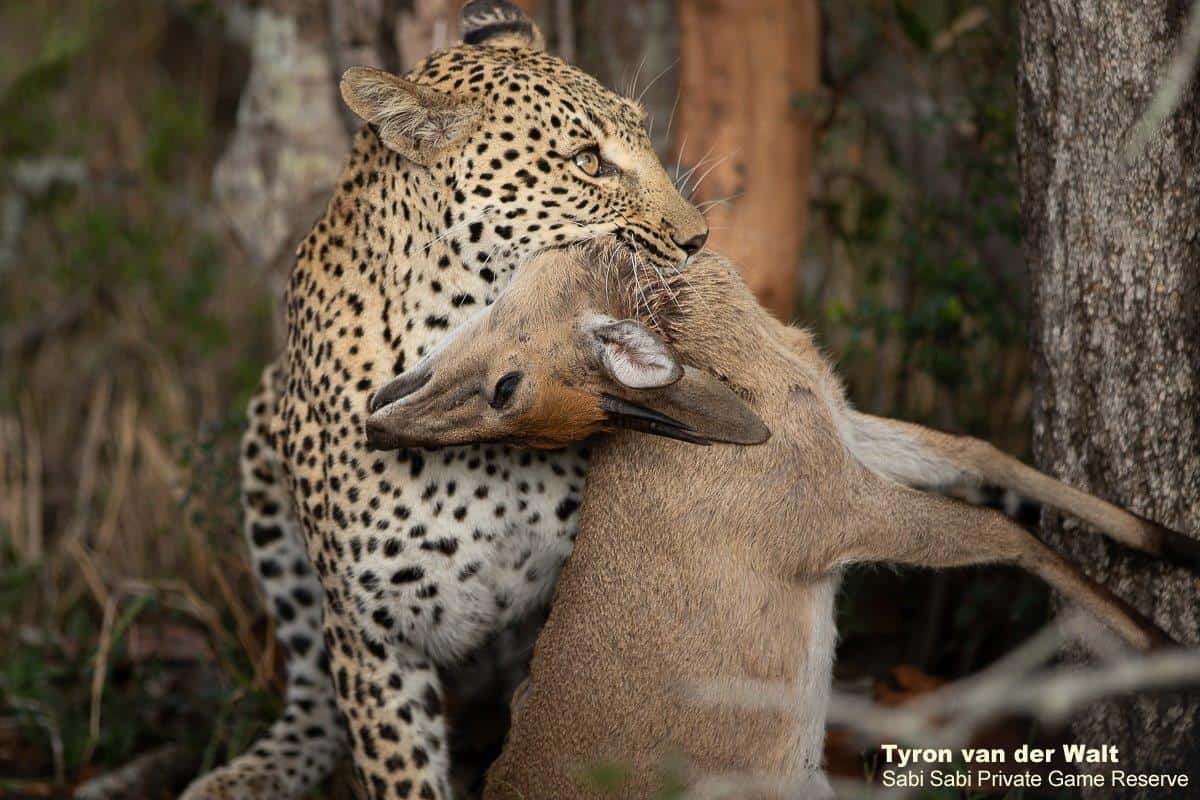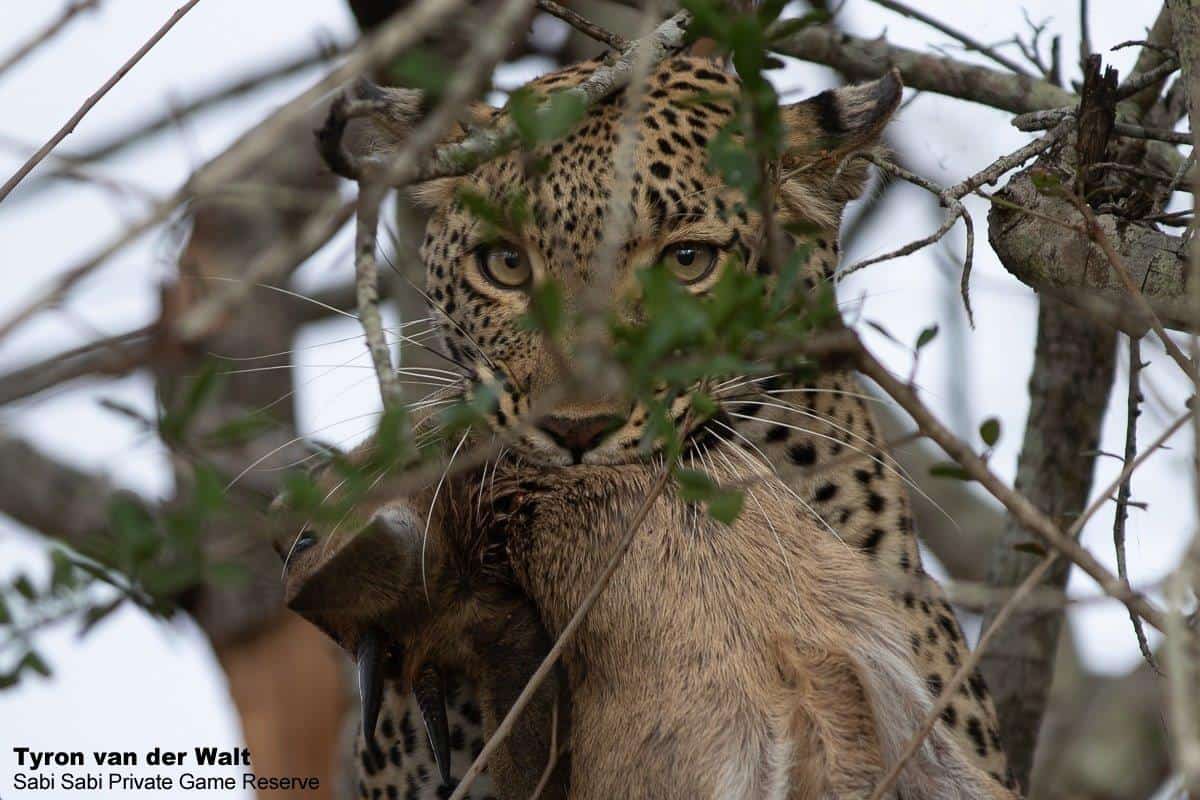 Still calling, Kigelia came down and lay at the base the tree, trying to recover from what had just happened. It was not long before a small face and pink nose appeared from the bushes, slowly moving towards its mother. As the cub emerged and greeted her, it proceeded to walk to the base of the tree where mom had stashed the kill. It looked up and almost instantly jumped and climbed up the tree towards the meal its mother had provided. As it got closer, it smelt the duiker and licked parts of it almost as a sign of approval. The cub did not eat but came down from the tree and went and lay next to mom.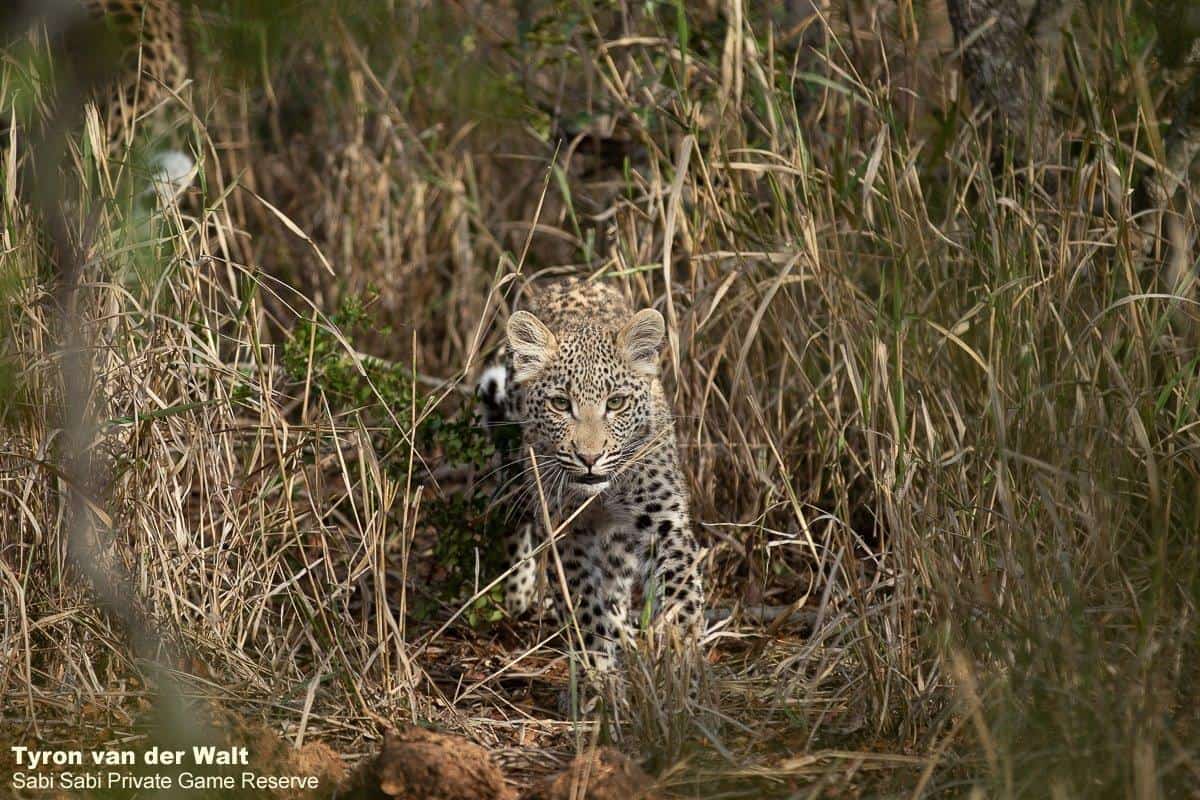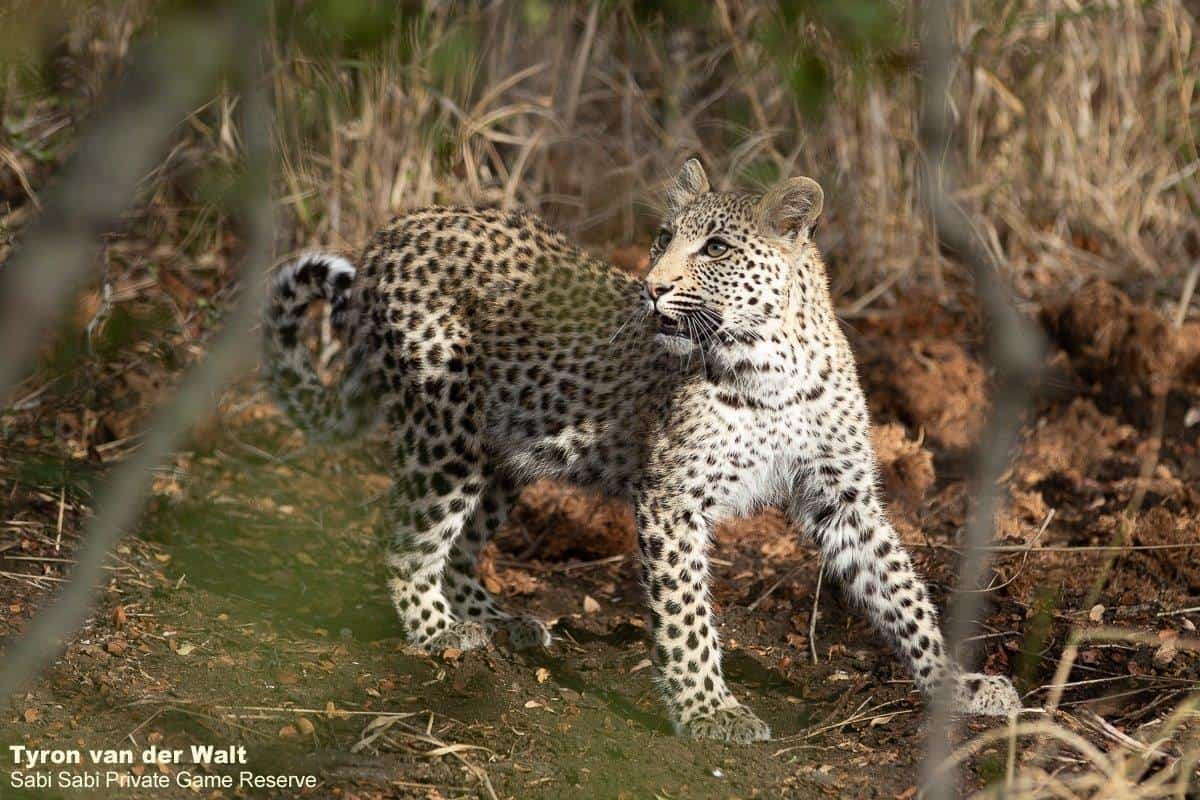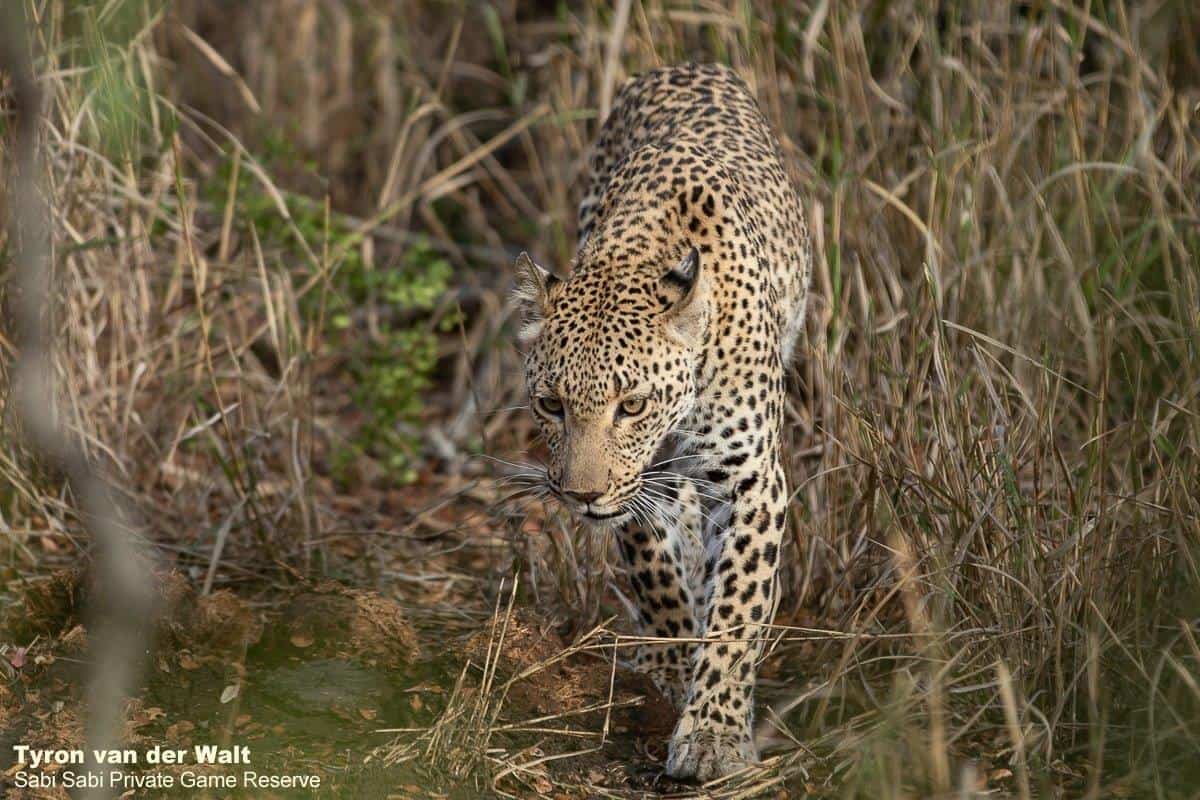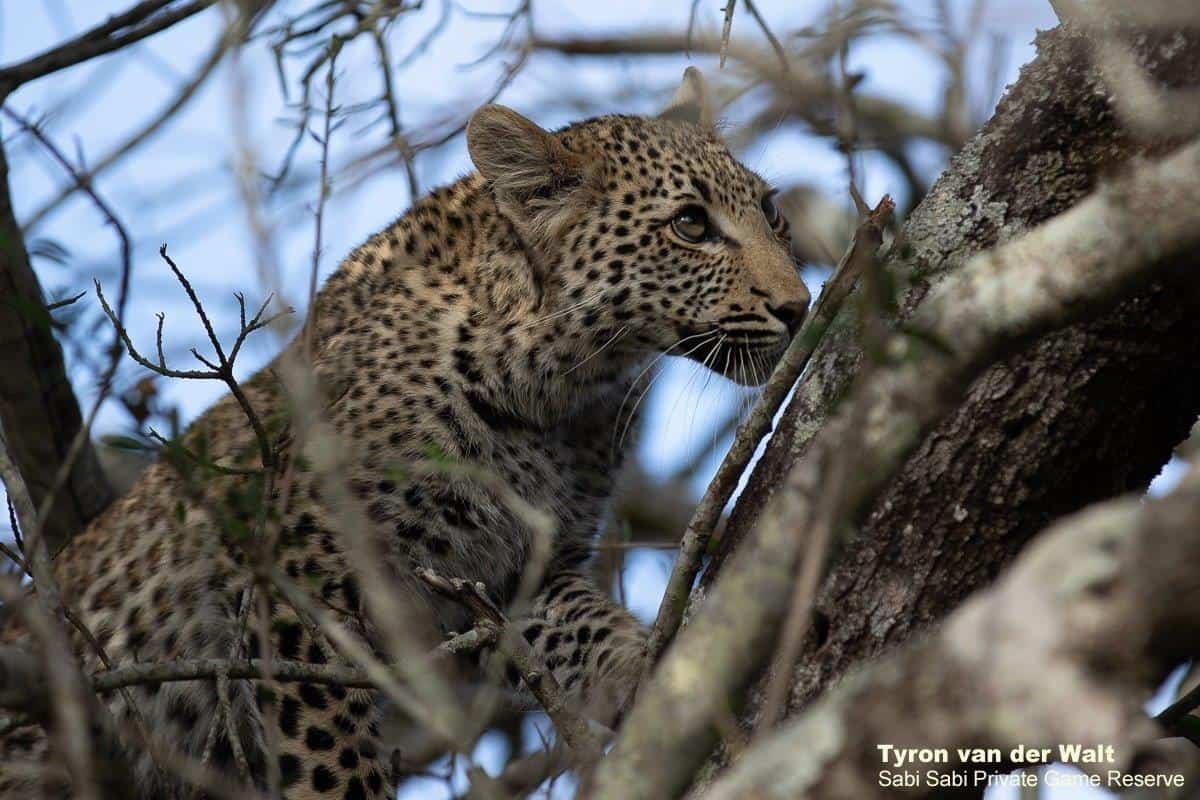 After all the excitement, my guests and I watched for a short while and then decided to let mom and cub eat their meal in peace. It was an unbelievable morning from searching high and low for any signs of the female leopard and her cub, to watching her kill to feed her cub. She has been an exceptional mother to her cub, and we hope to see this young cub become an extraordinary predator – just like mom.
Blog by Tyron van der Walt (Bush Lodge Ranger)