After having received some rain, the bush is changing into a carpet of green and a hive of predator activity with many impala lambs being born.
After driving past a herd of impala who were frantically alarm calling, we spotted Ntsumi with a freshly hoisted impala lamb in a tree. She caught her breath while keeping an eye on the rest of the herd who were standing close by.
The young White Dam male leopard was taking it easy after making an impala kill.
Maxabeni has been seen regularly this week – resting on termite mounds, but always on the lookout for something to eat; as well as patrolling and marking his territory.  Our last sighting of him for the week was of him lying on the porch of one of our bird hides!
Scotia female leopard takes a quick break before her next move…
Xovonekela was seen finishing off the remains of what seemed to be a baby impala, before heading off to some thickets for cover.
As we were spending time with a pack of wild dogs, the pups got up and chased off a hyena. While they were chasing a hyena, we spotted Xovonekela resting on a termite mound overlooking the Sabie River. What a turn of events as the wild dogs then chased a young impala towards the leopard. The leopard took off in the opposite direction, not wanting to be caught up in the middle of the pack on the hunt.
Wild dogs getting ready for the afternoon drive followed by pups having a squabble over a Scrub Hare with a youngster successfully escaping with the largest piece!
After hearing some alarm calls, Louise and her tracker, Jimmy, decided to investigate and after a couple of minutes found a female cheetah with an impala kill. She ate a little bit and then moved off to rest.
We followed a male cheetah as he stalked impala before chasing them across the open plains and managed to get hold of a young lamb. For a while he watched over the lamb, untouched, as if to bait the mother into coming to the rescue. Nature is both beautiful and cruel! He eventually gave up and started feeding on him. We followed him after his quick meal to a puddle of water where he took a drink and licked himself clean as if to rid himself of all evidence.
A male cheetah was strolling through a large open area as the sun was setting. The perfect way to end a week of cheetah sightings!
After some intense and long tracking, we found two female lions from the Southern Pride making their way through the reserve.  A few days later they were located again, after having had a substantial meal.  The younger female moved off and we knew there was a possibility that she would head for water nearby. We decided that it may just pay off to drive ahead and wait at a watering hole in the hope that she makes her way there.  It did!  We parked on the opposite end and were treated to some awesome eye level shots!
General sightings this week have been incredible to say the least…
A wake of vultures feed on the remains of an impala lamb which was killed by a Martial Eagle!
We spotted this beautiful Klipspringer from a distance as he was jumping effortlessly around the rocky outcrops.
A Grey Heron goes about its business while a hippo stays cool in a waterhole.
Not everybody's favourite, but beautiful nonetheless – a Spotted Bush Snake!
A Black-bellied Bustard calls from the heights of a termite mound just after sunset.

During a moody sunset with lightning and thunder setting the scene a shimmer of colour appears from nowhere.
A Leopard Tortoise – one of the Little Five seen out on safari, drinking from the puddles of rain in the tyre tracks.
We had an amazing sighting of a breeding herd of elephants and watched as the youngest member interacted with the rest of the herd.
A Fork-tailed Drongo following a rhino in an open field.
The bright pink flowers of the Dwarf Boerbean (Schotia capitata) emerging after the first rains on the Reserve. In the picture, ants can be seen feeding off the nectar produced by these brightly coloured flowers.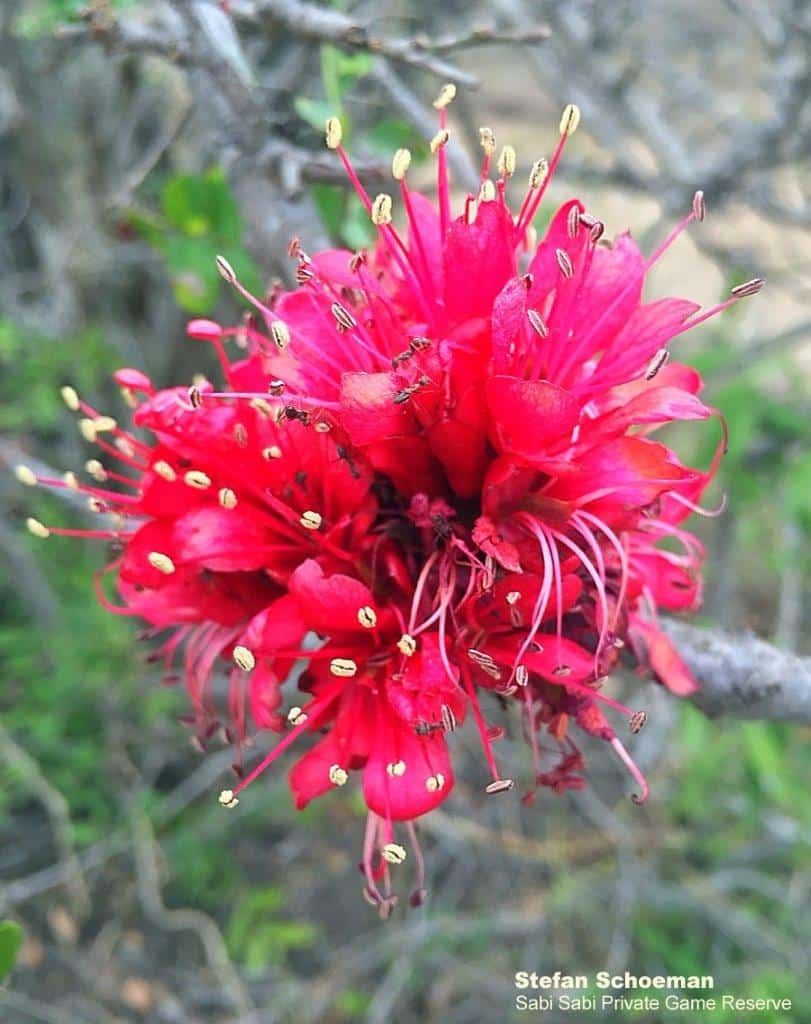 A female giraffe first scans her surroundings to make sure there are no predators hanging around a nearby waterhole.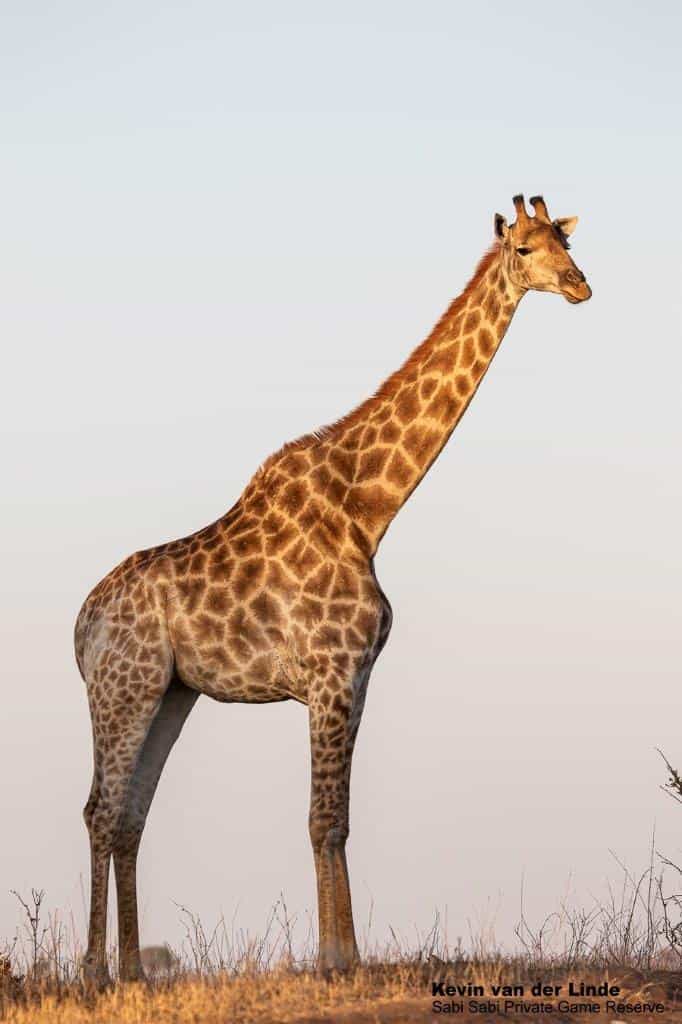 It is always a treat to spend time at the hyena den, watching the youngsters growing day by day and becoming more adventurous as time goes by.
You know summer has arrived when the bush is filled with the sounds of the Woodland Kingfisher.
Until next time…
Blog by Wendy Claase
Images by Andries Ndlovu, Ally Ross, Daniel Hitchings, Daniel Polakow, Kevin van der Linde, Louise Murray, Ronald Mutero and Stefan Schoeman
Videos by Louise Murray