As much as the rain is a blessing it can also cause its own problems. Game viewing becomes a little more difficult as most of the animals seek shelter and venturing off road becomes impossible due to the damage we would cause. This doesn't mean to say we don't see anything but us rangers have to work that much harder to show the guests all that they are hoping to see. The morning drive started with a drizzle and ended in a torrent and the guests decided that they would be more comfortable back at the lodge and dry. At about 10.30am though the rain had cleared and the sun started to peek through the clouds. I got my guests and we went for a drive just to make up for the shortened experience of the morning safari. As we went along we found the lions all crossing an open area and they looked pretty interested in something. As we got closer we could see a small herd of male buffalo resting in the shade of a tree. The temperature had soared to over 30°C within a half an hour and the humidity had shot to around 80% but this wasn't about to stop the Southern Pride trying to get some lunch.
The one female stalked to within 20 metres of the buff before deciding that the head on approach was not the best idea. The decision came from a quick look behind, only to see the rest of the pride starting to settle behind her. She decided that her best approach would be to loop around the buffalo and sent them charging towards the rest of the pride.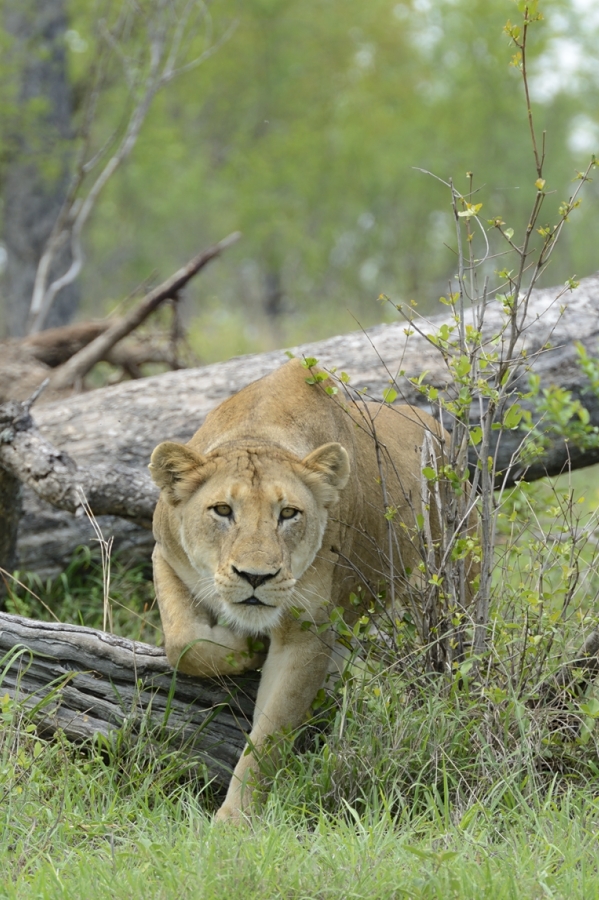 She stealthily backed out and took a long route around the top of the buffalo and stalked up to buffalo again. As she bolted towards the buffalo they stampeded off straight towards the rest of the pride and they had to turn quickly. The lions chased after them and we tried to keep up with all the action. As the chase went on the heat of the day caught up with a few of the lionesses who gave up the chase but 2 females kept going. One of the females managed to mount one of the buffalo but she was very quickly bucked off.
Exhausted the lionesses made their way back to the cubs and settled under the shade of a marula tree where they slept out the remainder of the day.
by: Richard de Gouveia (Little Bush Camp ranger)