What an amazing 2 days!! Saying that the cats were being more than obliging and posing doesn't even begin to explain exactly what the cats were up to. As I left the lodge I heard the call come in over the radio that a cheetah had been found and that sent my adrenalin levels sky high. I was so excited to see a cheetah again as it has been over 2 months since this beautiful cat was on the reserve while I was at work.
His appearances seem to be coming more regular as he has been here 3 times in as many months, which is wonderful news. By the time I got into the sighting, he had woken from his slumber and begun to move. As we followed him he marked territory and was oblivious to the 3 vehicles filled with overly excited guests and rangers.
At one point he began to approach a fallen tree and I said a little prayer that he would jump up onto it and give us a little pose. Without hesitation he launched himself up onto the trunk and surveyed the area from his vantage point.
He then hopped down and proceeded to an open area where he again found a nice tree and popped right up to get a better view. This time however, he stood there posing for about 15 minutes, marking the tree, stretching and looking for any potential prey. What an amazing sighting it was.
The next morning we headed down south hoping to find a leopard and within the first 15 minutes of leaving the lodge one of our rangers, Joe, found the Lisbon female lazing in a tree under a nearly finished duiker kill. She was still fast asleep when we arrived but soon after began to groom and yawn before hopping through the branches up to what was left of her meal.
We watched as she fed on the remains, crunching through bone with ease. Her agility and balance were staggering and the guests were left in awe as we watched this iconic animal in a clichéd position. How could it possibly get better than this?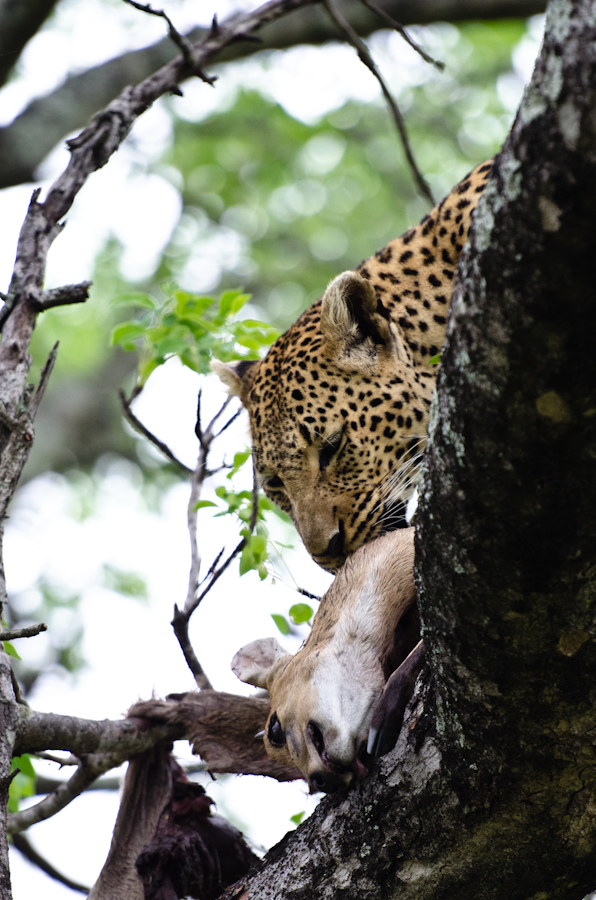 by: Richard de Gouveia (Little Bush Camp ranger)