One of the many perks of visiting Sabi Sabi in the winter months – beautiful morning sights of blankets of mist that rest over the reserve before sunrise… and some colourful birds warming up in the first rays of the day…
Our roads are not without traffic and here Terry  and his guests met a welcome detour during one of their safaris.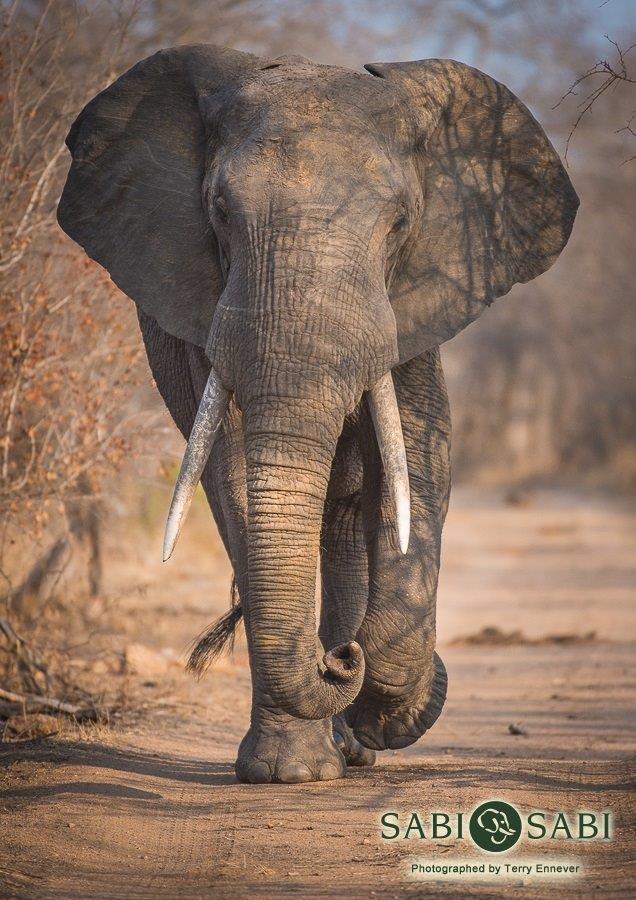 We have had some spectacular sightings of large herds of buffalo frequenting waterholes on our reserve to quench their thirst.
We were treated to a spectacular sighting of the rarely seen Secretary Bird.
Something more common, but never to be under-estimated is the Red-billed Oxpecker.  Here one rests on the back of a female White Rhinoceros waiting for it to move and catch some lunch.
A female Hippopotamus shows off her tusks as the afternoon sun slowly starts to descend in the West.
Plains Zebra foals are born with unusually long legs so that they are more difficult for predators to spot within a Dazzle, here a young leggy Zebra suckles its mother.
A large elephant bull kept feeding while the sun started to set, showing off his textured skin.
We have been extremely lucky with Cheetah sightings on the reserve and again this week we had numerous sightings.
We had some wonderful cat sightings that followed.  Firstly, the White Dam male fed on a warthog kill when he accidently let it slip out.  We watched in amazement at just how quickly he descended the tree to regain his prize and this time, safely secure it in the tree.
He enjoyed a well-deserved break after his ordeal!
After following up on some drag marks, we found the Kigelia female leopard with a fresh Grey Duiker kill. She later took to the trees to keep an eye out for any potential opportunists ready to steal her kill.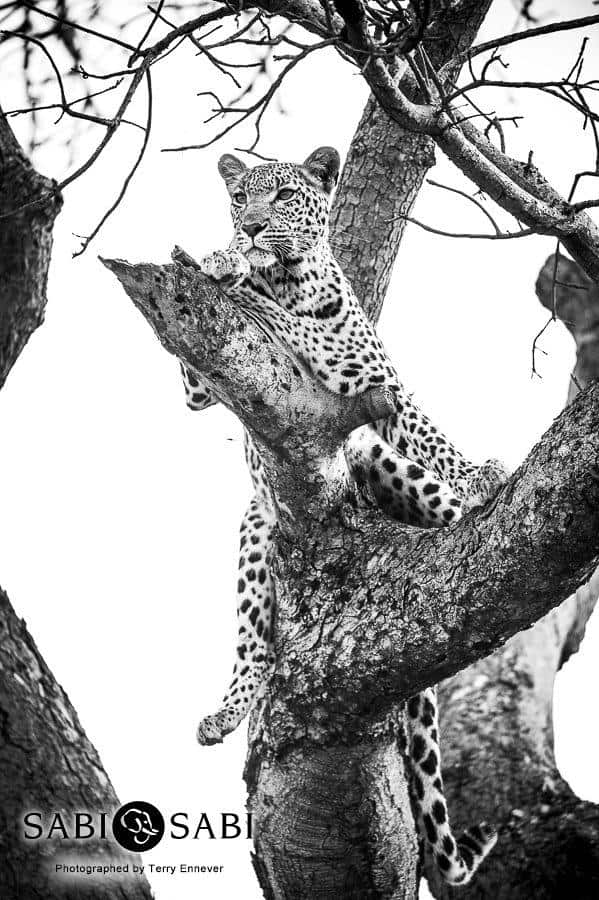 It is so amazing to watch as Little Bush's cub becomes more and more brave and adventurous every time we see her. She played as her mother kept a watchful eye over her from atop a large Marula tree where she also had a Duiker kill. The cub bounced around, scaling a small tree where it inquisitively observed us from a distance. Later that day the cub was found feeding on the kill alongside her mother.
The Msuthlu female was seen a few times this week too as she was on a mission to secure herself a meal whilst marking her territory.
A large mature male leopard we who rarely see, Inyathini, was found quietly marking territory with a full stomach after recently feeding on a kill nearby. He was pushing into the eastern part of the existing dominant male's territory… Could an altercation be on the horizon?!
A face very familiar to us and one who was thought to have died, Kashane, was seen resting on a termite mound at dusk.
Another welcome sighting this week was a sighting of 3 additional lions – 2 members of the Southern Pride and the young Charleston male.  In addition to these three, and in a separate sighting, we enjoyed sightings of the duo of sub adults from the Southern Pride.
Two Avoca males were feeding on a large warthog which, upon the evidence, had dug it out of its burrow during the early hours of the morning.
Ending this week's highlights – wild dogs!  Always a wonderful sight to witness due to their endangered species status.  This pack was being harassed by two hyenas. After dishing out a beating to the hyenas, the wild dogs set about their hunt, but this did not deter the hyenas from giving chase after the efficient hunters.
Until next time…
Blog by Wendy Claase
Images by Terry Ennever, Kerry-Lee Roberg, Kevan Dobbie, Frederik Aucamp and Kyle Strautmann
Videos by Louise Murray