Receiving new guests yesterday, this would be our first morning out in Africa together, not even I knew what emotions today would bring.
 After having dinner under the stars and listening to the continuous roaring of the lions throughout the cool night, we all woke up hoping that today we would get to see these magnificent predators. We left Bush Lodge hoping to find tracks of either the Southern Pride or of the Kruger males but instead, we found tracks of a single female which we continued to follow, observing her every step and interpreting her behaviour thoughout the evening. We followed her tracks for quite some time until the point where she stopped for a drink of life's most precious gift, water… After showing my guests where she had drank, we could not find any more tracks and it seemed that they disappeared. Eager to find them again we continued searching, only to stumble across two more of the Big 5, but sadly no more tracks…
 Whilst spending time with a large herd of buffalo I heard one of my fellow rangers say that he had found the tracks of the Southern Pride and it wasn't long after that when I heard him say, "I have found the pride of lions." Immediately I smiled, knowing that I could now show my guests exactly what we were looking for… Whilst making my way to the pride I heard an update stating that there were 7 cubs with the pride. This was the turning point for me as I was now excited to see how he was doing and was hoping to see the pride happy to be united again.
 My guests were still completely unaware that the lions had been found. We started approaching them and I got sight of the one females and was so excited to see them that I shouted, "lions!" The excitement in my guest's voices was amazing, "Where? Really? Wow! I can't believe it!" were just a few of the words that were mentioned…
 I can honestly say that this is by far one of the most rewarding jobs anyone could ever have. Imagine being able to make a person's life-long dream come true by showing them arguably thee most beautiful country in the world, a country where the animals are still wild, a country where every sunrise and sunset is a time to reflect on your life, and a country that some how, even though you weren't born here, makes you feel that you have found your home and you never want to leave…
 We made our way closer to the lions only to find them scattered across an open area. The excitement was high, and the smiles on my guest's faces said it all… I sat quietly for quite some time giving my guests a chance to appreciate what we were seeing, as the warmth of the morning sun heated our bodies, I started to tell my guests a little bit about this pride and pointed out to them that the one cub had been missing for quite some time. We all counted them together and noticed that one cub was quite a distance away from the rest of them but thought nothing of it. We spent the next 30 minutes watching various behavior, yawning, grooming and social bonding through touch as all the females gathered into a closer nit group around the cubs.
 I noticed that the 7th cub had stood up and started walking towards the pride. Immediately I saw that something was wrong, this young male was not in a good condition and the way he was walking clearly indicated that he was not himself. His eyes told a cold story and looking into them made me fear the worst, for some reason he had a very sad energy coming from him and it was felt by all that were there.
With his head held low and his eyes drooping he slowly limped towards the pride, he veered off and went and sat behind our vehicle keeping his distance from the pride, I found this very strange as lions are sociable cats and form very tight bonds, but yet none of them seemed to care about this young cub. We sat discussing what could potentially be wrong with him, we had gone from complete excitement and happiness to sadness in a matter of minutes and one could not help but to feel sorry for this young male cub. No one could have expected what was about to happen next… With sadness still in our hearts, fearing this young lion would not make it much longer, he stood up and started approaching the pride again, crouched and head still lowered he walked behind a bush which separated him from the pride, inside I could feel all he wanted was the love and affection of his family again, it was almost as if he just needed that and everything would have been fine, but he had taken one step too close.
The female that was sleeping closest to him snarled and immediately stood up only to cause a chain reaction as the whole pride stood up and started snarling intensely. The two closest females to him growled loudly and started charging at him through the bush that separated them from him. There was pure anger and all the signs of a real charge were present.
I knew this was not going to end well as the two females proceeded to attack this cub. The cries of distress hollowed from the young lions mouth but they were drowned by the anger that was being heard from the rest of the pride as they attacked him.
Trying to get away, he stumbled and left only to find himself surrounded by the pride who also started to attack him.
The sounds were spine chilling and the anger and power of these cats were felt by everyone, some guests couldn't watch as they thought that this cub was about to die.
It felt so inhumane – this is one of their own cubs – why are they doing this? He just wants love? Questions were rushing though my mind, as I watched this pride of lions continuously attack their own son. Speechless and emotional I watched the pride walk away leaving this little cub lying there, the extent of his injures unknown, also unknown was if he was alive or not. After a few minutes the cub struggled to stand up and injured much worse than before, made his way to a shady tree a few meters away. I now knew why he limped towards the pride and kept his distance at first and I couldn't help but think of what this poor cub must have been through in the last 24 hours, not only physically but emotionally too. The pride walked a few hundred meters away and stopped to look back as if to make sure he is not following them, it was a cold, distant look, like they never cared.
I turned to look into his eyes one more time before leaving and I could now see the story that they told, it was a story of pain and suffering, a story of determination and heartache, a story of fear and loneliness but most of all it was a story of a broken bond.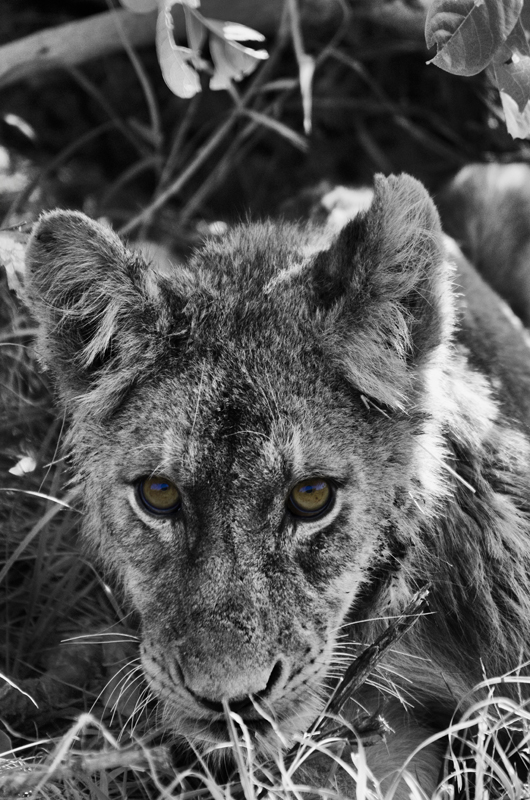 by: Calvin Kotze   (Bush Lodge ranger)