new look earth lodge revealed
April 2010
The famous Sabi Sabi wildlife experience has been further enhanced by the refurbishment of the award winning Earth Lodge. Just a decade ago, Sabi Sabi's Earth Lodge was opened to much local and international acclaim. This was a ground-breaking architectural masterpiece, its sweeping lines and dramatic minimalism ushering in a new era of game lodge design. Since that time it has garnered awards year after year for unmatched quality of service, safaris and guest experience.
Ten years on, a collaboration between internationally-renowned interior decorator Stephen Rich and talented Sabi Sabi owner Jacqui Loon, has resulted in a masterpiece of a different kind. The interior design of Earth Lodge has been recreated into a uniquely original African experience. The theme is a celebration of the richness of Africa's mineral wealth hidden deep beneath the earth .... gold, copper, silver, platinum and bronze. Luxurious metallic coloured veins of these precious elements are subtly reflected in the sophisticated furnishings and objets d'art, a glamorous foil to the rough, natural, textured walls.
Each item of décor has been created by Rich as an original work of art, with the lines and shapes of furniture taking their cue from nature…. quirky tables made from a mass of painted branches, metal birds peeping out from lampshades, ottomans resembling a group of pebbles in a pond. Natural, earthy sisal rugs with metallic edgings of silver or dull gold soften the ivory coloured floors. Throughout the lodge, wooden art pieces sculpted by renowned sculptor Geoffrey Armstrong - tables, benches and fountains wrought from salvaged trees torn out of the bushveld by elephants and floods - take impressive pride of place. Massive chandeliers are art pieces in themselves - twigs from the bush were replicated in gold, bronze and silver, with each branch painstakingly assembled on site. These spectacular interpretations of trees on a starry night illuminate the glorious palette of colours of the fabrics - muted taupes, beiges, greys and creams, which sparkle with veins of subtle sheen.
Each of the 12 ultra-luxurious suites glows with warmth. At every turn the changing light from the chandelier overhead creates a new reflection. The floors are adorned with Nguni hides, delicately shimmering with touches of gold, copper and silver. The handmade twig chandeliers with gilded metal branches twinkle softly, mirroring the night stars.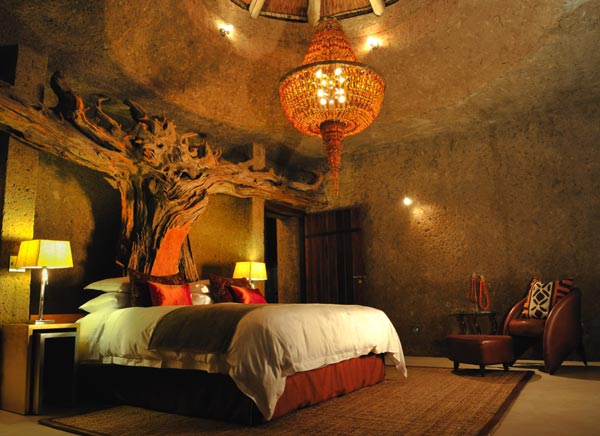 Often described as the most beautiful suite in the world, the magnificent Amber Presidential Suite is a hidden gem, with a lounge, study, steam room and kitchenette. This impossibly luxurious accommodation has been decorated in the gleaming colours of its name, and a grand amber bead chandelier complements the iconic "Burning Bush" headboard sculpted by Armstrong.
A unique 'day bar', an extension of a new comfortable lounge where high teas are served, has been created as a wonderful venue to view the parade of animals drinking at the waterhole beyond. Guests can doze on white muslin-enclosed salas, or relax at stone topped tables inside the pool, cooling their feet in ankle-deep water, while enjoying refreshing cocktails and superb cuisine prepared by gourmet chefs.
The evening bar has been expanded to include a cosy lounge and library, for those guests who prefer quiet and solitude and a good book in front of a roaring fire.
The collaboration between Stephen Rich and Jacqui Loon, two distinctly different artists, ignited to create a vision of combining the unique architecture of Earth Lodge with the essence of Africa's mineral wealth, exploding into this brilliant new jewel of the Bushveld.
To view more of the updated Earth Lodge gallery click here